Tomb Raider poster gets it in the neck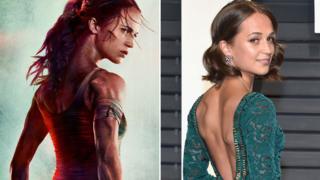 A poster and action-packed trailer for the new Tomb Raider film have been released - but all everyone's talking about is Alicia Vikander's neck.
The Oscar-winning actress appears to be the victim of some distinctly dodgy Photoshop in the poster for the film.
"Is it just me or is there something off about the proportions on that Tomb Raider poster?" tweeted Lex Croucher.
"The more I look at the Tomb Raider movie poster the less sense that neck makes to me," wrote Twitter user Nibel.
Other mocking tweets have likened the Ex Machina star with a Jurassic Park velociraptor and other film characters with extended necks.
Directed by Norway's Roar Uthaug, the latest screen outing for Lara Croft reaches cinemas in March 2018.
Angelina Jolie previously played the computer game heroine in two films released in 2001 and 2003 respectively.
The latest Lara Croft film is an origins story that shares plot elements with a Tomb Raider game released in 2013.
A scene in the trailer in which Lara leaps off a storm-tossed ship mirrors a similar scene from a trailer for the game released in 2011.
Other scenes show Vikander with a bow and arrow, leaping over rapids and using a knife to fend off an assailant.
British actors Dominic West, Nick Frost and Kristin Scott Thomas are also glimpsed in the two-minute promo.
The Tomb Raider poster is reminiscent of other notorious poster "fails" such as the one for the 1983 James Bond film Octopussy, in which the late Roger Moore - and his leading lady Maud Adams - were given unfeasibly long legs.
Julia Roberts' head was infamously superimposed on the frame of a body double on the poster for 1990's Pretty Woman.
The makers of The Heat, meanwhile, caught some themselves for giving Melissa McCarthy a slimmer-looking face on the 2013 comedy's UK poster.
Vikander won an Oscar for her role in 2015's The Danish Girl and was seen last year opposite Matt Damon in his fourth Jason Bourne film.
---
Follow us on Facebook, on Twitter @BBCNewsEnts, or on Instagram at bbcnewsents. If you have a story suggestion email entertainment.news@bbc.co.uk.