Netflix pulls Maya the Bee episode after obscenity complaint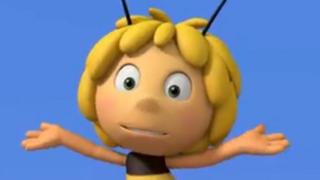 Streaming service Netflix has removed an episode of animated series Maya the Bee after a viewer complained it contained an explicit drawing.
A screen grab of the offending scene appears to show an outline of a penis etched on a log in the background.
The 35th episode of the show's first season was pulled after US mother Chey Robinson posted a clip on Facebook.
Netflix - which does not make the show - said it did not have a comment on the subject.
Studio 100 Animation, the Paris-based Belgian company that made the 2012 instalment, has yet to comment.
The latest Maya the Bee series has been running since 2012, though the character first appeared in a book a century earlier.
The TV show - which is not available to UK Netflix subscribers - inspired a film version that was released in the UK in 2015.
Cheeky animators have a history of sneaking in suggestive imagery into cartoons, apparently in the expectation their private jokes would remain so.
In 1991's An American Tail: Fievel Goes West, for example, a doodle of a penis can fleetingly be seen.
---
Follow us on Facebook, on Twitter @BBCNewsEnts, or on Instagram at bbcnewsents. If you have a story suggestion email entertainment.news@bbc.co.uk.