Wolf Alice: 'Our album is like hummus'
By Mark Savage
BBC Music reporter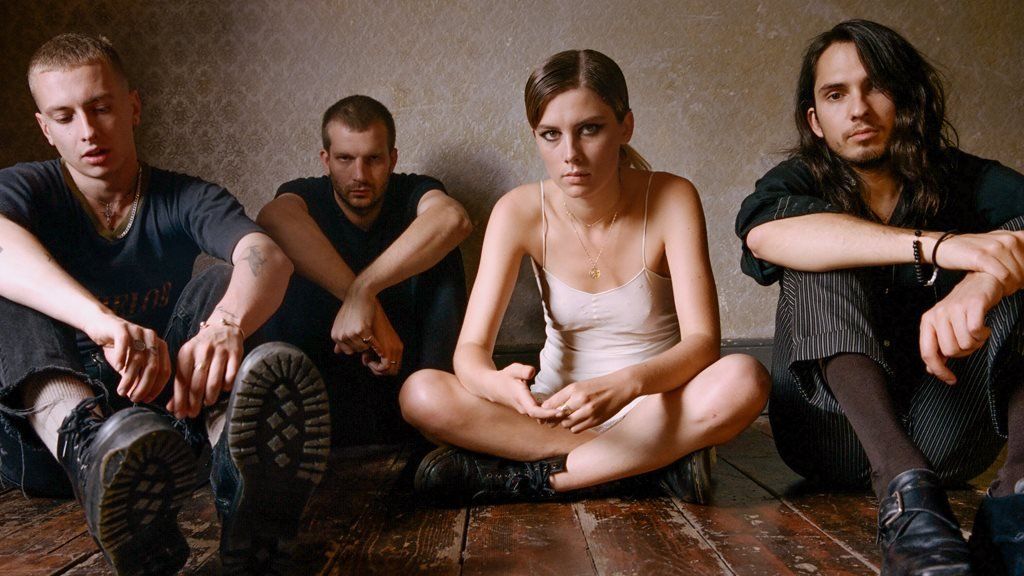 Wolf Alice have won the 2018 Mercury Music Prize for their second album, Visions of a Life. Speaking to the BBC on its release in 2017, they discussed their eclectic sound, panic attacks and why Craig David should be prime minister.
"It's crazy, Los Angeles," says Wolf Alice's bassist, Theo Ellis. "It's like a fictitious city."
"You can go skiing and then come back down to the ocean," adds singer Ellie Rowsell, "or go to the desert and then into town."
The band spent the start of 2017 in the city, recording Visions of a Life - their follow-up to the Mercury-nominated debut My Love Is Cool.
Like that record, it tears up the indie-rock rule book, merrily flitting between wild-eyed punk (Yuk Foo), dreamy pop (Beautifully Unconventional) and chiming indie melodies (Planet Hunter).
"We're easily influenced," laughs Rowsell. "But I think the thing we've learned the most is that you have to trust your gut."
The band landed in LA on the day of Donald Trump's inauguration, noting that "everyone seemed really angry". But the political situation didn't overwhelm the record, most of which was written before Donald Trump's surprise victory.
Instead, the lyrics are deeply personal, talking about departed friends, blossoming love affairs and, on Sky Musings, a panic attack Rowsell suffered 40,000 feet in the air.
The first single, Yuk Foo, is two minutes of unbridled rage, but you wrote it in a dressing room at a TV show. Didn't the other guests get scared?
Ellie: I've mastered this by having, unfortunately, lived with my parents my whole life. When you're supposed to be being quiet, but you want to write a song where you're shouting, I have my technique. It sounds a little bit like this. [Makes a sound uncannily like a chipmunk].
I promise it actually sounds like shouting if you layer it up and put enough effects on it!
Theo: That might be the reason for our unique sound, is you trying to record angry songs very quietly.
Was Yuk Foo targeted at anything in particular? Had someone left the M&Ms off your rider?
Ellie: Yes, someone decided to put sun-dried tomatoes in my hummus.
It's funny you bring up hummus… The first time I interviewed you, in 2014, you told me it was the only item on your rider.
Ellie: Haha! We're very low maintenance.
What's your favourite variety: Red Pepper, Moroccan, traditional?
Ellie: I like anything with garlic in it. But yeah, probably just traditional.
Theo: To be fair though, maybe we should get different varieties...
Marks and Spencer does a selection pack.
Theo: Too posh! Too bougie!
Ellie: I think hummus is quite a good analogy for our album. You get all these different varieties but at the end of the day they're all hummus. Yuk Foo is a spicy hummus, Don't Delete The Kisses is beetroot.
That's one of the things that impresses me about the album - You have a different sound, and even vocal style, from one track to the next. Is that something you considered in the writing process?
Ellie: Not really the songwriting, but maybe the recording. We're all quite easily influenced. I'll watch one band and be like, "I want to be in that band" and then I'll watch another completely different band and be like, "actually, no, I want to be in that band". But why do I have to be in one or the other? I can go and write like a stoner rock dude, and then write a sugary folk song - and adopt the role of each singer without doing anything that feels unnatural to me.
What band do you want to be in today?
Theo: I want to be in Outkast, but played by the members of Drenge. OutDrenge.
It feels like the lyrics on this album are more revealing than the first record...
Ellie: I held back less on this record. It's something you grow into with confidence. If you were to write a diary and you held things back, when you went back to look at it when you were older, you'd be annoyed because you want to know how you truly felt. So I didn't want to do that.
Musically, as well, we didn't do that. People often say guitar solos are embarrassing, but if they're working it's not embarrassing. Just do it.
Speaking of which - did I hear a saxophone solo on Heavenward?
Ellie: No! That's Joff's guitar.
Theo: I really like it. It's a very specific guitar pedal that he bought.
Ellie: It's called a Miku.
Theo: The nature of the pedal is quite bizarre. It's supposed to emulate the singing voice of multiple Asian women. It's really, really weird. He just bought it on a whim, because he's always exploring how to make his guitar sound different. My mum thought it was bagpipes when I played it to her.
St Purple and Green is a really personal lyric. It's about your grandmother, right?
Ellie: Yes. My grandma, she was always a big talker but her mind slowly began to deteriorate. I remember I went to her house one day and she was saying: "I want to go there, purple and green." I was like, "What is she going on about?" but I also liked the way she was talking.
One of the most inspiring things about her was she was always quite excited by the prospect of death. She always said, "Why would you be scared of it? It's the next big adventure." I guess Purple and Green is about that - don't be scared, you get to go to this new place.
And the song Sky Musings sounds like a panic attack in three minutes. What inspired those lyrics?
Ellie: I've had quite a few moments on long haul flights where I've had a couple of drinks and watched some rom-com and felt like I had a thousand million thoughts swimming around my head.
Apparently it's a thing that happens on flights: Because its one of the only opportunities you get to do nothing, you start to have lots of thoughts which you'd normally push aside. And also, your life is in the hands of someone else, so people get very emotional. So Sky Musings is kind of the journey of that panic attack, which I had on lots of different flights, but rolled into one for the sake of a song.
You've recently done some work with the Labour party. What's your view on Corbyn-mania?
Theo: He's been adopted by a generation even younger than us, I reckon. He's the meme lord! The older media were a little reluctant to endorse him.
Ellie: And it didn't stop him… or it did for a bit…
Theo: Yeah, it stifled him but social media and a lot of youth-leaning outlets championed him. It's really interesting to see that - especially with Brexit being voted for, largely, by the older generation.
But then, he's pro-Brexit.
Theo: Yeah, I don't necessarily agree with him on Brexit.
Ellie: But I think lots of people were for Brexit, when it wasn't really laid out to us what Brexit would mean.
Theo: Politics is for everyone, and I don't feel everyone was given the right information on what was going on. People were ringing up the next day and saying, "Can I change my vote?"
Will Brexit affect you as a band?
Theo: It does directly affect touring in Europe. We have to get all the right pieces of information and documentation.
Ellie: So many bands can't get to America because of Visa issues. If we're going to have to start needing Visas around Europe, it's the end of low-level touring.
You built your career on touring. Why don't more bands do that?
Ellie: It's expensive to tour. You have to remember that. We did it on a shoestring but we were lucky that we had a mate that would drive us, and we had jobs that would let us go.
You're a big, formidable presence on stage now. Was that true at the beginning?
Theo: No. We had no idea who we were at all!
Ellie: I was probably more confident, in a way, because I thought no-one was paying attention.
One thing I've noticed is that your influences are much broader than most guitar bands. Wasn't Craig David's Born To Do It the first record Theo bought?
Theo: How the heck did you know that?! But, yeah, he's such a good performer. He's the Judi Dench of garage now. He's like a British icon. A hero. He went away for 10 years, moved to Miami, got massive, came back and started shelling it down at every festival on earth.
He is also exceptionally polite in real life.
Theo: I know! Craig David for next Labour leader.
Ellie [singing]: Oh, Cra-i-ig David.
What was your first record, Ellie?
Ellie: I think mine was Missundaztood by Pink.
That was Dua Lipa's first record, too.
Ellie: Really? That's funny. I think Pink's like a rock star making pop music.
Theo: Everyone likes Pink. And Dua Lipa leans her chair back very far on flights.
It feels like there's a story there...
Theo [in a strained voice]: "I need some wine, Dua Lipa is crushing me."
Listen, Dua Lipa has no idea who I am. But shout out to her, I really like her. She's totally wicked. She's just really bad at flying.
Wolf Alice's second album, Visions of a Life, is out on 29 September.
Related Internet Links
The BBC is not responsible for the content of external sites.