Harvey Weinstein: George Clooney says alleged behaviour is 'indefensible'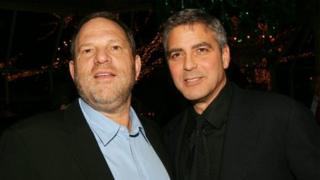 George Clooney and Jennifer Lawrence have joined the list of Hollywood stars condemning Harvey Weinstein.
The co-founder of The Weinstein Company faces sexual harassment claims dating back nearly three decades, which came to light in the New York Times.
Clooney, whose big-screen big break was a Weinstein film, said the producer's alleged actions were "indefensible".
Weinstein, who has been fired by the board of his company, disputes the New York Times report.
He has vowed to take legal action against the newspaper, which said in the report that he had reached at least eight settlements with women.
Jennifer Lawrence, who won an Oscar for his film Silver Linings Playbook, has also now spoken about the allegations, saying she was "deeply disturbed".
Clooney, who was given his first big movie role as an actor by Weinstein in 1996's From Dusk Till Dawn and as a director in Confessions of a Dangerous Mind, said he was previously unaware of the allegations.
"The part we're hearing now about eight women being paid off, I didn't hear anything about that and I don't know anyone that did," he said in an interview with The Daily Beast.
"That's a whole other level and there's no way you can reconcile that. There's nothing to say except that it's indefensible."
'Absolutely upsetting'
Clooney said he had known Weinstein for 20 years. "We've had dinners, we've been on location together, we've had arguments. But I can tell you that I've never seen any of this behaviour - ever," he said.
"Maybe that's what good will come out of this - that not just in Hollywood, although Hollywood is now the focus, but in all of these cases the victims will feel that they will be listened to, and that they don't need to be afraid."
Lawrence also released a statement, five years on from working with Weinstein on Silver Linings Playbook, for which she won the best actress Oscar.
"I was deeply disturbed to hear the news about Harvey Weinstein's behaviour," she told Variety.
"I worked with Harvey five years ago and I did not experience any form of harassment personally, nor did I know about any of these allegations. This kind of abuse is inexcusable and absolutely upsetting."
Actress Jessica Chastain, who has appeared in The Martian and Zero Dark Thirty, also spoke out on Tuesday, saying she had been "warned" about working with Weinstein.
Unlike others in the industry, who have said they were not aware of his alleged actions, the Oscar winner tweeted her reaction.
"I was warned from the beginning. The stories were everywhere. To deny that is to create an environment for it to happen again."
She also responded on social media to a statement from Kate Winslet, who said the allegations made her "angry", and also noted that more men should be speaking up.
Actress Emma Watson also tweeted on Tuesday afternoon about women being sexually harassed, but did not elaborate on what she was referring to.
Cillian Murphy, whose TV drama Peaky Blinders is distributed by The Weinstein Company in the US, said the alleged behaviour was "appalling".
"It's great that it's been exposed and I admire all of these women that have come forward," he told BBC 5 live's Afternoon Edition. "We can't allow behaviour like that to be in our industry or in any industry really.
"When people are honest and speak up, that's all that people need to do. It shouldn't be tolerated in any walk of life so why should it be tolerated in the entertainment industry?"
Over the weekend, Weinstein stepped down from the board of directors at the US charity Robin Hood, which describes itself as "New York City's largest poverty-fighting organisation", the charity told BBC News.
---
Follow us on Facebook, on Twitter @BBCNewsEnts, or on Instagram at bbcnewsents. If you have a story suggestion email entertainment.news@bbc.co.uk.