Jameela Jamil: How The Good Place star got so lucky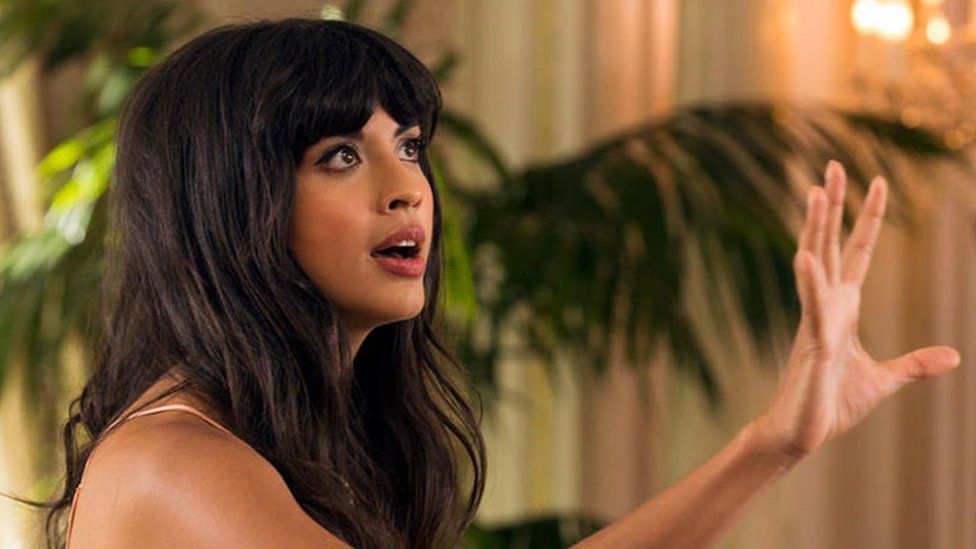 Jameela Jamil is in a good place right now.
Well, she is - quite literally - in The Good Place, the hit sitcom set in the afterlife that's just reached the UK.
Her major role as Tahani Al-Jamil in the show, also starring Cheers star Ted Danson and Frozen's Kristen Bell, has seen her hailed for her comic timing and on-screen presence. She's writing a book and there's a film role on the cards.
All this from someone who had never acted before and was previously best known for co-hosting Channel 4 teen show T4 and then BBC Radio 1's chart show.
We FaceTimed her to find out about all of the above - as well as finding out why she's a "weasel", who she based the "narcissistic nightmare" Tahani on and her plans to become US president.
"Wait - is that Jameela Jamil from T4??"
That's a pretty standard question on Twitter from British viewers who are just getting hooked on NBC show The Good Place, screened on Netflix here, and surprised to find a familiar face on the screen.
While it launched in the US a year ago, the first series landed in the UK in one go last month with little fanfare, with new episodes in the second series coming every week.
"It's been really cool to watch it unravel," she says. "Because the UK only got the show this year, everyone probably thought I was dead. But I got very lucky."
Very lucky is a bit of an understatement.
She moved to LA with no plans to act, but instead "to read and DJ and maybe just do a radio show again" and "travel around".
"I just wanted to see more of the world and experience new things and make the most of my youth."
But it seems the world had other plans, starting with her very first audition for what would turn out to be The Good Place, but all she was told that Mike Schur from Parks and Recreation was behind it.
"I was told about an audition for this role and said 'no way, I've no training and I'm surrounded by people who've devoted their lives to this'.
"My agents pushed me into it and said 'let's see if you can act, if you can't act we won't send you to another one'."
The audition was "very cloak and daggers". All she knew was that the character was British, because the team wanted a cast that was "as diverse and different as possible".
"I hoped it wouldn't turn out to be a porno," she jokes.
"But he [Mike Schur] seemed not to be into that. I don't think there's anyone else in Hollywood I'd have trusted to sign up for, when it was so secretive."
She was so amazed to get a second audition, she thought "all the actresses in Hollywood must have flu".
Incidentally when she got the phone call, at 10pm on a Friday night, she was in the middle of an "anxiety walk" while waiting to hear about the role. She was so overwhelmed to get the part that she had to lie down. In the middle of the pavement. In the middle of West Hollywood.
"I've never been so floored. I mean, I've started my first acting job opposite Ted Danson and Kristen Bell," she says.
"I'm a top-level blagger. I feel like my whole career has been one giant blag."
The show centres on Eleanor Shellstrop, played by Bell, a more-naughty-than-nice woman who, having accidentally ended up in heaven (aka The Good Place), tries to earn her place there by being good.
This version of heaven doesn't have fluffy clouds and angels playing the harp, but instead, flying lessons, houses designed to reflect your personality, and lots of frozen yoghurt shops. Seriously, they're everywhere.
She says her "mind was blown" when she finally learned what The Good Place was about.
"The whole thing has been bananas," she adds, sounding not quite as posh as Tahani. "Absolutely terrifying. There's not been a day I've not been going - 'that's Ted Danson, that's Ted Danson'.
"The first season was surreal. I was taking a golf buggy through Universal every day, seeing parts of the Jurassic Park set and knowing Friends was filmed in that lot.
"I managed to somehow take it in my stride. When I left on the last day, I said a very casual goodbye, and 'it's all right if you don't bring me back'. And then I burst into tears and cried all the way home."
Asked what was so overwhelming, she explains that when she was 17 she was hit by a car and didn't leave her house in more than a year.
"All I had to keep me company was NBC comedies. They kept me sane in the darkest times of my life.
"I could never have foreseen getting my life back to normal - let alone being in one of these sitcoms that had been so therapeutic and soothing to me, and hopefully soothing people myself.
"These comedies were my lifeline, and now it's gone full circle."
And there are weird coincidences.
Ted Danson - who plays Michael, the otherworldly being who designed The Good Place - was one of those comedy actors she'd watch, in Cheers, and Kristen Bell was her first celebrity interviewee on T4.
"It was too much to bear," she says of her meltdown. "I was hysterical. I felt completely traumatised at how lucky I was."
Jameela describes Tahani - who is Eleanor's neighbour and, to her annoyance, lives in a mansion and is ever so slightly condescending - as a "passive aggressive, well-intentioned narcissistic nightmare".
"I based her quite heavily on someone I know who's a narcissistic nightmare - and now I'm really afraid because it's on in the UK.
"I was told it would never be shown in the UK so I felt quite safe, like the weasel I am," she says. "Now I'm afraid to come back."
She says she worried British viewers knew her too well.
"I fully expected hesitation," she says. "I didn't expect people to give me a chance."
She also promises some "insane cameos" coming up and reveals exclusively: "I get to kiss someone on the show. The first one on screen, and the seventh ever for me."
It looks like there may well be a third series, says Jameela, who signed a seven-year contract for the show meaning she'll be in Hollywood for the foreseeable future.
She says she finds America has "a very healthy attitude to women, and women of colour".
And it seems she has taken to America as much as it has taken to her - she admits she initially expected to see headlines like: "English woman ruins sitcom".
'Everything else is cake'
So what does she put her success down to?
"I'm not ambitious, but I'm very tenacious," she says. "I never think I'll get something, but I'm willing to try.
"That's my victory, the willingness to give it a go. Everything else is cake."
"Will I be president in three years, will I realise a rap album?" she teases. "Who knows? It feels like the opportunities are endless."