Bjork elaborates on sexual assault claim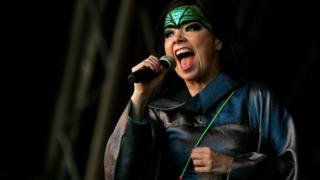 Pop star Bjork has provided a detailed account of the harassment she claims to have experienced at the hands of a Danish film director.
Writing on Facebook, the star described "constant awkward paralyzing unwanted" offers of sex from the film-maker.
She first revealed the assault in a similar post on Sunday. Although she did not name the director, she has only made one film - 2000's Dancer in the Dark, directed by Lars Von Trier.
He has rejected her allegations.
The director told Denmark's Jyllands-Posten newspaper it was "not the case" that he had sexually harassed the singer.
"But that we were definitely not friends, that's a fact," he added.
Bjork's initial accusation came as a statement of solidarity with the women who have accused Hollywood producer Harvey Weinstein of sexual assault.
"It was extremely clear to me when I walked into the actress's profession that my humiliation and role as a lesser, sexually-harassed being was the norm," she said.
"I became aware... that it is a universal thing that a director can touch and harass his actresses at will. When I turned the director down repeatedly he sulked and punished me."
Von Trier's denial was accompanied by a statement from Peter Aalbaek Jensen, the producer of Dancer in the Dark, who told Jyllands-Posten that he and Von Trier "were the victims".
"That woman was stronger than both Lars von Trier and me and our company put together," he said. "She dictated everything and was about to close a movie of 100m kroner [$16m]."
'Clear sexual intention'
Dancer in the Dark went on to win the Palme d'Or at the 2000 Cannes Film Festival, where Bjork also picked up the best actress prize.
But rumours about the troubled production circulated in the movie press. Bjork was alleged to have walked off the set for two days, while more outlandish stories suggested she had eaten her costume and taken to living in the woods.
She said she was providing a fuller explanation of her experiences, in part, to combat those stories.
"It feels extremely difficult to come out with something of this nature into the public, especially when immediately ridiculed by offenders," the star said.
"I fully sympathize with everyone who hesitates, even for years. But I feel it is the right time especially now when it could make a change."
She went on to claim the director "stroked me, sometimes for minutes, against my wishes" and made "constant awkward paralysing unwanted whispered sexual offers".
When she demanded that he stop, "he exploded and broke a chair in front of everyone on set", she said.
When filming in Sweden, she alleged, "he threatened to climb from his room's balcony over to mine in the middle of the night with a clear sexual intention, while his wife was in the room next door".
Bjork added that attempting to dismiss her account by accusing her of "being difficult" paralleled the "Weinstein methods" of "bullying" victims who dared to speak up.
"I have never eaten a shirt," she continued. "Not sure that is even possible."
Following the singer's initial accusations, Von Trier's assistant told the BBC: "Lars declines the accusations Bjork has made, but doesn't wish to comment any further."
He has yet to respond to a request for a response to the latest allegations.
Follow us on Facebook, on Twitter @BBCNewsEnts, or on Instagram at bbcnewsents. If you have a story suggestion email entertainment.news@bbc.co.uk.