Amazon Studios boss resigns after claims of sexual harassment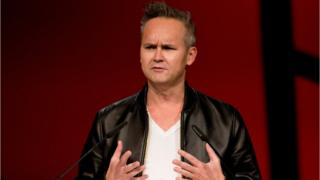 The head of Amazon's film and television arm, Roy Price, has resigned after being accused of sexually harassing a television producer.
Isa Hackett says the Amazon Studios boss repeatedly made unwanted propositions to her during a taxi ride in 2015.
An actress has also accused him of failing to report an allegation that she was sexually assaulted by Harvey Weinstein.
Price has not responded to the claims.
Isa Hackett, the producer of television series The Man In The High Castle, spoke to The Hollywood Reporter of her "shocking and surreal" experience with the programming chief.
The 50-year-old says she immediately reported the incident to Amazon executives and an investigation was launched.
She says she was never told the outcome of that inquiry, although has not since seen Price at any events involving her shows.
Actress Rose McGowan has also accused the Amazon boss of ignoring a claim that she was raped by Harvey Weinstein.
The 44-year-old tweeted that she had informed the studio head repeatedly but he responded that her claim had not been proven.
Rose McGowan took to Twitter and posted a string of messages aimed at Amazon founder and CEO Jeff Bezos, claiming nothing was done after she told Roy Price about the incident with Weinstein.
The former Charmed star also alleges that not only was nothing done, but that Amazon Studios dropped a show based on a script she had written, after she raised the issue of sexual harassment.
Following the Twitter accusations, Amazon placed Roy Price on indefinite leave last Thursday. The company confirmed to the BBC that Price had resigned, but had no further comments.
In a memo last week to Amazon employees Jeff Blackburn, Senior VP of Business Development, said: "The news coming out of Hollywood over the past week has been shocking and disturbing - and unfortunately we are a part of it."
He went on to say that harassment and abuse would not be tolerated at the company.
Weinstein brother also accused
In further fallout from the Harvey Weinstein sex scandal the movie executive's younger brother, Bob Weinstein, has also been implicated in allegations of abuse.
The co-founder of The Weinstein Company strongly denies sexually harassing television producer, Amanda Segel.
Ms Segel, who was an executive producer of sci-fi series The Mist, said Bob Weinstein made repeated romantic overtures and requests to join him for private dinners over a three month period.
The producer told US magazine Variety it was not until threats from her lawyer that she would leave the show, did the harassment stop.
The allegation comes as Harvey Weinstein resigned from the board of directors of The Weinstein Company after being accused by more than 30 actresses of sexual harassment and assault.
Harvey Weinstein denies all allegations of non-consensual sex.
Follow us on Facebook, on Twitter @BBCNewsEnts, or on Instagram at bbcnewsents. If you have a story suggestion email entertainment.news@bbc.co.uk.