Dragons' Den-backed fake tan misled users, watchdog rules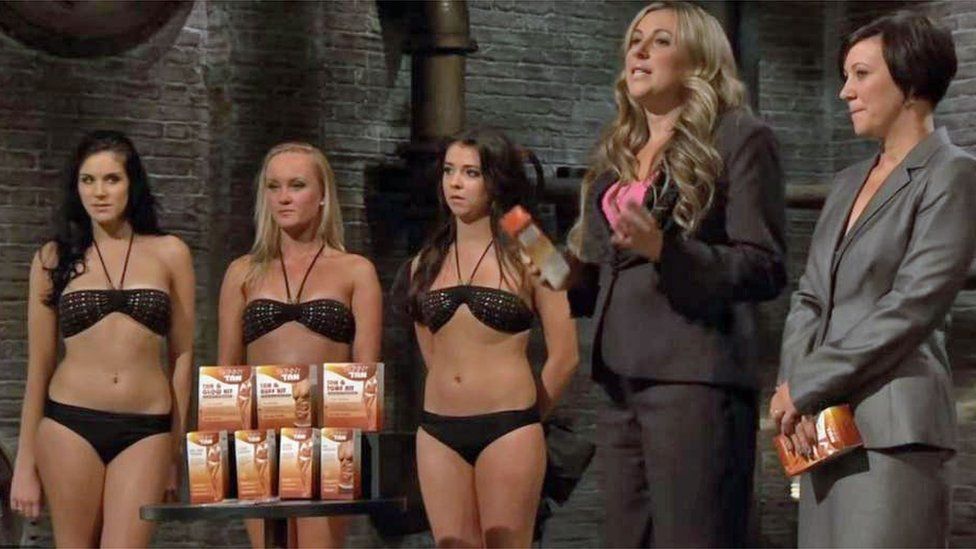 A self-tanning product launched with the help of investment from the Dragons' Den panel has been found to mislead customers.
The Advertising Standards Authority (ASA) found claims by Skinny Tan that its product could "tone" or give "less visible cellulite" could not be proven.
Claims that the product was 100% natural were also found to be misleading.
The ASA says the company's adverts must not appear again in their current form.
Skinny Tan launched in the UK in 2013, after company founders Louise Ferguson and Kate Cotton appeared on Dragons' Den, winning £60,000 of financial backing from panellists Piers Linney and Kelly Hoppen.
The Essex-born entrepreneurs had all five Dragons vying to invest in their business, which claimed it was the first self-tanner made of natural ingredients and could reduce the appearance of cellulite.
However beauty rivals PZ Cussons complained to the ASA about adverts appearing on Skinny Tan's website and their Facebook page.
The Dragons' Den-backed company had made a number of claims, including that it was the number one self-tanning product in the UK and could "tone" women.
Despite saying the natural guarana in the product would "help make cellulite look visibly smoother and less obvious". the product was not found to have any physiological effects which would achieve this.
Skinny Tan, which was bought by beauty giant InnovaDerma in 2015, defended its cellulite-reduction claims, saying it was "commonly believed that tanning could make you look thinner".
The company said its claims were only in regard to the "cosmetic effect of the tan" and not any physiological effects of the product.
In addition, Skinny Tan was found to give the misleading impression that it did not contain any of the agent DHA - the main colouring agent in tanning lotions which has a distinctive smell.
Skinny Tan claimed without the chemical DHA, their product smelt better than other self-tanning products.
But it was found that Skinny Tan contains the same DHA as other brands and smells no different.
The claims to be all-natural and the UK's number one self-tanning brand were also found to be misleading by the ASA.
InnovaDerma acknowledged the ASA's ruling, adding: "This relates to online advertising in 2016 that was subsequently removed and the company is working with the ASA to ensure all online presence is ASA compliant."