Kwame Kwei-Armah: New Young Vic boss promises 'funky' future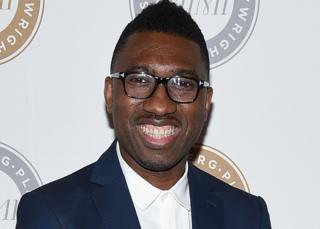 New Young Vic artistic director Kwame Kwei-Armah says he doesn't yet know what kind of plays he will stage there - but promises they will be "funky".
He says he is currently listening to what people want from the London venue.
But he says he won't be directing any plays there himself while in the role.
That means his latest play, Henrik Ibsen's The Lady from the Sea at the Donmar Warehouse, is the last he'll direct for the time being.
"I'm in the middle of my listening exercise. If there is anything to pull out of it, it's that I love new plays and I love classics. I love adaptations of classics, I love Ibsen and I love Chekhov and I love Shakespeare and I love August Wilson.
"So actually I'm just going to try and find ways of being funky with new plays and the classics."
And as for being funky, he has a unique way of warming up the cast before they get to grips with the script.
They have a 20-minute dance party before rehearsals begin, the cast and crew taking it in turns to provide the playlist.
He says it's a way to loosen everyone up before the serious work begins.
"It's part of my process in everything I do. A company that dances together stays together. It's therapeutic for me."
He says he wants the cast to shake off the morning and "vibrate on the frequency of beautiful music".
Not that the work is all serious though - he loves jokes and even manages to get several peppered into Ibsen's work.
"When an audience laughs, it breathes differently. And the play breathes differently, we breathe differently - we feel included."
He said he told the cast "let's go for the gag" - pointing out that Ibsen's observations were so acute they were funny.
The adaptation of the Norwegian writer's 1889 play sees the action moved to a 1950s Caribbean, where the stifling heat adds to the feelings of being trapped as relationships untangle and are knotted together again in Elinor Cook's adaptation.
The story focuses on Ellida and her yearning for the sea - while the arrival of an old friend, (her step-daughter's former tutor) and a mysterious stranger who has haunted her dreams threatens to throw her domestic life into disarray.
Kwei-Armah says he wanted to encapsulate the themes of freedom and the sea in the play, which he first read 20 years ago.
"But I'm a bit of a mummy's boy and I really love the ideas in the piece about female emancipation - about the sense of marriage and why we marry, how we marry - and about the sea.
"I have a complex relationship with the sea. The sea makes me cry and makes me happy.
"And then I saw that in Ellida and it really touched me.
"When I thought about the sea, I thought about my personal relationship with the sea in the Caribbean and in West Africa. I toyed for a bit with doing it in West Africa, and then I thought - I want to do it in the Caribbean."
He said Ibsen was investigating cold weather and the sea, and thought to himself, "let's look at what heat does to it and a sense of how it makes you feel enclosed and wanting to fight and get away from it, and rip your clothes off".
Cook describes the piece as "a collision of two worlds - this spiritual, otherworldly world and this glorious, funny, wry, gender political comedy".
The story of Ellida and the stranger is the "subject of every pop song - that lover you can't forget who comes back from the past", she says.
Nikki Amuka-Bird, who plays Ellida, adds: "The other side is Stand By Your Man, her husband."
She says of the play: "It feels like there's a lightness there. It's summer and even though there are tragic moments, it's also a play about love."
'Feeling good'
Amuka-Bird and Cook say it was a "lot of fun" working with Kwei-Armah and that he creates a "lovely" atmosphere in the rehearsal room.
Amuka-Bird says: "Kwame is very much about people feeling good about themselves, and feeling brave."
She adds: "Kwame has this knack of making every day really enjoyable and I think that's something we can definitely expect, that he's going to bring to the Young Vic that energy - and the dance parties!"
Kwei-Armah speaks to press before heading into the after party and admits he has not heard any audience reaction ("I'm not very good with audiences at the end of first nights"), preferring to disappear to his apartment to speak to family in America after the cast take their bow.
He says he simply loves the fact that he feels "blessed".
Follow us on Facebook, on Twitter @BBCNewsEnts, or on Instagram at bbcnewsents. If you have a story suggestion email entertainment.news@bbc.co.uk.