Penny Lancaster says she was sexually assaulted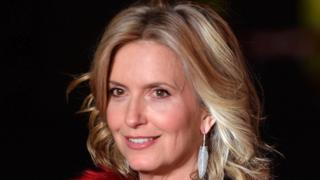 Model Penny Lancaster has said she was sexually assaulted as a teenager by someone she worked for.
Lancaster, who is married to rock singer Rod Stewart, told ITV's Loose Women that she had her drink spiked.
She said she found herself being attacked on a bed and "can't remember much of what happened".
"I just know he was on top of me and enjoying the experience but I certainly wasn't. I don't really remember much more. I was too afraid to tell anyone."
Lancaster, now 46, said she had been a virgin at the time of the assault, which she said happened after she went to the house of a man who had promised to take her to an event where she could make work contacts.
"I was like, 'Oh, someone will be interested, I might get some more work,'" Lancaster said.
"So I went with him. And he said: 'Oh, I have to stop at my apartment.'"
She said he gave her a drink "and unfortunately the next thing I knew... I found myself face down on a bed with him on top of me".
The model, who was in tears as she spoke, said: "I couldn't tell my mum and dad because I thought they would be saying to me, 'What on earth were you doing going back to his house?'
"But he was a guy that I had worked with and he promised me to meet other people and so I was naive and I trusted him."
She said she wanted to speak out so young girls in a similar situation could understand it was "not their fault".
"They are not guilty. The other person is. And they need to be brave enough to tell the authorities."
Lancaster was speaking out during a discussion on the chat show about the #MeToo campaign social media started by survivors of sexual harassment and assault, which followed the recent allegations about Hollywood producer Harvey Weinstein.
Mr Weinstein "unequivocally denies" allegations of sexual assault, harassment and rape.
Follow us on Facebook, on Twitter @BBCNewsEnts, or on Instagram at bbcnewsents. If you have a story suggestion email entertainment.news@bbc.co.uk.