Everything Everything on how they've turned a 'nightmare' into pop music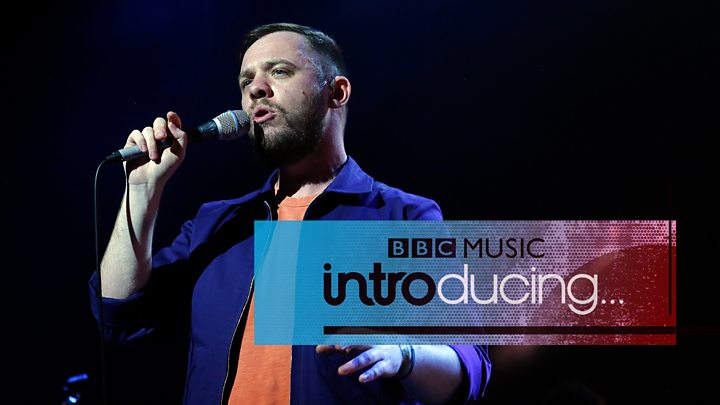 "There's a tide and it's coming in now," sings Jonathan Higgs on Night Of The Long Knives, the latest single from Everything Everything.
The title refers to Hitler's bloody purge of the Nazi party in 1934, drawing a parallel to the rise of the right-wing politics in the last two years.
Only Higgs isn't convinced that fascism will sweep everything in its path.
"They're saying it's a wave but it feels like a dribbling mouth," he sneers in the single, questioning whether the alt-right are a powerful force, or just a bunch of idiots.
"And the answer is both," says the singer, sitting down to discuss the album with BBC News at the Brixton Academy.
"It depends how we react to it. If everyone [panics and] says, 'Oh God!' the next thing you know, they're the prime minister.
"But if you go, 'Ha, ha, ha, you're idiots,' well... they'll probably still become prime minister. But you have to keep your head about it."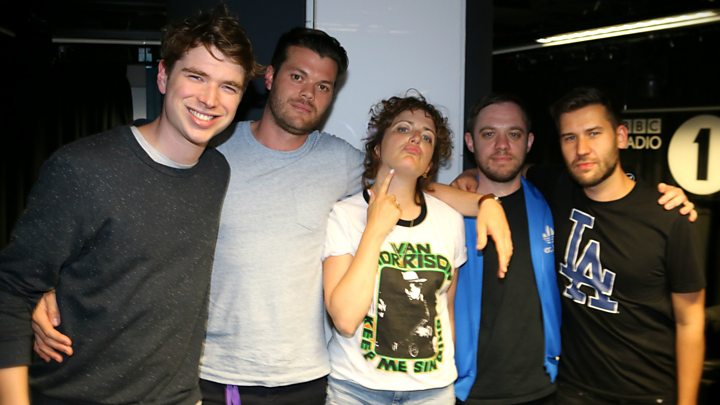 It's surprising to hear Higgs make a plea for perspective. After all, this is a man whose last album, Get To Heaven, was a "wretched and anxious" response to Islamic State militants, beheadings, mass shootings and political corruption.
"I was in a dark place," he told the BBC on its release. "I was essentially trying to inhabit the minds of the [extremists] and that's a really horrible thing to face."
Everything Everything's new album dials back on the paranoia and dread - partly because Higgs thinks the world has caught up with him.
"I'm not less in that headspace, but I think everyone else is in it more," he says.
"But the album's a bit more abstract, a bit more personal. Away from politics and all that stuff, it's about the human relationships we all have."
The album is called A Fever Dream, a reference to the "surreal, nightmarish things happening, day after day" - especially the absurdity of modern politics.
It's there in Big Game, a pomposity-pricking parable about Donald Trump ("Even little children see through you"), and it's there in Run the Numbers, a song that explores Michael Gove's comment that "people in this country have had enough of experts".
"Is it the first song to be inspired by Michael Gove? Yes, and it should be the only one. Let's leave it at that."
Higgs is smart enough to be aware that he comes from a position of privilege, and his liberal views are out of step with the prevailing political climate.
There's a song on the album called Ivory Tower, where people threaten to "come and crush me in the Waitrose aisle". On the title track, he sings: "I hate the neighbours, they hate me too / The fear and the fury make me feel good."
"It's admitting that I sort of enjoy arguing," he explains. "I think we all do on some level. It's certainly popular."
"With anonymity you can go much further than you ever could in real life," Higgs continues.
"People become very extreme very quickly. It feels good to give yourself over to that emotion."
This leads to a discussion of the fake news stories that spread in the wake of this month's mass shooting in Las Vegas.
"I just can't begin to find a way into that mindset," says Higgs. "But the whole idea about what's true has been thrown up in the air: Who do we trust? Why do we trust our journalists? Is it just because we're used to it?"
"There are codes of practices in place, right?" interjects his bandmate, Jeremy Pritchard. "But does the Daily Mail care? Does Fox News care? I don't think so."
Higgs says keeping up with the news "feels like a bad dream - sometimes it's scary and frightening and sometimes it's electrifying and exciting".
He adds: "That's why there's a reference to being asleep or dreaming or waking up in every single song. There's a feeling of 'is it real, or is it not?'"
If this all sounds pretty heavy, it's worth noting that Everything Everything have always dressed up their angst in a cathartic explosion of melodic pop.
That's how they sneak songs like Cough Cough (about greed for oil), My Kz Ur Bf (airstrikes) and Night Of The Long Knives onto daytime radio.
In concert, this results in fans bellowing out the lyrics to No Reptiles - a song about feeling passive and useless and alienated from society.
There's something bizarre, I observe, about hearing 3,000 people chanting: "It's alright to feel like a fat child in a pushchair."
"You're telling me," laughs Higgs.
"We're always surprised by what people's favourites are," adds Pritchard. "And we're still towards the beginning of that process on this album.
"We've written them, we've recorded them and now we're seeing what works in the live arena - where the energy is, how to play it."
But the "fat child in a pushchair" remains the bassist's favourite part of the set, every night.
"I don't have to play anything at that point in the song," he says, "So I always take my earphones out and listen to the crowd. It's incredible."
A Fever Dream is out now.
Follow us on Facebook, on Twitter @BBCNewsEnts, or on Instagram at bbcnewsents. If you have a story suggestion email entertainment.news@bbc.co.uk.