Is this what real beauty looks like?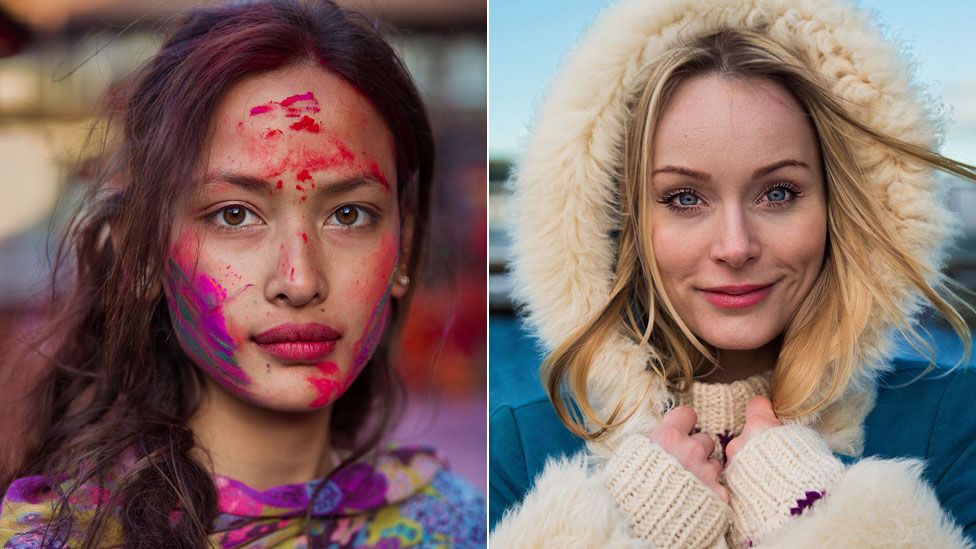 "Go to Google Images right now," says photographer Mihaela Noroc, "and search 'beautiful women'."
I do as she tells me. Millions of results come back.
"What do you see?" she asks. "Very sexualised images, right?"
Yes. Many of the women in the top pictures are wearing high heels and revealing clothes, and most fit into the same physical mould - young, slim, blonde, perfect skin.
"So beauty all the time is like that," Mihaela says. "Objectifying women, treating them in a very sexualised way, which is unfortunate.
"Women are not like that. We have our stories, our struggles, our power, but we just need to be represented, because young women, they see only images like this every day, so they need to have more confidence that they can look the way they look and be considered beautiful.
"But," she adds, "Google is us, because we are all influencing these images."
Mihaela has just released her first photography book, Atlas of Beauty, which features 500 of her own portraits of women.
The Romanian photographer's definition of beauty, however, appears to be that there is no definition. The women are a variety of ages, professions and backgrounds.
"People are interested in my pictures because they portray people around us, everyday people around the street," Mihaela explains.
"Usually when we talk about beauty and women, we have this very high, unachievable way of portraying them.
"So my pictures are very natural and simple. And this is, weirdly, a surprise. Because usually we are not seen like that."
Each of the book's 500 portraits has a caption with information about where it was taken, and, in many cases, the subject.
The locations are varied, to put it mildly. They include Nepal, Tibet, Ethiopia, Italy, North Korea, Germany, Mexico, India, Afghanistan, the UK, the US, and the Amazon rainforest.
Some locations, however, proved more problematic than others.
"I approach women I want to photograph on the street. I explain what my project is about. Sometimes I get yes as an answer, sometimes I get no, that really depends on the country I'm in," she explains.
"When you go to a more conservative society, a woman is going to have a lot of pressure from society to be a certain way, and her day-to-day life is carefully watched by somebody else.
"So she's not going to accept being photographed very easily, maybe she's going to need permission from the male part of her family.
"In other parts of the world they are extremely careful because there might be issues concerning their safety, like in Colombia. Because they had Pablo Escobar and the mafia for so many years.
"So they say 'OK, so you're going to take my picture but I'm probably going to be kidnapped after that because you're part of the mafia and you're not who you're saying you are'."
She adds: "If somebody were to start this project just with men, it would be much easier, because they don't have to ask permission from their wives, sisters or mothers."
Mihaela says she occasionally puts pictures through Photoshop, but not for the reasons you might think.
"When you take a picture, it's usually raw, and that means it's very blank, like a painting, you don't have the colours you had in the reality.
"So I try to make it as vibrant and colourful as it was in the original place. But I'm not making anyone skinnier or anything like that, never, because that's very painful.
"Because I also suffered as a woman growing up from all kinds of difficulties, I wanted to be skinnier, look a certain way, and that was also related to the fake images I saw in day-to-day life."
It's safe to say Mihaela's photography book is quite different tonally to, say, Kim Kardashian's 2015 book of selfies.
"These days, the bloggers, the famous people of our planet have set this unachievable and fake beauty standard, and it's very difficult for us as women to relate to that," she says.
"Kim Kardashian has 100 million followers on her Instagram page and I have 200,000, so imagine the difference - it's astonishing. But slowly, slowly, I think the message of natural and simple beauty will be spread around the world."
So what's the best piece of advice Mihaela could give to anyone keen to get into photography? Buy a good quality camera? Learn about lenses and angles?
"Buy good shoes," she laughs, "because you're going to walk and explore a lot."