The Crown: Olivia Colman says she is 'so thrilled' to play the Queen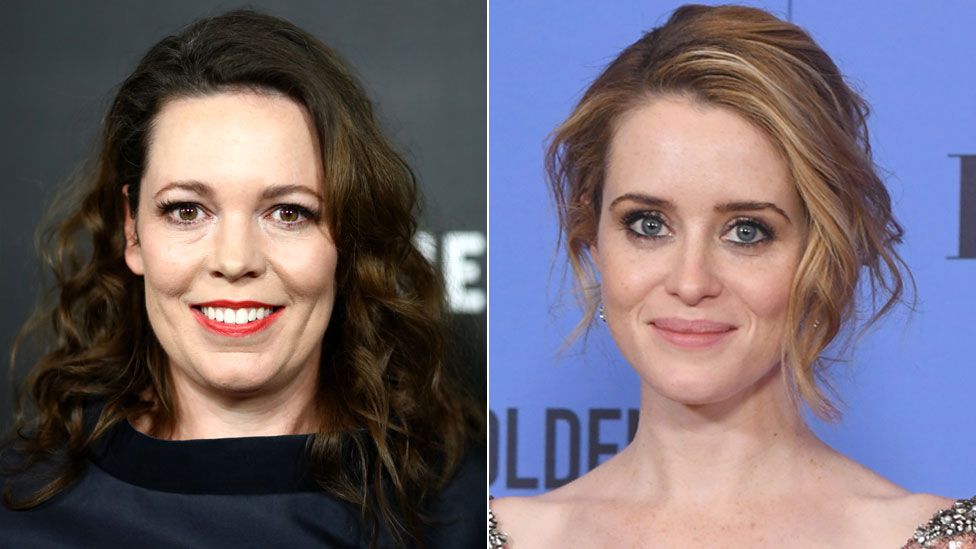 Olivia Colman says Claire Foy will be an "incredibly hard act to follow" on The Crown.
The star of Broadchurch and The Night Manager takes over the role of Queen Elizabeth II from Foy, who portrays her in the early years of her reign.
She said: "I'm so thrilled to be part of The Crown. I was utterly gripped watching it."
Colman will be in series three and four of the show and is due to be seen in the role from 2019.
She paid tribute to her predecessor, saying: "I think Claire Foy is an absolute genius - she's an incredibly hard act to follow.
"I'm basically going to re-watch every episode and copy her."
Foy was equally complimentary, saying she was "apoplectic with joy" when she found out Colman was being lined up for the show.
"I just love her, I admire her so much and the idea that we sort of will be doing the same job but not actually working together is just enough - I'm honoured by that," she said.
It is yet to be revealed who will play Prince Philip. Former Doctor Who actor Matt Smith is currently starring as the Duke of Edinburgh.
He and Foy will soon be seen in the second series of the show, due for release in December.
Foy, who has won a Golden Globe for the part, has previously said she was aware she would only be in two series.
"This is the last stint," she told The Graham Norton Show. "It's over, I'm done.
"I always knew it was only going to be two series and then the part would be reincarnated and someone else takes over. That's the nature of the part."
Colman, who won a Golden Globe for The Night Manager and has also appeared in BBC Three's Fleabag, will play the Queen in the years from 1963, when the monarch turned 37.
Another actress is expected to take over to play the monarch in later life.
Fans were excited by her casting, with one saying it was "amazing news".
Evening Standard TV editor Toby Earle echoed many people's opinions, saying Colman was "already the Queen".
Colman has form starring as royalty. She played the future Queen Mother in 2012's Hyde Park on Hudson and will be seen as Queen Anne in next year's The Favourite.
Netflix's drama started in 1947 with Elizabeth's engagement to Prince Philip and is expected to continue up to the present day.