James Toback: Film-maker's foul-mouthed tirade denying sexual harassment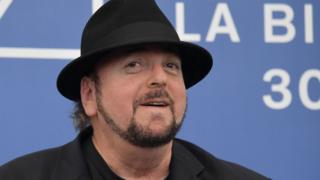 Hollywood film-maker James Toback unleashed a foul-mouthed tirade about "lying" women who accused him of sexual harassment, it has been revealed.
The Oscar-nominated writer and director has been accused of unwanted advances and sexual acts by more than 200 women.
But before the vast majority of them went public, he spoke to Rolling Stone.
In the interview, published on Friday, he said he would "spit in" the face of anyone who suggested he behaved inappropriately towards actresses.
Many of the women who have come forward have claimed he approached them, saying he would like to cast them in his films, before making unwanted advances and engaging in sexual behaviour.
Speaking to Rolling Stone's Hillel Aron on 17 October, he said claims that he offered people film parts and wanted anything in exchange were "nauseating and disgusting" and "pathetic lies".
Asked whether he approached women before turning the conversation to sex, he replied: "I don't want to get a pat on the back, but I've struggled seriously to make movies with very little money, that I write, that I direct, that mean my life to me.
"The idea that I would offer a part to anyone for any other reason than that he or she was gonna be the best of anyone I could find is so disgusting to me."
He said anyone who claimed otherwise was "lying," calling them offensive names we can't publish.
He went on: "Anyone who says that, I just want to spit in his or her... face."
He said he had never heard of one particular woman cited by the interviewer, saying she was telling "a total lie". When given details of another woman's account, he said the accusations were "too stupid" and "idiotic".
Explaining why a number of women were coming forward with similar stories, he said: "They hear each other. And they gang up.
"There was an article years and years ago with a bunch of anonymous people. People read things… it's all, you know, me too, me too, me too, me too, me too."
Five days after the Rolling Stone interview was conducted, the Los Angeles Times published a story in which 38 women accused him of acts including masturbating in front of them and rubbing himself up against them.
He denied the allegations, saying he had never met any of these women or, if he did, it "was for five minutes and have no recollection". He added that it was "biologically impossible" for him to engage in such behaviour.
A day later, the LA Times said 200 more women had come forward.
---
Follow us on Facebook, on Twitter @BBCNewsEnts, or on Instagram at bbcnewsents. If you have a story suggestion email entertainment.news@bbc.co.uk.