Magazines 'mislead' women over fertility chances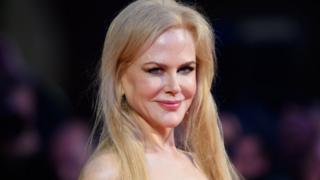 Magazines that feature famous older mums who give birth without referring to fertility treatment can create "highly damaging" misconceptions.
Research by the New York University School of Medicine looked at 416 issues of Cosmopolitan, People Magazine and US Weekly from 2010 to 2014.
Only two out of 240 celebrities mentioned in the publications were said to have had fertility treatment.
The study said "popular media downplays the impact of age on fertility".
Of the 240 famous women featured in the magazines, the majority (56%) were of advanced maternal age - 35 and over.
Seven women over the age of 44 were reported as being pregnant or having had babies with no mention of fertility issues.
The study also concluded that popular media "glamorises pregnancy at advanced ages".
Some of the reporting can be assigned to the fact that many celebrities who get pregnant in their later reproductive years choose not to disclose if they have had fertility treatment or not.
But there are stars who have opened up about their struggles, including A-list actress Nicole Kidman.
She has two grown-up adopted children with her ex-husband Tom Cruise, and two younger children with current husband Keith Urban - their youngest daughter was born using a surrogate mother.
Singer Celine Dion has gone public on having her three sons using IVF - she had seven rounds for her two younger twin sons, who she gave birth to at the age of 42.
John Legend and Chrissy Teigen also struggled to conceive and used IVF. They celebrated the arrival of their daughter Luna last year.
Sarah Jessica Parker and Matthew Broderick had an older son before their twin daughters were born using a surrogate in 2009.
---
Follow us on Facebook, on Twitter @BBCNewsEnts, or on Instagram at bbcnewsents. If you have a story suggestion email entertainment.news@bbc.co.uk.