Great British Bake Off: Prue Leith accidentally reveals winner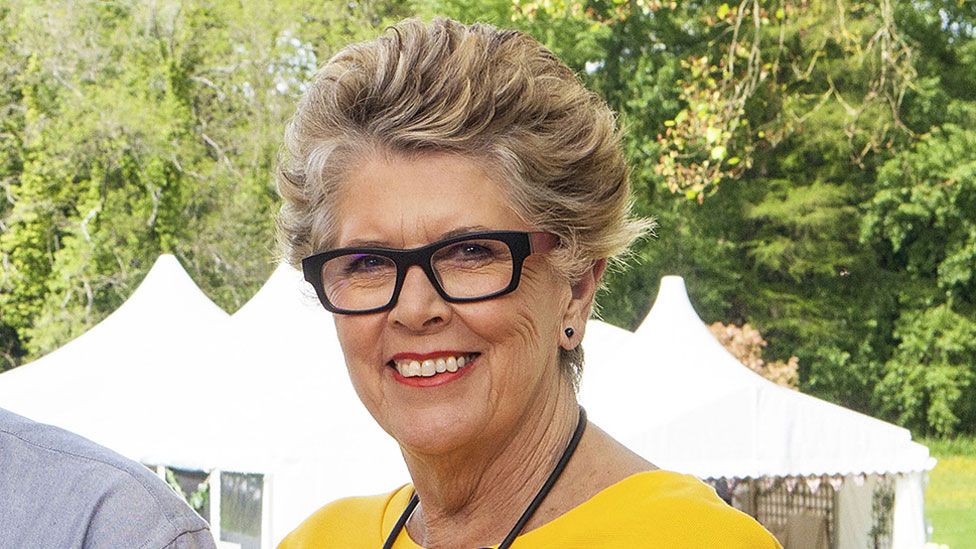 Great British Bake Off judge Prue Leith has accidentally revealed the show's winner, hours before the finale is due to air.
She announced the name of a winner in a tweet, after saying how "emotional" judging the final had been.
The tweet was hastily deleted, but not before many people had noticed and remarked upon the gaffe.
Leith has expressed regret for her mistake, saying she was "mortified" by the error.
Don't worry - there are no spoilers in this article.
In a follow-up tweet, the writer and broadcaster - who is currently in Bhutan - said she was "so sorry to the fans of the show".
She earlier said she had been confused by the time difference between the Asian country and the UK, thinking the final had already aired.
"The time difference is massive," she told the Press Association. "I thought that they got it six hours ago."
Bhutan is six hours ahead of Greenwich Mean Time.
In her now-deleted tweet, Leith said she "wanted [all three finalists] to win" before saying "bravo" to one of them.
A Channel 4 spokeswoman said: "Prue has just tweeted an apology to fans. We have no further comment."
Leith's mistake has prompted a range of responses on social media, some expressing dismay and others poking fun.
The climax to this year's series will be shown at 20:00 GMT on Tuesday on Channel 4.
The end of the programme will see either Steven Carter-Bailey, Sophie Faldo or Kate Lyon crowned the winner.
The series was the first to air on Channel 4 after the programme's high-profile switch from BBC One.
Leith replaced veteran chef Mary Berry on the show after the latter opted to remain with the BBC.
The revamped line-up also saw Noel Fielding and Sandi Toksvig take over as co-hosts from Mel Giedroyc and Sue Perkins.
Judge Paul Hollywood was the only original member of the presenting team on the show, which has been a ratings success for its new host broadcaster.
Leith is not the only TV personality to have revealed something she shouldn't have this month.
On 8 October, Debbie McGee let slip that the Reverend Richard Coles was leaving Strictly Come Dancing - hours before it was confirmed on BBC One.
Related Internet Links
The BBC is not responsible for the content of external sites.