Why Othello will be played by a woman at the Liverpool Everyman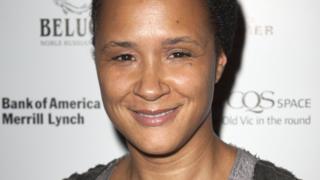 Othello is one of Shakespeare's greatest roles - and next year, there will be a female Othello for the first time in a major modern British theatre.
Golda Rosheuvel will play the jealous Venetian army general at the Liverpool Everyman from April to July.
The production will tackle themes of gender and homophobia - with Othello in a gay relationship with Desdemona - as well as jealousy, race and power.
Director Gemma Bodinetz said that would make it "more alive" for modern crowds.
'Electricity'
Othello, who's known as The Moor, secretly marries a senator's daughter and is the victim of a scheming revenge plot by Iago, a white soldier.
"I'm trying to get to the root of the electricity that the original audience would have felt about the dare of this play," Bodinetz said.
"It began to feel quite electric for me that this woman was going to be in charge of so many men and so much testosterone."
In her interpretation, Bodinetz said the "stress and strain and neurosis" of being a female general in a male-dominated army would have been playing on Othello for some time.
"The stress of being as good as a man felt very alive at the moment, actually," the director said. "And sometimes I've felt it myself as a woman in a position of some authority.
"Not quite an army. There are always times I want to make sure nobody's ever finding me wanting because of my gender, let alone my race - I don't have to fight that particular battle.
"For me, it was really [about] cranking up the stakes for Othello and the neurotic environment in which she operates, in the most masculine of all worlds."
Rosheuvel is an accomplished Shakespearean performer and no stranger to playing male parts - earlier this year, she was Mercutio in Romeo and Juliet at Shakespeare's Globe. She was also Agnes in the 2016 film Lady Macbeth.
Award-winning company
There have been no major productions with female Othellos in recent times, but they were not unknown in the 19th Century.
At the Queen's Theatre in London in 1833, a Mrs Selby "enacted the part of the valiant Moor to the satisfaction of a numerous audience", according to the London Courier and Evening Gazette.
And in 1856, Miss Percy Knowles "won golden opinions from all sorts of people" for her performance in the title role at the Royal Soho Theatre, The Times reported.
The new Liverpool production will be one of four shows in the second season of the Everyman's revived repertory company.
Bodinetz was named best director at the UK Theatre Awards for successfully relaunching the rep company earlier this year.
The other productions in the 2018 season will be A Clockwork Orange, Paint Your Wagon and The Big I Am, a reworking of Peer Gynt by Liverpool playwright Robert Farquhar.
---
Follow us on Facebook, on Twitter @BBCNewsEnts, or on Instagram at bbcnewsents. If you have a story suggestion email entertainment.news@bbc.co.uk.