Wyclef is making an 'insane' mixtape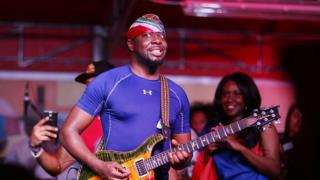 Fugees star Wyclef Jean is throwing down the gauntlet to younger hip-hop artists with a mixtape featuring his take on the year's biggest songs.
He will rework tracks like Kendrick Lamar's DNA and Young Thug and Future's Killed Before - adding his own beats and lyrics to the originals.
"It's going to be insane," he told the BBC. "Because, at the end of the day, can I go bar-for-bar with Kendrick?
"You know I can - but to a kid, it's going to sound pretty amazing."
Wyclef found fame as a member of the 1990s hip-hop crew The Fugees, whose hits included Ready Or Not and Killing Me Softly.
Since then, he's produced worldwide hits such as Shakira's Hips Don't Lie, Destiny's Child's No, No, No and Santana's Maria Maria - which was heavy sampled this year's hit single Wild Thoughts by DJ Khaled and Rihanna.
He said the mixtape, called Inspired, will "mess with the kids the same way they mess with my material".
"They already called me a genius - but the true genius is what? When you're able to reinvent genius over and over again."
British star Giggs is among the artists to get a "Wyclef flip" on a new version of his swaggering grime anthem Ultimate Gangsta.
"He doesn't even know that I did it," Wyclef told the BBC. "So you actually have the breaking news."
The Haitian star said the mixtape would be unveiled "in a couple of days" - following hot on the heels of his eighth album, Carnival III, which came out in September.
"As a kid I was always like, 'What the hell? Why do I have to wait to put out music?'" he explained.
"So every couple of months for the next two years, we're going to put out new music, feeding the fans, all over the world."
Gun guitar
The Haitian star was speaking at WebSummit, one of the world's largest technology conferences, in Lisbon, Portugal.
He was there to raise interest in his "hip-hop guitar" project - a range of guitars that will pair with an augmented reality app to teach aspiring musicians how to play.
"Basically, you can place your phone on your guitar and say, 'Play Wu Tang Clan, 36 Chambers,'" he explained.
"Then we're able to show you, through augmented reality, the hand progressions of me actually playing the part.
"So this will be the real version of [the video game] Guitar Hero. They was doing it with the rock catalogue - this will do it with the hip-hop catalogue, but I want you to be able to learn it and play it for real on your guitar."
At present, the star has two versions of the instrument planned: The first is a hollow-bodied wood guitar, replicating the one he played on the first Fugees' album, Blunted On Reality.
A second range will be made from decommissioned firearms. Wyclef hopes that former gang members can be persuaded to give up weapons and make the guitars themselves, putting the revenue back into local communities.
"It's very important inside of our culture to show we can turn violence into love."
Prototypes of the gun guitar have already proved desirable, he noted.
"Man, I made a few of those, and I can't keep them out of the rappers' hands."
Follow us on Facebook, on Twitter @BBCNewsEnts, or on Instagram at bbcnewsents. If you have a story suggestion email entertainment.news@bbc.co.uk.