Little Miss Inventor joins Mr Men and Little Miss line-up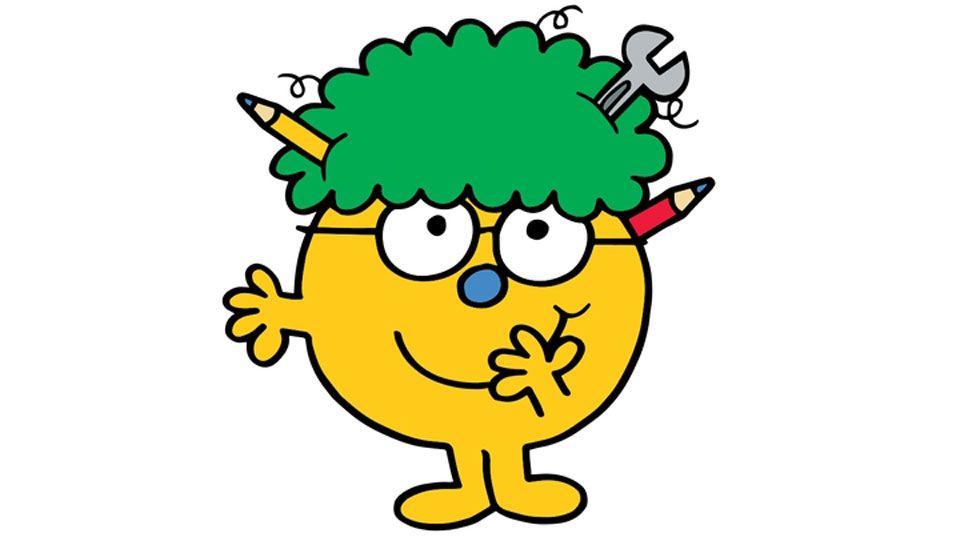 A new character is joining the Mr Men and Little Miss series - a female engineer.
Little Miss Inventor has been created as a "positive role model" for girls, its author and illustrator Adam Hargreaves said.
She will be the 36th Little Miss character and joins the likes of Little Miss Sunshine and Little Miss Magic.
The character, with pencils and a spanner in her hair, is described as "intelligent, ingenious and inventive".
'Challenging stereotypes'
The book blurb says "her brain is full of ideas, which she turns into extraordinary inventions in a shed at the bottom of her garden".
Those inventions include a backpack-snack-attack fridge for Mr Greedy and a chatter-natter hat for Little Miss Chatterbox - but she's stumped when asked to invent something for Mr Rude.
The book telling her story will be released on 8 March 2018 - tying in with International Women's Day and British Science Week.
Hargreaves, son of Mr Men and Little Miss creator Roger Hargreaves, said: "I always enjoy creating a brand new character for the series and it was fun coming up with lots of crazy inventions for Little Miss Inventor's home and silly ones for all her friends.
"It's also been nice to write a story that promotes a positive role model and to challenge a stereotype, if only in a small way."
Tom Tivnan, features and insight editor at The Bookseller, said the Mr Men and Little Miss books had been "reinventing themselves for almost 30 years".
He said the series had been "helped by canny updating with more modern characters", like last year's Mr and Little Miss Fabulous.
"Ultimately it's a brand that stays true to its values with feet firmly planted in its nostalgic past," he told the BBC.