Darkest Hour: Gary Oldman on the 'challenge' of Churchill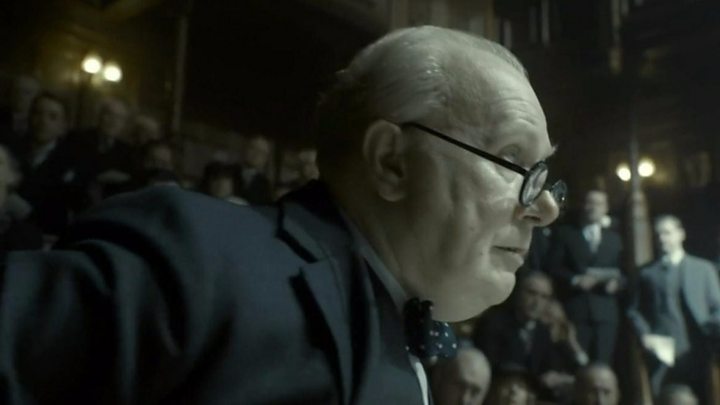 Michael Gambon, Brian Cox, John Lithgow - we've seen several actors take on the role of Winston Churchill in recent years. Could Gary Oldman's portrayal land him an Academy Award?
On the evening of 11 September, as the credits rolled on wartime drama Darkest Hour, the audience in Toronto's Roy Thomson Hall rose to their feet to applaud Gary Oldman and the film's cast and crew.
The Toronto International Film Festival prides itself on picking out potential awards winners. And in the days following the screening it was Oldman's astonishing Churchill that dominated conversation after conversation - with many declaring him the clear frontrunner for the best actor Oscar.
A couple of months later, Gary Oldman, sitting in a London hotel, remains the odds-on favourite, but is understandably reluctant to talk his Academy Award chances, instead offering: "I feel very lucky, very privileged to have been offered it, and to have actually played it.
"So I think I've got out of it what I wanted to get out of it. Anything else beyond that is a cherry on the cake."
When pressed he does concede: "If I had an Oscar that said on it Gary Oldman, best actor for Darkest Hour, if I was going to get an Oscar, I can't think of a better part to get it for, let's put it that way."
It's easy to see why it's thought that Gary Oldman's Winston Churchill will resonate with awards voters. He's long overdue proper Oscar recognition (he's only ever received one nomination - for the 2011 spy drama Tinker, Tailor, Soldier, Spy).
His Churchill is the kind of full throated performance that audiences and critics love. And his transformation from quiet voiced actor into Britain's bellowing wartime leader is indeed truly remarkable.
"I knew I didn't look like him, I thought that with some work I could approximate the voice," Oldman confesses. "The challenge in part was the physicality because you're playing someone whose silhouette is so iconic.
"So I went to the newsreel, and what I discovered was a man who had this very athletic tread. He would skip around at 65 like a 30-year-old, he had a sparkle, the eyes were alive, he had a very sort of cherubic grin.
"You know we think of this sort of rather depressed grumpy man with a cigar, and from the footage and from what I was reading I discovered someone who was just really alive and dynamic. And that's what I hoped to really bring to it, and give him a bit of a twinkle in the eye."
Churchill is, of course, one of British history's best known figures, his speeches are famous in the UK and abroad. Audiences' familiarity with the real life man could have proved problematic for any actor playing him.
"I think you get to a point where it has to become creation rather the impersonation, you try and get the spirit of the essence of the man," says Oldman.
An additional complication is that Churchill has been played many, many times on TV and in film by a succession of distinguished actors.
"You've not only got this sort of beloved Briton, this iconic figure who is arguably the greatest Briton who ever lived," says Oldman, "but you've also got the gallery of other people.
"So you've got this image of Churchill, but is that contaminated or in any way influenced by Albert Finney as Churchill or Robert Hardy as Churchill?"
Festivalgoers and audiences in the United States where the film opened this week seem more than confident that this portrayal of Churchill is 100%, uncontaminated Oldman. And critics expect his performance and the film to be prominent players at awards ceremonies over the next few months.
Darkest Hour opens in the UK on Friday 12 January 2018.