Has original music saved The X Factor?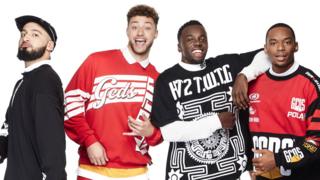 The X Factor was a little different this year. OK, very different.
There was no deadlock, the live shows were revamped and cut in number, there were far fewer sob stories and each week Dermot revealed which act had come top of the public vote as well as bottom.
But perhaps the most interesting change was contestants being encouraged to perform their own songs at the live shows, rather than just covers.
It resulted in an original song (Dimelo by Rak-Su) being chosen as this year's winners' single - a gamble which seemed to pay off this weekend as it entered the chart at number two, beaten only by Ed Sheeran and Beyonce's Perfect.
It gives Rak-Su's single a higher chart placing than the last two winners' songs - When Christmas Comes Around by Matt Terry and Louisa Johnson's Forever Young.
"Anyone tuning in this year expecting the old X Factor would have had a short, sharp shock," says Frances Taylor, TV critic for the Radio Times.
"We've seen a change in what viewers want from reality TV in recent years, so they moved away from that slightly dated karaoke, panto-style programme that it has been for a long time.
"They wanted to get away from Wagner, Jedward, Rylan, Simon being horrible, booing, and they did that by telling contestants they could play their own instruments and write their own songs.
"They're trying to create genuine stars that way, rather than getting people to do more cover versions that might get a Christmas number one but not give them much chance of having a long career."
While the show has occasionally allowed contestants like Lucy Spraggan to audition with their own songs in previous seasons, this year's acts were actively encouraged to take their original material all the way to the live shows.
The public responded extremely well. Interestingly, the two acts who took most advantage of the rule change - Grace Davies and Rak-Su - were the two who made it to last Sunday's final.
"Original acts seem to be the ones that were winning this year," Naughty Boy (who features on Dimelo) told BBC 5 live after the final aired.
"I actually spoke to [Simon Cowell] about this - I was like, 'You know what the public are enjoying, just give them that.'"
Viewers may be enjoying it, but the audience figures continue to decline year-on-year.
This year's final was watched by an average of 5.2 million people. That figure will go up when catch-up figures come through, but it's safe to say the total number of viewers this year will be down on the 17 million who watched Matt Cardle win in 2010.
Nonetheless, the series continues to attract a high proportion of younger viewers, who may have been enticed by the show's makeover and focus on authenticity.
"Original music makes the show more credible," says writer and broadcaster Edward Adoo, who interviewed Rak-Su on his BBC Three Counties show last year when the band were featured on BBC Introducing.
"For real musicians out there, it's a sigh of relief to think, 'Wow, there is a programme out there that will allow our songwriting skills to be showcased'. Before, that wasn't possible.
"The producers and Simon Cowell have mixed things up and said, 'OK, people are not liking what we're doing, but this will enable artists to think they can reach out to The X Factor and get some kind of recognition'.
"And the artists won't be known as some kind of cast-offs or karaoke kids or whatever, they'll be respected."
One of the other most popular songs to come out of this series was by runner-up Grace Davies.
In October, she performed her own song Too Young - which the show immediately posted on YouTube, attracting more than a million views.
"Grace Davies delivers another original song," read the video's title - the ITV show notably using Grace's songwriting as a selling point.
But while a million views would generally constitute a relatively successful video, it's worth bearing in mind The X Factor's most successful YouTube clip ever remains the contestant who punched her bandmate in 2010 (it's had 109 million views to date).
Whether YouTube views will equate to album sales for either of the two finalists remains to be seen, but Rak-Su are off to a good start with their top three single this weekend.
The song's Latin-American style follows in the footsteps of countless chart hits this year, which Adoo argues gives it a more current feel than previous winners' singles.
"Reggaeton is one of those genres that's been around for ages, but songs like Mi Gente [by J Balvin] or Havana [Camila Cabello] have brought it to the mainstream," he says.
"I think people were fed up of hearing that weepy, three-minute ballad, so I think it's useful and unique that Rak-Su have picked up on that Reggaeton vibe.
"I mean, Reggaeton live on ITV on a Saturday night? I'm sure the likes of Mildred in Hitchin were calling in to complain, but this is the kind of sound you'd hear at a nightclub. The traditional X Factor sound is too safe."
There's no doubt The X Factor pulled out all the stops this year in an attempt to remain relevant, and Frances Taylor also notes the change in the show's tone as well as the format.
"Strictly does so well because it's all positive, nobody is nasty to each other. Same with Bake Off," she says. "And I think producers have responded to that."
She adds: "If the ratings do continue to slide, I think it will get to a point where ITV will think this is not viable anymore.
"But, like Dancing on Ice, I'd argue that when The X Factor's current contract is up, they should take a break for a few years. I think people would then actually love it, there'd be massive nostalgia over it."
For now, while original music doesn't appear to have saved the show's viewing figures, it may well prove to have dramatically improved the credibility (and career prospects) of the winners.
Follow us on Facebook, on Twitter @BBCNewsEnts, or on Instagram at bbcnewsents. If you have a story suggestion email entertainment.news@bbc.co.uk.