Little House on the Prairie: Still a haven for young fans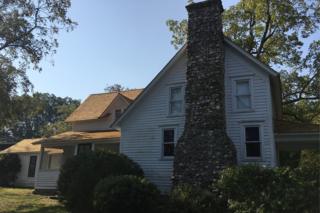 It's 150 years since the birth of Little House on the Prairie author Laura Ingalls Wilder - but do her tales about the farming family still appeal to young girls in our technology-driven age?
"Does he have Pa's fiddle? Does he have Pa's Fiddle?"
Violinist David Scrivener hears this question every autumn from fans of the books when he walks out of Rocky Ridge Farm on the annual Wilder Day, held in the author's memory.
Many families have gathered at the Missouri farmhouse where Ingalls Wilder wrote her eight Little House books, to see David play the actual violin which featured in her childhood stories.
Many children wear bonnets and braids like the central character Laura in the books.
Little House on the Prairie - the third in the series - is the most famous book because it gave its name to the wildly unfaithful, but much-loved 70s TV series.
It starred Melissa Gilbert and Dean Butler as the pioneer girl and her future husband growing up in the 1870s and 80s in the Midwest.
But it's the beautifully written books, based on Wilder's real childhood, which have remained international bestsellers since they were first published in the Great Depression.
They have bonded generations of families like Jennifer Dohlman and Elizabeth Tyre - sisters from Oklahoma and Texas - who, as self-declared superfans, have been to 10 of the real locations linked to Wilder's family.
'So exciting'
The stories, written with a "once upon a time" fairytale-like tone, describe the now mostly lost wilderness transformed by immigrant farmers.
The family's hardships were well documented - from seeing wolves howl at the moon to surviving an eight-month winter snowed in and starving, in The Long Winter, the sixth book in the series.
A ninth book, The First Four Years, was published some years after from a draft manuscript several years after the author's death.
Jennifer and Elizabeth are moved to tears like many visitors hearing David play "Pa's fiddle". They're here with their mother Jonelle Jenson and Jennifer's two daughters Carmen, who's seven, and 10-year-old Katelyn.
"This is not just any fiddle. This is THE fiddle," Elizabeth explains. "Seriously I have goosebumps right now because this is so exciting."
They argue playfully about who gets to be Laura. "My sister's older," says Elizabeth. "She thinks she should get to be Laura. I never got to be Laura."
In the gift shop where visitors browse shelves of books and jars of local Missouri apple butter, there are often deeply personal emotional connections to Ingalls Wilder's stories.
One young woman says: "When I was in third grade our teacher Mrs Murray told us she wanted to read us some stories. I was just hooked and read them all in the next year.
"What drew me was her spirit, her tenacity. I had a very troubled childhood. My father was an alcoholic and very abusive and something about the hardships that she went through, but kept such a positive spirit, inspired me."
There are people in pioneer costume doing displays of spinning, sewing and butter-making.
As in the UK, there's been a renewed interest among young women for "make-it-yourself" crafts that the Little House books celebrate.
'Incredibly blessed'
Ingalls Wilder was a publishing pioneer too, in suggesting her books be marketed as a Young Adult series, which followed Laura growing up from five to 19 when she married Almanzo.
Readers grew up with her like today's children do with Harry Potter.
Actor Dean Butler, who is among the speakers at Wilder Day, played Laura's sweetheart in the TV series.
The show "was never cool" he says, but is still loved like the books because it celebrated kindness and family values.
"I feel incredibly blessed that I was the beneficiary of so much affection from people who say they loved him because Laura loved him."
'Lifelike'
Inside the perfect little handmade house, which the real Laura and Almanzo built together, visitors stop to admire the pioneer spirit that fills the still immaculate kitchen with tiny counters for her 4ft 11in (1.5m) height.
Pa's fiddle hangs in the parlour when it's not being played.
It's like Ingalls Wilder's books come to life. All that's missing is the dark haired rebellious girl who tricked mean Nellie into the creek full of leeches and rode a pony bare back.
Historian and Ingalls Wilder biographer William Anderson stands in the parlour watching the crowds and understands.
"A teacher told me Laura seems so lifelike to her fourth graders that the girls would go home and talk about Laura Laura Laura," he says.
"And the parents would ask, 'who is this new girl in class?' Laura is passed on like a family heirloom."
Silver-haired Jean Cody, now elderly herself, was once a little girl whose family knew Laura and Almanzo well.
She has helped run Rocky Ridge Farm as a museum since 1960, just three years after Ingalls Wilder died. She still holds the author as an inspiration.
"I thought I had a heroine in her because she was her father's helper and I applaud her for being a modern woman in a not modern time."
Laura Ingalls' America is on BBC Radio 3 at 18:45GMT on Sunday 10 December
Follow us on Facebook, on Twitter @BBCNewsEnts, or on Instagram at bbcnewsents. If you have a story suggestion email entertainment.news@bbc.co.uk.