Hull 2017: Highlights from the City of Culture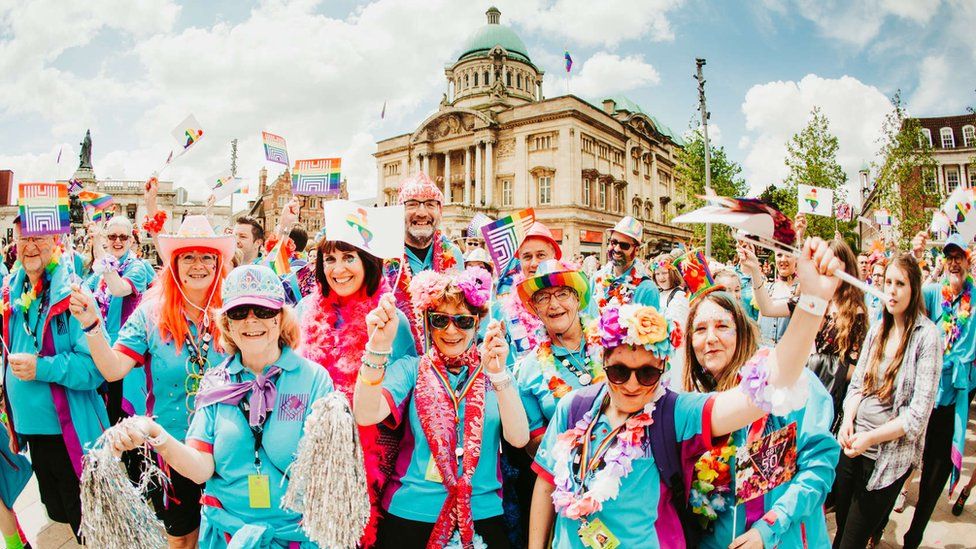 Pop superstars and world-class ballet dancers wowed huge crowds. Tower blocks, wind turbine blades and a tidal surge barrier became giant art installations. Tens of thousands of schoolchildren got creative. And naked women rolled in chip spice.
That's just a taste of what has happened in Hull as part of its packed year as UK City of Culture in 2017.
There have been more than 2,000 events, exhibitions and cultural activities at more than 250 venues. The year has won over most of those who didn't think the words "Hull" and "culture" belonged in the same sentence, as well as helping the local economy and going some way to reinvent the city's image.
The BBC's Hull-based culture correspondents Kofi Smiles and Look North's Anne-Marie Tasker have been covering all the events. Here are their highlights.
Anne-Marie Tasker's highlights:
The opening event of 2017 set the bar so high, I think it's still to be beaten.
We knew there was going to be a light and sound spectacle telling the story of Hull, but I don't think anyone had imagined it could be so powerful and emotional - the atmosphere in Queen Victoria Square every evening was electric.
I saw people crying every time I went to watch it - some with pride, others with sadness at the moving way the Blitz and Hull's trawler tragedies were played out across the city's beautiful buildings.
It was simply incredible to have global pop stars right on our doorstep. Katy Perry blew me away and I don't think I've ever been at a gig where everyone seemed so united.
It was only days after the Manchester bombing, and when she asked everyone in the crowd to touch the person next to them, people joined arms and sang along, including the police officers right behind us. Incredibly moving.
This was one of the most memorable evenings of 2017. For years, I've been following the progress of the dancers who'd first learnt ballet in Hull, like Elizabeth Harrod, Demelza Parish and Xander Parish, and who now dance with the world's best ballet companies.
It was amazing to see them perform on home soil alongside the likes of Marianela Nunez, who I'd never dreamed I'd see dance in Hull.
It says something when you can't really sum up an evening of theatre in a sentence or two - and you'd struggle to make anyone understand the experience of One Day Maybe unless they'd been there. We left asking each other, "did that really just happen?!"
Based in the headquarters of a fictional South Korean company, you started by going on a hi-tech shopping spree, then were transported back to a 1980s police state, where you were taken hostage, then took tea in a traditional Korean front room. Truly mind-bending stuff.
The Royal Philharmonic Orchestra play the music of John Williams
This was one of the first events announced ahead of the City of Culture year to sell out completely. It was fantastic to see so many families out, trying something different - and when they played the classics, it was spine-tingling.
Spending time with Barbara Buttrick was truly inspirational. She may be in her 80s, but she's still full of life and still taking a huge interest in the world of boxing.
Barbara grew up just outside Hull, but moved to America and became the world's first women's boxing champion in 1957. It was great to hear her stories first-hand - she trained in the same gym as Muhammad Ali, but she also had to fight so many prejudices to make it to the top.
Her incredible story inspired two plays during City of Culture year and she appeared in person as a keynote speaker at the Women of the World festival, where I was lucky enough to interview her in front of a live audience.
WORM at Humber Street Gallery
After an amazing weekend seeing musicians, artists and locals collaborating to create work for the pop-up gallery, the Dutch collective closed one of their evenings with a naked lady smothering herself in butter before rolling around in 5kg of American Chip Spice.
It brought many of the attendees to tears seeing such a large amount of chip spice sacrificed in the name of art.
Radio 1 Big Weekend & Academy
After the terrible events in Manchester, there was a chance that this wouldn't go ahead. But the Big Weekend brought together champions of music in such a difficult time.
The team at BBC Learning also brought the R1 Academy to help local students learn from industry pros and to get a leg up into the world of media while allowing some of the best local bands to perform and showcase their talents. A great couple of weeks, helping people through a tough time.
I Wish To Communicate With You at Thornton Estate
This involved turning on colourful lights and allowing a misunderstood inner city estate to feel entitled and part of the City of Culture.
It allowed neighbours to talk to each other for the first time and invited the rest of the city down to what was thought of as a "dangerous" area, but which is home to a diverse community who for so long have been living alongside the city, but now feel part of it.
A few years ago, the meaning behind Freedom Festival had pretty much been lost. This year, different themes of freedom (or the lack of) were back at the heart of the performances, debates and discussions.
The essence of the festival had found its way back home, bringing with it colourful street performances and crowded streets over the weekend. Celebrating a 10th birthday never looked (and felt) so good! Oh and I got to interview Kofi Annan too.
John Grant's North Atlantic Flux
After meeting singer-songwriter John Grant and listening to the work and dedication he put into the North Atlantic Flux festival, it's no surprise it was a hit.
Comprised of some of the most eclectic musicians from Hull to Reykjavik, it provided four days of "I don't know what I'm getting myself into" fun that catered to music lovers and give-it-a-goers alike.
The event told the story of the influence migration has on port cities and how art grows from cultures mixing, and more importantly, that once warring cities can let bygones be bygones and form new relationships through music.
Blade in Queen Victoria Square
The day after the Blade - a giant Hull-made wind turbine arm - was installed, I witnessed two heavily tattooed, juiced-up gym rats arguing in the sauna about whether it was art or not. Everyone was talking about it and they didn't care who was listening.
The national and global news coverage felt like a statement to the world: We are Hull. We are the UK City of Culture. And the guys in the sauna concluded by wanting to find work at the Siemens factory, where it was made.