Katie Price breaks down over what could be 'last Christmas' with her mum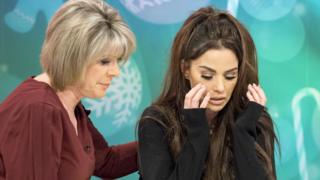 Katie Price had to leave the set of ITV's Loose Women after getting upset about her mother, who has the same lung disease that killed Keith Chegwin.
Price said she went on the show to raise awareness of idiopathic pulmonary fibrosis (IPF), but was overcome with emotion when discussing her mum Amy.
Chegwin had been giving her mother advice before his death, she said.
"Keith got in touch and we've been speaking to him a lot and he was trying to help my mum," the star said.
"I knew all along about Keith. I never said it to anyone, and I can't believe that within six months he's gone.
"The thing is, my mum's going to die and I just don't want her to die. She's getting worse. She's having to sell her house now because she can't get upstairs."
Katie Price and Keith Chegwin struck up a friendship on Celebrity Big Brother in 2015. Tributes have poured in since the TV presenter died on Monday at the age of 60.
Following his death, Price went on Loose Women to talk about the progressive lung condition. Her appearance came three months after she accompanied her mum on the same programme to talk about her diagnosis.
At that time, Amy Price said she didn't feel bad, and Katie said her mum had been given around three to five years to live.
But on Tuesday, the former model became overwhelmed as she told how her mum had gone downhill.
'I love my mum so much'
"How can my mum die?" she said. "It might even be my last Christmas with her.
"She's so healthy, never smoked, she works out all the time."
Katie Price said she had found it hard to come to terms with the news.
"I couldn't see her for a few weeks and she didn't understand why," Price revealed. "And I just said, 'Because I can't bear seeing you, knowing I'm not going to see you grow old. You won't see Harvey's 18th birthday or the kids...' How can my mum die? I love my mum so much."
Amy Price had been troubled by a niggling cough for five years. It was originally diagnosed as asthma, but a lung scan eventually picked up the IPF.
What is Idiopathic pulmonary fibrosis?
It's the build-up of scar tissue on the lungs, which makes it harder to breathe
It progressively gets worse over time
The cause isn't clear and there's no cure
Symptoms can include breathlessness, a persistent cough and constant tiredness
Around 6,000 people are diagnosed every year in the UK
On average, people survive for three to four years after diagnosis
Follow us on Facebook, on Twitter @BBCNewsEnts, or on Instagram at bbcnewsents. If you have a story suggestion email entertainment.news@bbc.co.uk.