The Twilight Zone returns to spook theatregoers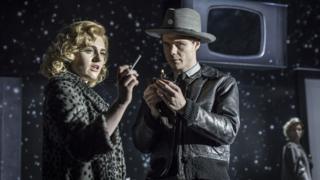 In 1959, a groundbreaking TV series began in the USA. The Twilight Zone came to be regarded as a classic of science fiction for the small screen. Now the Almeida Theatre in London is taking eight episodes to make a Twilight Zone for the stage.
Actor Sam Swainsbury envies people who watched the original Twilight Zone when it began on American television at the end of the 1950s.
"If I'd watched the series at that time in history I think it would have blown my mind. I don't think there was really anything around like it.
"If you watch them now, they have that thing about TV of the time, that it can be quite slow and maybe a bit stilted in the acting. But if you dig deeper the stories are all saying something about society at that time - and I think that translates today. There's something about them that's utterly engaging and compelling."
Swainsbury - about to return to the BBC in the second season of the comedy Mum - is one of a cast of 10 at the Almeida bringing to life Anne Washburn's new script based on the television originals. The play interweaves elements of eight episodes to create a new story, set in the America of the original period.
Washburn is modest about her contribution. "You know the primary authors are really Rod Serling, Charles Beaumont and Richard Matheson who wrote the originals. I'm coming along more as an adaptor.
"The series ended in 1965, but I'd say in America people over about 35 are still familiar with the series. Ask any American of the right age which episode scarred them as a child and they'll always have an answer.
"The director is Richard Jones and the first thing we did was watch all 150 or so episodes. I pulled aside about 30 which I was most interested in - it was a combination of ones I thought were just great and those which I saw could really function on stage.
"Of the stories we eventually dealt with, some are used in a much more complete way than others. There are huge fans of The Twilight Zone and they'll love spotting what bit comes from where. There's a real push and pull between the episodes we use."
The creator of the original was writer-producer Rod Serling, who died in 1975. Serling's work for American TV in the 1950s stood out for its power and social conscience.
In 1956, Jack Palance starred in his drama Requiem for a Heavyweight. It's still considered a classic of the era when TV drama was transmitted live in black and white.
'Sexual fantasy'
Building on that success, Serling developed The Twilight Zone for CBS: self-contained half-hour dramas which attracted big audiences with their stories of fantasy and science fiction.
Across five seasons, the defining characteristic was an interest in the weird and unsettling. But some stories also offered an underlying commentary on such social problems as racism and the abuse of power.
Lizzy Connolly, like all the cast, is wary of saying too much about the multiple roles she's playing. "I can say that one of my characters is a sexual fantasy. But basically we're maintaining an element of surprise, both for fans of the series and for people who've never seen it."
Though it's made for a tough rehearsal period, Connolly says the way the show looks and sounds is special. "We have fantastic costumes and design and lighting. And there's a really great soundscape by Sarah Angliss which refers back to the original TV music. But it's also its own fresh creation and it's really exciting."
'Doo-doo' theme
Even people who barely know the TV series are often familiar with the space-age theme music. A lot of the music used in the series was by Bernard Herrmann, but the unforgettable "doo-doo, doo-doo" theme was a piece by Marius Constant which had originally been commissioned for the CBS music library.
Washburn says the best Twilight Zone stories can have a fantastic set-up. "So for instance we start in a diner in the middle of nowhere, in the middle of the night with the snow coming down. There's a group of bus passengers who have just been stranded. And then they realise that one of them is an alien from outer space."
She adds she's learned a lot about what Serling wanted for his project. "He came out of a really gung-ho tradition of social commentary and then he discovered he wasn't able to tell the stories he wanted to tell.
"I think he was of a generation which thought they had a new medium in television and had a responsibility to use it for the good of society."
Washburn says she doesn't want critics to see her play as an implied comment on today's America. "I think to take the series and completely twist it for today would be neither here nor there: the stories were made for a different time and we have kept to that era.
"At the same time I will say that these episodes - for all that they are about the creepy and the fantastic - they're at heart all about human nature and that doesn't change. They're about human nature under pressure - and at times of change and stress and anxiety.
"I don't know to what extent it all speaks to the current political moment, but it speaks to the current state of mankind."
The Twilight Zone plays at the Almeida Theatre in London until 27 January.
Follow us on Facebook, on Twitter @BBCNewsEnts, or on Instagram at bbcnewsents. If you have a story suggestion email entertainment.news@bbc.co.uk.