Meryl Streep says boardroom inequality contributed to Hollywood sex scandal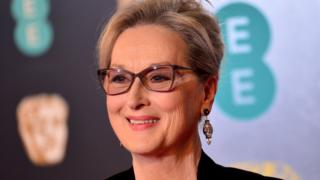 Meryl Streep has said sexual harassment wouldn't have been tolerated in Hollywood if there were more women on the boards of entertainment companies.
The star is getting together with other well-known actresses to demand equal representation in boardrooms.
She said balanced boards wouldn't have approved pay-offs like those given to some of Harvey Weinstein's accusers.
"If the boards of the company were half female, there wouldn't ever have been pay-offs to anybody," Streep said.
Speaking on a Buzzfeed panel, she said that if there had been more women in positions of power, "the shenanigans wouldn't have occurred".
She also said the Hollywood press had "often been silly and shills for the powerful" but that powerful people had tried to suppress scrutiny and prevent reporters from running negative stories.
"Power tries to suppress the truth," she said. "That's just what happens - in Hollywood, Wall Street, in the news media as well. So everybody has to stay alert and awake and fight against them."
She was promoting her new film The Post, in which she plays former Washington Post publisher Katharine Graham, and which tells the story of how the paper helped uncover secret government documents relating to the Vietnam War.
Last week, she outlined a plan to get equal representation on the boards of entertainment giants in a speech at the Massachusetts Conference for Women.
"Right now, I'm getting together with a bunch of actresses that you know very well, and we're all sort of going to make a set of non-negotiable demands," she said, according to People. "We're after 50/50 by 2020."
She told the conference she was hopeful that the world was changing, but said it was still difficult for women to reach the "top layer".
"There are always three women on a board, and then there are nine or 12 or 14 other people," she said. "Equal means equal. And if it starts at the top, none of these shenanigans would have filtered down and been tolerated.
"Part of the problem is that there's no horrible plot at the top of Hollywood not to keep people of colour or women out of leadership positions.
"It's that like hires like. White hires white. A guy who wears his baseball cap backwards hires a guy who wears his baseball cap backwards. So we have to encourage the people who are currently in power, who are of one gender, to open the door."
Streep worked with Weinstein on such films as The Iron Lady and August: Osage County and jokingly referred to him as "God" in a 2012 acceptance speech.
But after the allegations against him emerged, she said she was "appalled" by the "disgraceful" news.
Follow us on Facebook, on Twitter @BBCNewsEnts, or on Instagram at bbcnewsents. If you have a story suggestion email entertainment.news@bbc.co.uk.