Star Wars: These aren't the spoilers you're looking for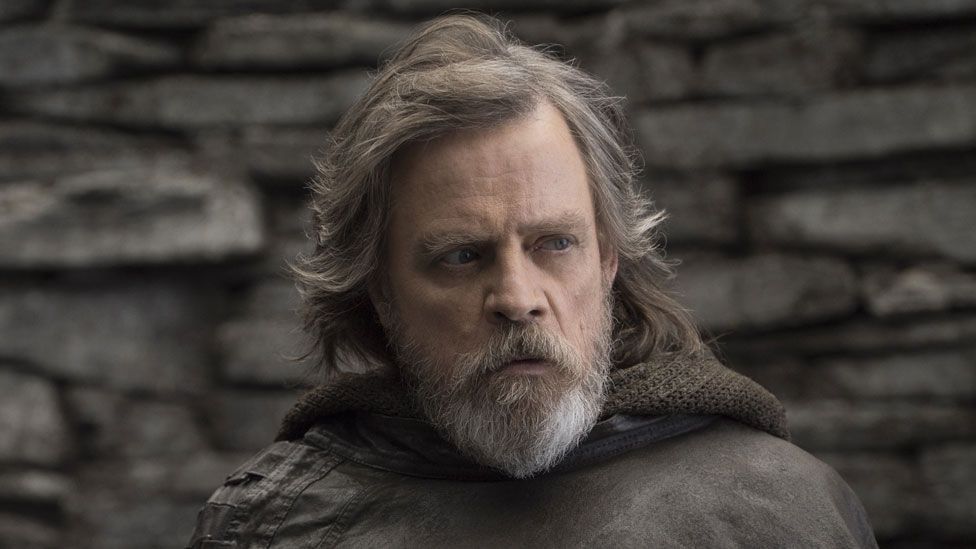 Spoiler alert: The latest Star Wars movie features a 7ft Ewok and cameos from Kirk, Spock, Scotty and Bones.
At least, if social media is to be believed.
But some Twitter users might have made it easier to dodge any twists by flooding social media with make-believe spoilers of their own.
This includes Daniel Carlson who tweeted a laundry list of so-called spoilers, including what he called a "bold" choice of music for the end credits.
Thoughts on THE LAST JEDI:

- way more nudity than expected
- smart idea to do it all as a rap
- Charlie Sheen totally holds his own
- Adam Driver's love ballad felt awkward
- didn't like the 22-minute Olaf short
- Smash Mouth's "All Star" was a bold end-credits choice

— Daniel Carlson (@danielwcarlson) December 12, 2017
His post inspired many others, and one of the biggest stars in the film series joined in on the joke.
Another user suggested a 7ft 3in (2.2m) basketball star's cameo as an Ewok "seemed off", while some may have gotten slightly confused with a different 'Star' franchise, or Disney's Marvel Cinematic Universe (famed for their end-credit scenes).
Finally seen it and it totally lives up to the hype. Everyone gets good screen time. Kirk, Spock, Scotty, Bones.....everyone.

— Tony Kirk (@TonyKirk36) December 13, 2017
My favorite part was the post-credit tease where Samual L. Jackson winked into the camera with the sound of Darth Vader breathing in the background, followed by a Jar Jar Binks dance routine on Endor with the Ewoks. Classic.

— Pete "Bacon" Vigeant (@greenghoulie) December 13, 2017
Yo, Disney, stop putting 22-minute Olaf shorts in front of your movies! We get it. You didn't think Star Wars would sell tickets without a bit of Frozen in it, but 22 minutes is too long! Geez...

— Metroid (@MetroidSlayerP7) December 13, 2017
Although Star Wars producer Kathleen Kennedy previously announced Jar Jar Binks, who first appeared in The Phantom Menace in 1999, would not appear in The Force Awakens, an appearance in The Last Jedi was not ruled out.
And at least one person recast the role with Ryan Reynolds, star of Deadpool and Green Lantern.
Casting Ryan Reynolds as Jar Jar Binks really redeemed the character, but he specifically asked for his super suit to not be green or animated. And who's idea was it to have Nathan Fillion voice all the Battle Droids?

— The Security Robot (@XenoSynthesis) December 13, 2017
Meanwhile, one group of people who may not have to wait as long for the film as they first thought are the astronauts aboard the International Space Station, where Nasa plans to send a copy of the film.
And with ISS internet speeds "worse than dial-up," according to retired astronaut Scott Kelly, the astronauts of Expedition 53 may have to avoid social media for some time to remain completely spoiler-free.
By Tom Gerken, UGC & Social News