Star Wars: The Last Jedi - the most divisive film ever?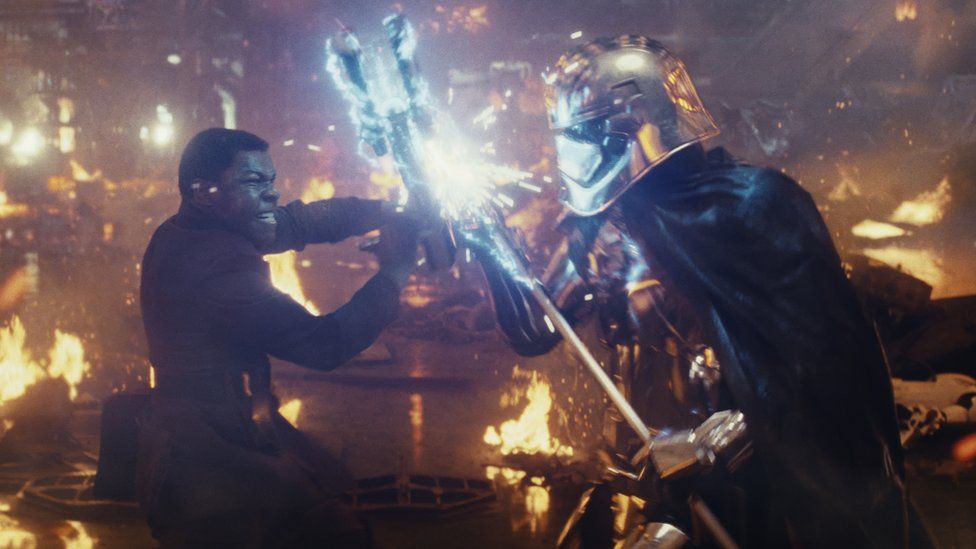 "This movie is an absolute insult to all Star Wars fans." "I'm going to go have a funeral for my childhood now." "This is NOT the Star Wars movie you are looking for!"
"This movie was AWESOME." "I was on the edge of my seat, I laughed, I cried." "I do understand the backlash, but I believe it's wrong. This is a great movie."
As those fan reviews attest, Star Wars: The Last Jedi has split opinion. To put it mildly.
The quotes are from user reviews on Rotten Tomatoes, where the debate on the film's merits has been raging since it was released last Thursday.
No other franchise means quite so much to so many. So when an instalment defies expectations in any way - expectations that were sky high - it was inevitable there would be a fallout.
On the one hand, there are diehard fans giving it low ratings who (to sum it up) believe The Last Jedi, its director Rian Johnson and film studio Disney have betrayed everything they have held dear for the past 40 years.
On the other, there are those who applaud the film's action and tone as well as its attempts to break with Star Wars tradition, taking the franchise into new territory.
Its audience score of 54% on Rotten Tomatoes (that's the proportion of users who have rated it 3.5/5 or higher) is the lowest of any Star Wars film, including the much-maligned prequels (The Phantom Menace has 59%).
But something else is going on too - while fans are divided, film critics were largely in agreement.
The Last Jedi has a critics' score of 93% - that's the proportion of writers who gave it a positive review - putting it level with A New Hope and The Force Awakens, and just 1% behind The Empire Strikes Back.
That puts The Last Jedi at number 49 on Rotten Tomatoes' all-time list. And of the all-time top 100 films, The Last Jedi has by far the biggest gap between the critics' score and the audience score.
"It is unusual to have this much of a divide between critics and audience," says Helen O'Hara, editor-at-large at Empire magazine.
There have been more divisive films this year, she says - like the mystifying Mother!.
"But this is certainly one of the most divisive big films, and it slightly took me by surprise," she says. "I really didn't see that coming. I really didn't think fans would be unhappy with this film."
There are a few reasons why some fans feel affronted.
The Last Jedi didn't fulfil the fan theories that had been lovingly and obsessively plotted since The Force Awakens, such as Rey's parentage and the origins of Snoke.
"Some theories became so ingrained in fan consciousness that when they didn't play out, many fans seem to feel like they were cheated out of something," he wrote.
Reading the fan reviews on Rotten Tomatoes, other gripes stand out.
"It's corny, stupid and politically correct," wrote one.
"So caught up in being diverse and political, it forgets to tell a coherent and compelling story," wrote another.
Empire's Helen O'Hara explains: "There were many more characters in this instalment that weren't white men, and that has been a shift that some fans have found unconsciously upsetting or alienating. They've felt excluded by that.
"And some men have openly complained that there are too many girls running around the Star Wars universe, which I personally think is crazy."
There has also been some upset about the humour, the diversionary sub-plots, the introduction of new Force powers, and about the fact that it subverts some of the conventional Star Wars plot devices.
"This film plays with a lot of the Star Wars tropes and stereotypes," O'Hara says. "It does things that we think we know how they're going to go, but then they go in a completely different direction, and that's taken some people by surprise."
Some of the professional critics admired its attempt to reinvent the franchise.
"The best and most significant moments of this film are so explicitly progressive - so heretically violent towards the sacred texts of Hollywood's greatest saga - that they almost border on the surreal," Indiewire's David Ehrlich wrote.
Rian Johnson has "mounted a bonafide insurrection against an industry that's fuelled by nostalgia", wrote Ehrlich, adding: "If you really love something, you have to let it go."
Many fans are refusing to let it go, though.
An online petition calling for Disney to "re-make Episode VIII properly" has more than 35,000 signatures at the time of writing.
The gulf between the film's fan and critic scores on Rotten Tomatoes tells a story, but such online ratings are hardly scientific.
One disgruntled fan has boasted of using bots to skew The Last Jedi's user score.
But the website says it has a team of security, network, social and database experts who closely monitor its platforms, and they "haven't seen any unusual user activity".
The BBC is not responsible for the content of external sites.
The BBC is not responsible for the content of external sites.
Skip twitter post 2 by Gavin Verhey
Allow Twitter content?
This article contains content provided by Twitter. We ask for your permission before anything is loaded, as they may be using cookies and other technologies. You may want to read Twitter's cookie policy, external and privacy policy, external before accepting. To view this content choose 'accept and continue'.
The BBC is not responsible for the content of external sites.
End of twitter post 2 by Gavin Verhey
The Last Jedi isn't the first film to face a concerted effort to discredit it. Last year, FiveThirtyEight found that 12,000 people had rated the all-female Ghostbusters remake on IMDB before it had even come out - mostly men, mostly giving it low scores.
Just before The Last Jedi was released, Gizmodo analysed the films with the biggest differences between the critics' scores and fans' scores on Metacritic, another review aggregating site. Ghostbusters was top.
Source: Metacritic via Gizmodo
"In both The Last Jedi and the most recent Ghostbusters, there is a very small, very loud minority who are creating accounts specifically to give these films bad reviews," Helen O'Hara says.
"These people are judging the film based on their politics and based on the fact that they object to what they see as PC gone mad, and not based on the quality of the actual film, and I would hope critics are not doing that. This divide is not entirely organic."
O'Hara says the Ghostbusters campaign may have harmed that film's box office performance, but The Last Jedi is probably too big to be derailed. It took $450m (£336m) at worldwide box offices in its first weekend.
Some unhappy Star Wars fans have also used their platform to call for Rian Johnson to be removed from his duties directing a new, separate trilogy. But given The Last Jedi's box office performance, along with the many positive reactions, they're unlikely to get their wish.
"He would be relieved of future directing duties if the film flops badly," O'Hara says.
"I don't think there's any evidence of that happening. So, no, I don't think these guys do have the power that they think they do."