St Trinian's Class of 2007: Where are they now?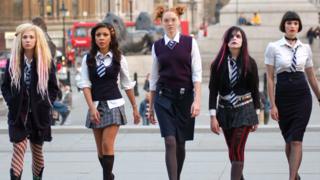 Think back to 2007. A year when Skins was just starting out, Ugg boots were uber cool, and MySpace still felt modern.
And it was exactly 10 years ago today (on 21 December 2007) that a bunch of unruly schoolgirls, and even more unruly teachers, barged their way onto the cinema screen in the shape of St Trinian's.
The film's box office success helped to launch the careers of many well known faces.
So where are the actresses who made up the St Trinian's Class of 2007 now? And where are the characters they played most likely to have ended up?
Gemma Arterton played Head Girl Kelly
Gemma in 2017: She's now one of Britain's best known young stars, appearing in Bond movie Quantum of Solace, The Prince of Persia and Their Finest.
Kelly in 2017: Probably working as an international spy, protecting the world from threats that occasionally involve other ex-St Trinian's girls.
Talulah Riley played goody-two-shoes Annabelle
Talulah in 2017: She's appeared in blockbuster films including Inception and is one of the stars of award winning TV show Westworld.
Annabelle in 2017: Probably a high flying lawyer who always still sees the best in her clients (even the clearly guilty ones).
Juno Temple played posh Celia
Juno in 2017: A winner of Bafta's Rising Star award, she's appeared in blockbusters including The Dark Knight Rises as well as a lead role in the Mick Jagger/Martin Scorsese TV show Vinyl.
Celia in 2017: Probably an award winning lifestyle blogger and successful YouTube star.
Lily Cole played uber geek Polly
Lily in 2017: As well as being known for her modelling work, was awarded a double first in history of art from the University of Cambridge and has also combined acting with charity work.
Polly in 2017: Probably the planet's youngest billionaire, heading up her own tech company.
Paloma Faith played school goth Andrea
Paloma in 2017: She's become one of UK music's most successful artists, winning best female at the 2015 Brit Awards.
Andrea in 2017: Probably running a successful yoga retreat in the mountains of Tibet.
Holly and Cloe Mackie played danger-loving twins Tara and Tania
Holly and Cloe in 2017: Both are still active in the film industry. Cloe is a graffiti artist and designer. Holly works in Art Departments and as a stylist. They haven't ruled out more acting in the future.
Tara and Tania in 2017: Probably co-heads of the world's most powerful PR agency, representing most of Hollywood's biggest names.
Kathryn Drysdale played Essex girl Taylor
Kathryn in 2017: She's appeared in Shakespeare productions for the RSC, as well as film and TV roles including Meghan Markle in The Windsors.
Taylor in 2017: Probably one of the famous faces in the country as the star of her own reality TV show.
Jodie Whittaker played ditsy school receptionist Beverly
Jodie in 2017: She's now world famous as the first female Doctor in Doctor Who.
Beverly in 2017: Most likely a successful businesswoman and runner-up on The Apprentice.
Lena Headey played enthusiastic new English teacher Miss Dickinson
Lena in 2017: She's currently the most powerful woman in Westeros ruling as Queen Cersei Lannister, first of her name, in Game of Thrones.
Miss Dickinson in 2017: Probably running a self help group for former St Trinian's staff scarred by their experiences at the school.
Follow us on Facebook, on Twitter @BBCNewsEnts, or on Instagram at bbcnewsents. If you have a story suggestion email entertainment.news@bbc.co.uk.