Stormzy sings at fan's father's funeral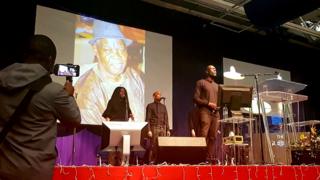 Stormzy has turned up to perform at the funeral of a fan's father after spotting a message on Twitter.
Nasir Bockarie's father died in the Royal Berkshire Hospital on 8 December, the day Nasir graduated.
He sent Stormzy a message saying he and his father had both loved the song Blinded By Your Grace, and invited him to sing at the funeral.
"Don't worry if you can't," he added. "I just thought I'd try my luck". To his surprise, Stormzy replied.
After they exchanged private messages, Nasir posted a message saying: "All done bro! I'm actually speechless, praise god for humanity."
His cousin, Mariama Kallon, later tweeted that she was "in shock" after finding out about the star's generosity.
"I don't want to hear any slander about this man ever because I don't know many people who have a soul to match his," she wrote.
The funeral took place in Reading on 21 December and, sure enough, Stormzy kept his promise.
After the service, one of the mourners tweeted a photograph of the star, whose real name is Michael Omari, standing at a pulpit in front of a picture of Mr Bockarie.
"Massive respect for @Stormzy1 for honouring this," he added. "God Bless You."
Ms Kallon told the BBC that Stormzy had arrived with "a few members of his team" and performed Blinded By Your Grace, "a family favourite".
"Family events for us are very special, whether it be a funeral or wedding," she added.
"We try to find the positive out of everything and that can be hard at funerals, especially with younger family members.
"We did the best to give my uncle a memorable send-off and of course Stormzy really made that happen.
"We're so grateful and our family will be praying for him always."
A publicist for Stormzy confirmed to the BBC that he had attended the service.
Follow us on Facebook, on Twitter @BBCNewsEnts, or on Instagram at bbcnewsents. If you have a story suggestion email entertainment.news@bbc.co.uk.