Hamilton: No Lin-Manuel Miranda in London 'before 2019'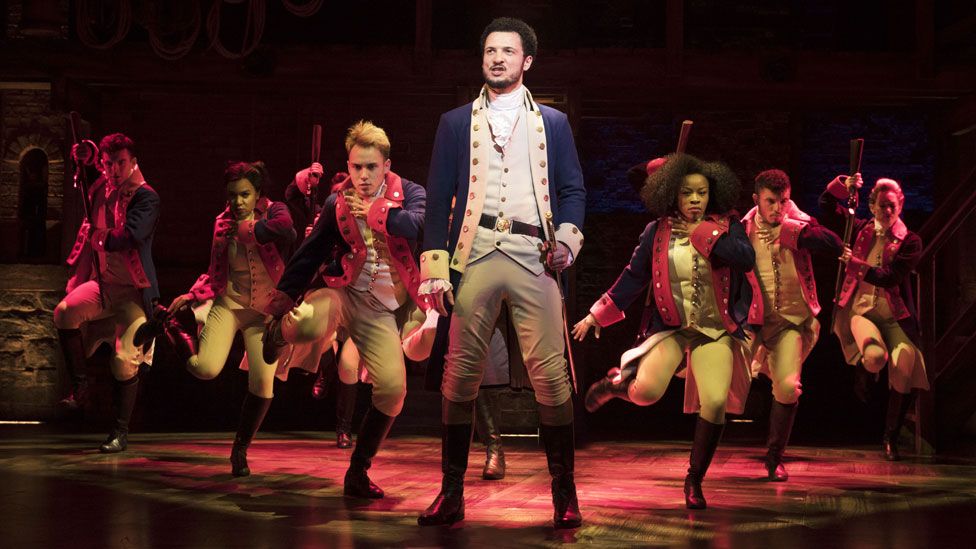 After a year of expectation and a two-week delay, hip-hop musical Hamilton has finally opened in London to five-star reviews and a standing ovation.
A star-studded audience took to its feet to welcome creator Lin-Manuel Miranda as he came on stage at the end of the show to thank its cast and crew.
Yet fans hoping to see him appear in the West End will have to wait for it.
Speaking before the show, Miranda said he would not consider playing Hamilton in London until 2019 at the earliest.
"I'm not done with this role by any stretch, and of course it's a dream of mine to act in the West End at some point," he told reporters.
"I hope those dreams converge, but it won't be in 2018."
Miranda played the title role when Hamilton - which he also wrote - opened off-Broadway in 2015.
It went on to become a huge Broadway hit, winning 11 Tony awards and the Pulitzer Prize for drama.
Set during and after America's War of Independence, the show uses rap, hip-hop and a multi-racial cast to recreate the life of the new nation's first treasury secretary.
The dense, all-singing/rapping musical - which runs for almost three hours - also explores his political rivalry with Aaron Burr, America's third vice-president.
Alexander Hamilton is played in London by Jamael Westman, a 25-year-old Rada graduate with only two other stage credits to his name.
In her five-star review in The Times, Ann Treneman admits Westman was "a risky casting" but calls his performance "sensational".
The Guardian's critic applauds the "immense authority" he gives the role, while the Evening Standard's reviewer calls him a "magnetic newcomer".
Henry Hitchings also salutes the "cool shrewdness" that British actor Giles Terera projects as Burr, the "Salieri to Westman's Mozart".
Variety's Matt Trueman concurs, saying the musical "lands on the London stage looking every inch the classic".
Yet the show gets a more muted response from the Mail's Quentin Letts, who says it has been "over-hyped" and advises ticket-holders to "lower [their] expectations".
Hamilton got a far warmer reception than that from the first night's celebrity attendees, among them Breaking Bad's Bryan Cranston.
"To be able to tell a historic story without being didactic or preachy is an exceptional piece of work," said the American actor.
"I'm thrilled that something so different can be so successful, and it's got a lot going for it in terms of content," said Queen guitarist Brian May.
Rolling Stones member Ronnie Wood, meanwhile, expressed admiration at how it had "captured the imagination of all ages".
Other stars took to Twitter to sing its praises, among them singer Sir Tom Jones, director Edgar Wright and illusionist Derren Brown.
All hail @HamiltonWestEnd. Just emerged from opening night a blubbering wreck. Enjoyed it even more than in NYC. It's a phenomenal thing in every way & cast are sensational. Thank you. (And what a star studded crowd! Like Madame Tussaud's but they could move their arms & legs)

— Derren Brown (@DerrenBrown) December 21, 2017
Helen Bonham Carter, Adrian Lester, Andrew Lloyd Webber and Phoebe Waller-Bridge were also in attendance at the newly refurbished Victoria Palace on Thursday night.
There was also a Doctor in the house in the form of actress Jodie Whittaker, who is set to make her Doctor Who debut on Christmas Day.
Despite the venue's proximity to Buckingham Palace, there were no royals present besides Michael Jibson's scene-stealing turn as an exasperated George III.
Miranda, however, said The Queen was "always welcome" and that there was "a fancy booth held for her if she ever wants to come by".
Last month it was announced that the 37-year-old would reprise his Hamilton performance for a three-week run in hurricane-hit Puerto Rico in January 2019.
"Tourism is going to be so important in the rebuilding process and they're going to need an influx of money and attention," said the actor and composer, who is of Puerto Rican descent.
The immediate future, though, presents challenges closer to home for the affable multi-hyphenate.
"I'm going to be a father for the second time," he told the BBC News website. "So I owe my wife a little time at home and I plan to take the first quarter [of 2018] just doing that."
Hamilton is at the Victoria Palace Theatre and currently booking until 30 June 2018.
Related Internet Links
The BBC is not responsible for the content of external sites.