Christmas Day TV: Queen's message wins TV ratings battle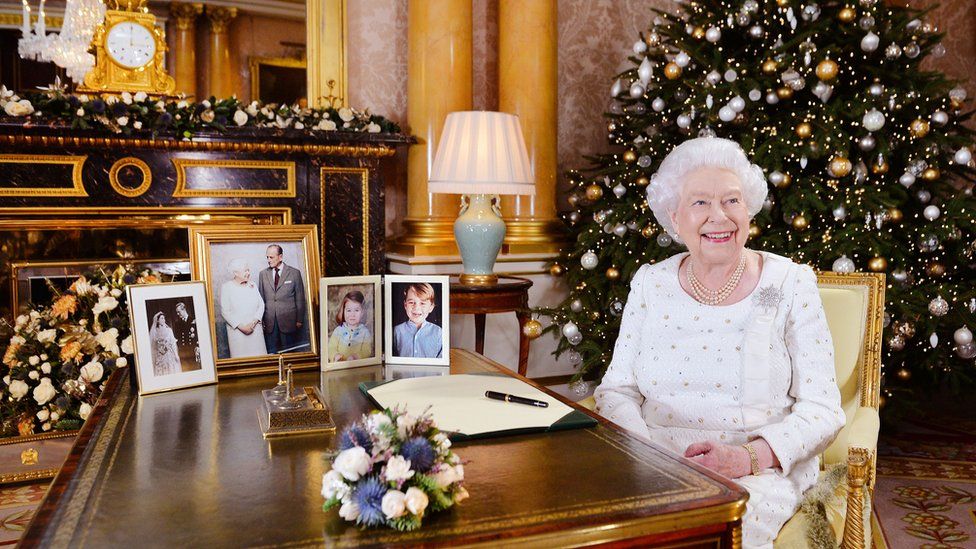 The Queen's broadcast topped TV ratings on Christmas Day, overnight viewing figures have shown.
BBC One's Mrs Brown's Boys had the second highest number of viewers, with an audience of 6.8 million.
It was followed by two more BBC One shows - Strictly Come Dancing with 6.5 million viewers and Call the Midwife with 6.3 million.
EastEnders rounded out the top five, with its Christmas Day special attracting 6.3 million viewers.
Jodie Whittaker's debut as Dr Who, at number six on the list, was watched by 5.7 million.
The 35-year-old Broadchurch star has succeeded Peter Capaldi to become the 13th Time Lord.
ITV's highest rated programme was Coronation Street with 4.8 million viewers, making it number seven on the ratings list.
The Great British Bake Off on Channel Four was watched by around 2.8 million people.
Analysis: Why the Queen's ratings reign may not last...
By Lizo Mzimba, entertainment correspondent
Coming together to sit and watch the Queen's broadcast is still a traditional part of Christmas for many families, and it is one of the main reasons that year after year the programme (broadcast on multiple channels) comes top of the overnight ratings.
Once Christmas catch-up viewing is taken into consideration, it is likely the Queen will be overtaken at the top by another programme.
Because with so much choice on 25 December, viewers will often opt to watch some shows live, while saving others to watch later.
For example, this year there was a significant overlap between three of TV's most popular programmes - Call the Midwife on BBC One, Coronation Street on ITV and the Great British Bake Off on Channel Four.
Overall, figures for some individual shows do seem to be dropping slightly year on year, but that is probably inevitable with the increasing amount of choice available on traditional channels and from on-demand services like Netflix and Amazon.
Top 10 programmes on Christmas Day
The Queen - 7.6m (BBC One, ITV and Sky News)
Mrs Brown's Boys - 6.8m (BBC One)
Strictly Come Dancing - 6.5m (BBC One)
Call the Midwife - 6.3m (BBC One)
EastEnders - 6.3m (BBC One)
Doctor Who - 5.7m (BBC One)
Coronation Street - 4.8m (ITV) rising to 5.1m when ITV+1 is included
BBC Teatime News - 4.2m (BBC One)
The Highway Rat - 4.0m (BBC One)
Cinderella - 3.6m (BBC One)