Golden Globe stars hit out live on air over gender pay gap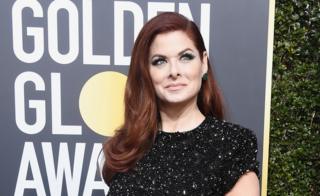 Debra Messing and Eva Longoria have joined other actresses to criticise E! over its gender pay gap in its live TV interviews at the Globes.
E!'s Giuliana Rancic and Ryan Seacrest were each put in awkward positions as the stars voiced anger at the loss of host Catt Sadler in a pay dispute.
Sadler left E! after discovering a "massive" disparity between her and colleague Jason Kennedy's pay.
Amy Schumer encouraged the outspoken anti-E! move in an Instagram post.
"If you're on the carpet tonight or at home post in support and ask E! what happened? We thought you would be for pay equality and say #ImWithCattSad."
The E! network's red carpet interviews were intended to focus on the night's Time's Up campaign, which prompted most stars to dress in black.
Talking to E!'s presenter, Rancic, about the goals of Time's Up, Messing said female stars wanted "diversity, intersectional gender parity [and] we want equal pay".
But the Will & Grace star then turned directly on E! about its row over Sadler, who had long hosted the entertainment channel's E! News - before leaving in December.
"I was so shocked to hear that E! doesn't believe in paying their female co-host the same as their male co-host," Messing said to Rancic.
"I miss Catt Sadler. So we stand with her. And that's something that can change tomorrow.
"We want people to start having this conversation that women are just as valuable as men."
Messing also tweeted her disappointment.
The Time's Up campaign is a sign of solidarity with victims of sexual assault and harassment.
It arose in the wake of sexual abuse allegations by high-profile actresses against film producer Harvey Weinstein.
In a separate red carpet interview with Seacrest, Longoria also picked up on the loss of Sadler.
"With Time's Up, we support gender equity and equal pay, and we hope E! follows that lead with Catt, as well. We stand with you, Catt," Longoria told the E! presenter.
Longoria was accompanied by actresses Nicole Kidman and Reese Witherspoon, with all three wearing black to show solidarity with sexual assault victims.
Seacrest put a brave face on Longoria's directness.
"We love Catt. We love her," he replied.
Other actresses to have reacted publicly to Sadler's departure, as urged by Schumer, include Room actress Brie Larson and Julianne Moore.
Sadler, who said on leaving E! that she didn't want to but had to "act in alignment with [her] beliefs", responded by saying she was emotional that one of her "lifelong heroes" had validated her cause.
"I am getting more emotional by the minute," she tweeted. "Thank you Julianne Moore for being a constant light in this industry and using your voice for change for all. Sending you huge heaps of love."
Follow us on Facebook, on Twitter @BBCNewsEnts, or on Instagram at bbcnewsents. If you have a story suggestion email entertainment.news@bbc.co.uk.