Logan Paul: Who are YouTube's biggest stars?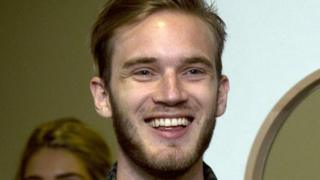 YouTube's decision to remove a popular vlogger from its Google Preferred programme following controversy shows how in demand some of the biggest vloggers are - and how one misstep can damage their prospects.
The Google Preferred programme allows brands to sell ads on the platform's top 5% of content creators.
Logan Paul, who has apologised after videoing the body of an apparent suicide victim in Japan, was estimated by Forbes magazine to be the fourth-highest paid YouTuber in 2017, earning at least $12.5m (£9.3m).
He has more than 15m subscribers, making him about the 43rd most popular channel, although many of the more popular channels are owned by big entertainment networks.
But the top five vloggers have about twice as many subscribers as Mr Paul. Who are they?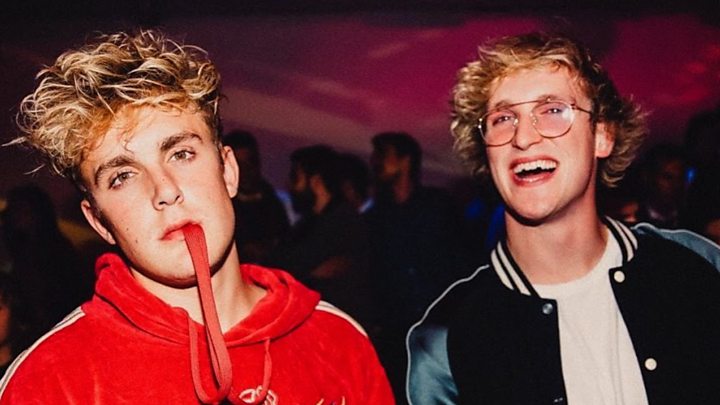 PewDiePie
The 28-year-old Swede - real name Felix Kjellberg - is the world's highest-paid YouTuber and has a whopping 59m subscribers to his channel. His videos have been viewed about 16bn times.
He amassed his following by posting recordings of himself playing video games and providing commentary in English.
However he has also been widely criticised after using racial slurs and anti-Semitic references. Last September he apologised after using the "n-word" during a video live stream.
Last February Disney cut ties with him after some of his videos were found to contain Nazi references or anti-Semitic imagery. Mr Kjellberg said he was not an anti-Semite but apologised for the words he had used.
On another occasion, he was suspended from Twitter for joking that he had joined the so-called Islamic State group.
HolaSoyGerman
Germán Garmendia, a 27-year-old Chilean, has two YouTube channels that are both in the top 25 most followed. He has won Icon of the Year at the MTV Millennial Awards twice and has fans camping outside his home.
His more popular account - HolaSoyGerman - is a Spanish-language comedy channel where he comments on everyday life. It has 33m subscribers, about the same number of followers as pop star Justin Bieber. He says his initial audience was in Chile but his popularity then spread across Latin America, the US and then other part of the world, where people started using his videos to help them learn Spanish.
Mr Garmendia says he was bullied as a teenager - but says being different is also what has made him successful.
"When you are bullied usually it's for things you should be proud of," he told the BBC earlier this year.
"All the kids who have been bullied for being different, we kind of win when we grow old because that's what everyone wants right now, everyone wants to be unique."
El Rubius
In 2016 Time magazine described Rubén Doblas Gundersen, a 27-year-old from Spain, as the "online conquistador" and "one of the most famous people you've never heard of".
He has nearly 27m subscribers and his videos are a mixture of him playing videogames, joking or giving monologues in Spanish from his Madrid apartment.
Mr Doblas Gunderson began uploading videos to YouTube aged 16. At 21 he decided to turn his hobby into a career and several years later, when he arrived in Argentina to a rowdy crowd of 3,000 fans he knew he was onto something big.
"It was in Argentina that I began to feel like a rock star," he told local newspaper Clarín.
The YouTuber has landed deals with giant global companies such as Pepsi and McDonalds but says commercial concerns will not influence his material.
Whindersson Nunes
The Brazilian 23-year-old has 26m subscribers thanks to his brand of innocent and uncontroversial Portuguese-language humour laced with references to his humble childhood in the north-eastern state of Piauí.
He started making videos seven years ago and in 2016 overtook the Brazilian comedy YouTube channel Porta dos Fundos to become the country's most popular.
Last year he went on tour to the US and Europe, including London where he spoke to BBC Brasil (in Portuguese). There are plans for events in Lusophone Africa next year as well as Australia and India. He says part of his attraction to Brazilians abroad is because he reminds them of home.
"I think it helps, the longing for Brazil," he said.
Mr Nunes says the same kind of nostalgia may also explain why is anecdotes about his mother are so popular.
"Most of my stories, my mother is there, and everyone has a mother. Those who no longer have a mother had one in the past and remember her, and that's good, to remember. Nostalgia is a funny thing," he said.
Fernanfloo
Luis Fernando Flores Alvarado is a 24-year-old YouTuber from El Salvador who began by posting videos of himself playing games. He has 25.5m subscribers - about four times the population of his country - and vlogs in Spanish.
He began uploading videos in 2011 and later gave up his studies to make YouTube his full-time career.
In 2016 he told told Peruvian newspaper Publimetro that his brand of "absurd humour" was popular because it offered a contrast to most people's generally well-ordered lives.