The Silent Child: From Hollyoaks to Hollywood?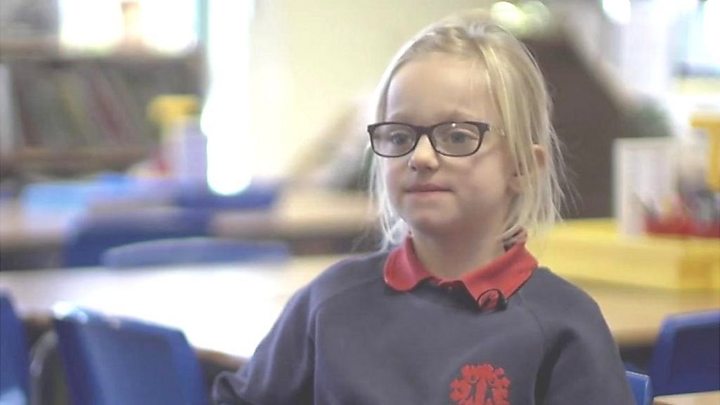 Two former stars of Channel 4 soap Hollyoaks could be jetting out to LA if their short film lands an Oscar nomination on Tuesday.
Rachel Shenton, 30, played the soap's wannabe WAG Mitzeee Minniver for three years from 2010.
The fact she spelt her first name with three Es said everything that needed to be known about the character.
At the same time Chris Overton, 28, played ex-footballer turned cage fighter Liam McAllister.
In those days the only nominations that they were in the running for were of the TV Quick Awards variety.
That has all changed.
Their film, The Silent Child, tells the story of a profoundly deaf four-year-old girl Libby.
She lives a silent life until a social worker, played by Rachel, teaches her how to communicate through sign language.
Rachel, who is from Stoke-On-Trent, was inspired to write the film because of her own family's experience.
When she was 12 her father went deaf after receiving treatment for chemotherapy.
"The subject is very close to my heart," she says.
"My father lived the last two years of his life profoundly deaf, so that gave me the impetus to learn sign language and I very quickly fell in love with it and the deaf community."
Her response was to become a qualified British Sign Language Interpreter and ambassador for the National Deaf Children's Society.
"As my involvement grew I saw the needless struggles that deaf children face through a lack of awareness about deafness."
One statistic that particularly shocked Rachel is shown on-screen at the end of the film - 78% of school-aged deaf children attend mainstream schools without receiving any specialist provision.
"It's a silent disability, you can't see it and it's not life threatening," she explains. "So unless it's touched your life in some way you wouldn't even think about it."
It was her boyfriend Chris Overton, from Staffordshire, who encouraged her to write a script about the issue.
Profoundly deaf child star
The result was The Silent Child, which he directed.
They both agreed that for the sake of authenticity, the title role had to be played by a child who was profoundly deaf and could use sign language.
A nationwide search involved advertising on the websites of deaf organisations and then the auditioning of 100 children, before they found their star - Maisie Sly, six, who had never acted before.
Her family had recently relocated 160 miles from Plymouth to Swindon, so Maisie could attend a mainstream school where deaf children are supported.
Sitting in the school library, with Rachel acting as her sign language interpreter, Maisie explained what it was like for her on set.
"It was hard work because sometimes I had to film things again and again."
Acting had never been an ambition, but when she was told about the part, it was something she was determined to do.
"I wanted to show people that deaf children can do anything."
Learning a new language
Chris went to great lengths to make sure he could communicate with his star, learning basic British Sign Language.
"Maisie doesn't speak my language and I don't speak hers, so I learnt all of her lines in sign language and as much basic sign language as I could, because we wouldn't have had a film if I couldn't tell her what to do.
"Directing her was my favourite bit of the whole process."
The Silent Child won best short film at the Rhode Island International Festival in August, which meant it could be entered for the Oscars.
Then in December they were told that it had been selected for the final 10 in the live action short category.
Excitement and dread
On Tuesday they find out if they have been nominated for the Oscars.
Even mentioning this makes Rachel wince with nerves: "We've heard from those who've been nominated before just what that word can mean in the industry as filmmakers.
"But also with what we are trying to achieve with promoting sign language, it would mean a lot."
A nomination would secure them four tickets for the Oscars - which would go to Rachel, Chris, Maisie and her Mum.
Rachel and Chris are approaching the announcement with a mixture of excitement and dread.
"I might have to go to the gym during it," laughs Rachel.
Masie is completely unfazed though. "Oh!" she says and nods her head, "I think we're going to go to The Oscars."
---
Follow us on Facebook, on Twitter @BBCNewsEnts, or on Instagram at bbcnewsents. If you have a story suggestion email entertainment.news@bbc.co.uk.