Why Fast & Furious is going from screen to stage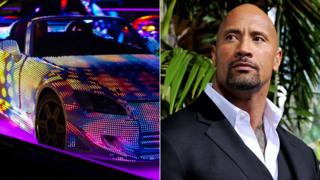 Your average Friday night probably doesn't involve high-speed car chases, a submarine explosion and a fuel tanker catching on fire.
We hope not, anyway.
But that's exactly what fans of Fast & Furious are expecting when the first ever live incarnation of the franchise premieres in London later.
The live show is an extension of the film series - but rather than being a recreation or continuation of the timeline of the films, it takes on a whole new narrative.
"We have new characters that you meet at the beginning, and they have their own new storyline," explains creative director and executive producer Rowland French.
"So we've been able to dig into the world of Fast & Furious, and it's a journey that takes you through all of these massive moments from different parts of the movie."
The show recreates some of the most daring stunts from across the eight films, which have taken more than $5bn (£3.6bn) at the global box office since 2001.
French, a former producer at the BBC, says he got the idea for a live version of Fast & Furious while working on Top Gear Live.
"I wrote Fast & Furious Live, storyboarded it, and took it to the US, and pitched it to the licensing team, and they asked me to pitch it to their bosses, and it just kind of rolled from there," he explains.
"Then I found myself in front of the board of Universal Pictures, so it wasn't something they were necessarily looking for, I just believed it would be an amazing show."
Why is Fast & Furious so popular?
Film critic Rhianna Dhillon told BBC News the success of the Fast & Furious franchise is down to its "universal appeal".
"They're films people of all ages can enjoy, because they have that pure, unadulterated escapism about them, children and adults alike are quite happy to watch things get blown up and smashed up," she said.
"A lot of what drags movies like The Avengers down is the plot, and Fast & Furious isn't trying to compete with those heavy, convoluted storylines. This is just cars smashing into each other and it's okay to enjoy that.
"This franchise isn't trying to be anything it's not. Ultimately, from the bottom up, it doesn't take itself too seriously."
Because it's taken four years to pull together, the production of the live show quite literally couldn't keep up with the movies.
French remembers: "[The producers] flew me over to America and said 'Look, we're going to show you a really early cut of Furious 7 because we want you to put it in the show.
"Then I came back to London, wrote a scene for 7. And then just because of the way the process works, the show still hadn't been built when the eighth film came out."
He was soon back on a plane to the US and shown a cut of The Fate of the Furious - and a certain scene involving a submarine caught his attention.
"I said, 'You've got a submarine in the final act that breaks through the ice and smashes through cars, we've got to do that'," he laughs.
It sounds like just the kind of show a health and safety department might be a bit anxious about.
But, French says: "The great thing is the majority of the team are all ex-Top Gear Live. They have such a wealth of experience. And that was a hugely safe show but also had a lot of danger in it.
"So we've become very good over the years at making something look incredibly dangerous and giving the audience that shot of adrenaline, but it's all safe."
Arguably, one risk of bringing a huge brand from the screen to the stage is that fans end up disappointed that the stunts in real life don't look as daring as they do on film.
But, French says the lack of CGI and special effects means that the real thing is actually more exhilarating.
"I spent seven years on the side of the race track in the pouring rain watching cars go past me when I was working on Top Gear," he says.
"Seeing things happen live, especially with cars, there's something visceral when you can actually feel and see a car.
He adds: "My pitch [to Universal] was you'll never really connect with the fans until you show them it in real life.
"The stunts are absolutely on the edge of what's possible within an arena show. And some of these stunts will be the first time they've ever been done.
"For example, the fuel tanker in Fast & Furious 4 is a CGI fuel tanker, but ours isn't, ours is real, and our driver really drives underneath it."
If the tour is well received by fans, it could give the brand a new lease of life once the 10th and apparently final film is released in 2021.
"As a fan, I hope the Fast & Furious films go on forever," French says.
"But Fast & Furious live will have its own separate life span, it's like the greatest hits album, so hopefully it will always be relevant in its own way."
Fast & Furious Live premieres at the O2 on Friday evening before touring Europe.
Follow us on Facebook, on Twitter @BBCNewsEnts, or on Instagram at bbcnewsents. If you have a story suggestion email entertainment.news@bbc.co.uk.