How Jeremy Deller is brightening the school day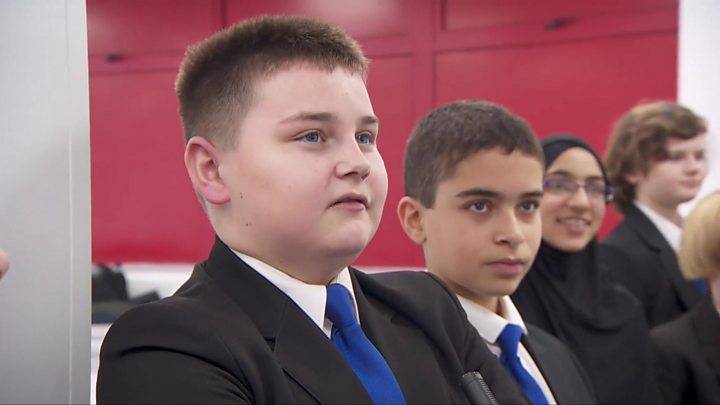 Wakefield's Hepworth Gallery has revived a pioneering scheme from the 1940s to introduce children to the best in contemporary art. It has commissioned several contemporary artists to produce prints of their work especially for local schools.
The original School Prints were a product of their time: launched in the wake of a terrible world war by people who believed that wider appreciation of art and culture might help stave off another such disaster.
Original lithographs, they appeared between 1946 and 1949, and the artists commissioned included big names like LS Lowry, Henry Moore, Picasso and Matisse.
All were asked simply to contribute "something suitable for children", and most reflected a very 1940s idea of what that might mean. Subjects include a circus, a merry-go-round, ships, horses, a marching band and bucolic rural scenes: images of a safe, colourful world.
Interestingly, several of the later commissions were from European abstract artists and proved less popular, not necessarily with the children but with the adults responsible for buying the prints, and the initiative petered out.
Today, the original School Prints are collectors' items. The Hepworth's updated version of the scheme involves works by six artists, although more commissions are planned, each in a limited edition of 500.
The prints will be sold by the gallery, but six copies of each are being donated free to local schools. High quality poster versions are also being produced for other schools to buy.
They're meant as a classroom resource and as an alternative to the kind of school trips to local art galleries that many schools no longer have the time for.
"This came out of conversations with local teachers who are frustrated about the lack of art provision they're able to give their children currently," says Nicola Freeman, the Hepworth's director of engagement and learning.
"I think it's really important that galleries step in and do what they can to support this. Our real ambition is for this to become a national initiative."
The new prints are targeted at primary school children, but older pupils at Wakefield's Cathedral Academy have already been introduced to the images: they'll act as "art ambassadors", helping the younger children to appreciate the works.
So what did these 13 and 14-year olds make of it all?
Several of the girls liked Helen Marten's untitled lithograph: it showed a couple hugging, one girl suggested, with "an evil pope" behind them; it looked like a playground, suggested another, which a king and queen had commandeered for their own child.
Haroon Mirza's Photons and Friends was popular with many of the boys who saw in it solar panels and a constellation of stars and liked its sci-fi vibe.
The teenagers puzzled over Anthea Hamilton's Daydreamer's Wavy Boot.
Was it a "shoe building", black ink, a smoking chimney or, as Hamilton herself says, a kind of self-portrait from her school days, the black representing her braided hair, the brick boot the wall of her Victorian school, the blue sky the clouds scudding by as she gazed out of the window in maths classes?
Martin Creed's Work no 2874, with its broccoli shapes, prompted thoughts about colour, trees and nuclear mushroom clouds. Rose Wylie's King John, Frog, looked like a dancing cactus, one boy suggested.
They were perhaps happiest with Deller's The Problem with Humans, painted by Stuart Sam Hughes, the most representational of all the prints: the octopus "is planning to fight humans," one girl said, concluding: "He's searching for the humans' weak points to attack them."
One of the boys suggested the octopus is plotting revenge for what we've done to sea life, "throwing rubbish into the ocean".
Deller says he's astonished that no-one has thought of reviving the school prints idea in the decades since the original scheme ended.
"It's not a challenge to make art for children because children are probably the most receptive people to contemporary art," he says.
"They have no preconceptions, no intellectual animosity towards art; they just receive it in a very primal, clear way. For a child it must be very interesting looking at modern and contemporary art because they see themselves within it, they see things they could maybe do.
"Artists make a big mess and muck about and do abstract art and work with colour and form, and that's what children do."
The original scheme, he points out, was born of the same 1940s ethos as the NHS and social housing: a belief in the possibility of a better world.
Today's scheme has more to do with the state of art education in schools. Fewer children are taking arts subjects at GCSE, and there's less time for art in the classroom.
"A lot of schools are under pressure because there's a focus on English and Maths qualifications," says Laura Nicholson, assistant vice-principal at Cathedral Academy, which is also a performing arts college.
"Art as well as subjects like dance and drama and music can be put into the 'other' group. It's understandable that schools at the moment aren't necessarily focussing on those subjects.
"But we really believe the arts aren't just an add-on: they're something that can really enhance our students' experiences and help them succeed in all their subject areas."
For now, copies of all the six newly-commissioned prints and several of those from the 1940s are on display at the Hepworth until the start of June.