25 things you absolutely need to know about Top Gear's 25th series
By Steven McIntosh
Entertainment reporter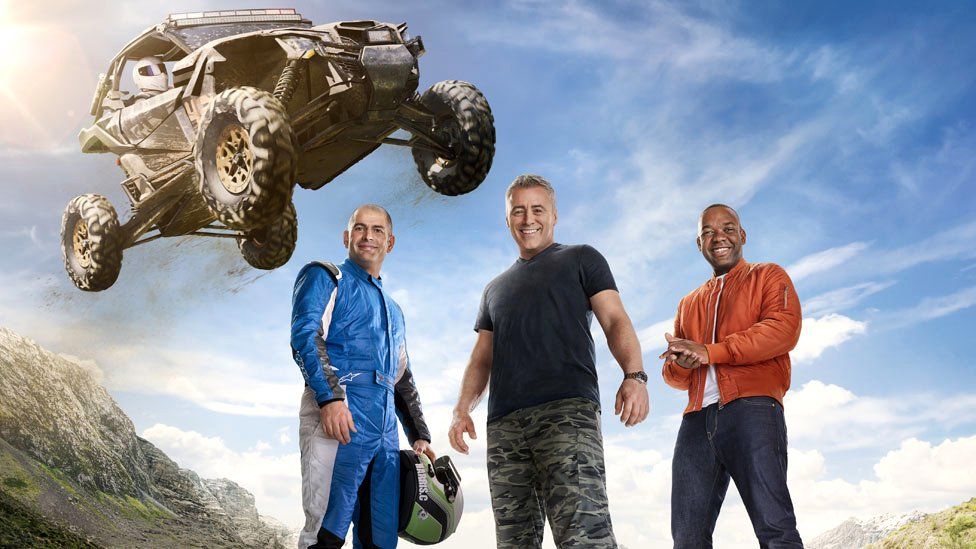 The new series of Top Gear begins on Sunday with Matt LeBlanc, Rory Reid and Chris Harris returning to host.
It's the second season of the BBC Two car show to be fronted by the trio, and the 25th since the programme was re-launched in 2002.
We went along to the press launch, watched a few preview clips and interviewed LeBlanc, Reid and Harris.
(The Stig was there too but didn't have much to say.)
1. Chris, Rory and Matt are gelling as a presenting team.
"The c-word was one that was thrown at us a lot in the first season," says Chris.
Nobody panic - he's talking about chemistry.
"But it was just fanciful to think that you can just create a chemistry overnight. You don't, do you?
"You have to learn where people's funnybone is before you can start to poke fun and work out where that joy lies."
2. Producers have an interesting approach to health and safety.
"They look at a situation, and if there's a greater-than-60% chance of surviving, they'll put you in it," laughs Rory.
"Which I think is fair, it's good odds."
3. Top Gear fundamentally remains a serious motoring show, thank you very much.
"[The programme] doesn't have the right to be funny and silly... unless it retains its grounding in being a car show," says Chris.
"I don't think you'd trust Mary Berry if you found out she couldn't bake a cake.
"So it has to review cars. It has to have an element of testing, me talking about suspension components, which many people find deeply boring, but that's what it's about."
4. Matt is no longer in touch with Chris Evans.
"He's supposed to be here, I don't know, where he is?" the former Friends star jokes, looking around the room.
"You know, I haven't spoken to Chris. I haven't. Not because... I just, I've been busy, he's been busy, I have no animosity towards him, you know."
5. Rory has lost two-and-a-half stone since the last series.
For which he credits his intensive exercise regime.
6. Matt has zero time for accusations of political incorrectness on Friends.
The week we speak to Matt, a string of stories have appeared in the press about how younger generations are turning their backs on Friends because of its apparent fat shaming and homophobia.
"I've heard those rumours too about people taking pot shots at Friends, but I don't want to get into that. I disagree with all that," Matt says.
"On Top Gear we tend to steer clear of any sort of political content, nothing too topical.
"On Friends we steered clear of that kind of thing, too. Friends was about themes that stand the test of time - trust, love, relationships, betrayal, family and things like that."
7. And, now you bring it up, nor is he a fan of risque humour in general.
"I'm not in the business of making political jokes, politically incorrect jokes," he says.
"I don't want to make jokes that make people go 'Ooh, that's not my bag.' I don't like that, I run from that kind of stuff.
"Because that joke isn't going to be relevant in six months. You talk about 'Hey man, you lied to me,' or 'Wasn't that fun?' - that'll always be relevant."
8. Rory now gets recognised in Sainsbury's.
Rory started out presenting the sister programme, Extra Gear, before making the leap to the main show.
"I travel a lot, and I seem to get recognised in most places. Everyone's really nice, no-one's really horrible," he says of his higher profile.
"But you go shopping in Sainsbury's and people stare at you, come up and have a look at what's in your trolley, take pictures of it and stuff.
"So you've got to be careful about what you're buying," he points out, adding that he wants to avoid any headlines like 'Rory Reid buys £600 of champagne.'
"Not that I'd ever do that. I'm more of a prosecco man."
9. Matt doesn't consider himself a TV presenter.
Despite this being his third season fronting the show.
"Presenting is not what I do. I'm an actor, playing the part of a presenter. That's what I do. So is it really me you see on Top Gear? Probably not," he says.
"It's the me that suits the film we're making. It's the me that suits the studio portion in front of the crowd. That's what an actor does, you try to mould yourself to fit the needs of the piece."
10. "Granted, Spielberg's not calling me," he adds.
"I could give you a hundred reasons why not," he laughs.
11. Chris and Matt STILL haven't agreed about Bigfoot.
One episode sees the two presenters go out in search of Bigfoot.
It's fair to say they have differing opinions of the creature's existence - as this particular exchange at the press launch proved.
Chris: "Some of the ideas on the show are obviously silly. To wake up one morning and go to northern California, to go and [shouts across the room] LOOK FOR AN ANIMAL THAT DOESN'T EXIST. [Matt turns around]. Sorry, did I say that loudly?"
Matt: [Shouting back] "It's not an animal. Not an animal."
Chris: "Sorry, it's a gorilla. An eight-foot gorilla."
Matt: "It's a being. A being."
No chance of getting this cleared up anytime soon we don't think.
12. Rory is trying to get Chris sacked. Kind of.
When asked what ideas he'd like to see explored on future seasons of Top Gear, Rory says: "I want to see autonomous cars, self-driving cars."
Wouldn't that leave him out of a job though?
"I want to put Harris out of a job, he gets to drive all the good stuff," he jokes.
13. Matt would like more money in the accommodation budget please.
Anyone concerned about how BBC money is being spent need not worry about wastage on Top Gear.
"We just got back from a week in Sri Lanka," Matt explains, adding sarcastically: "[The hotel] was fantastic. I think we're spending too much on the hotel budget.
"The idea is to get all your money on the screen, apparently."
14. Chris describes Matt as an "inveterate practical joker".
"You never have a straightforward day," he says of his prank-playing co-star.
"Let's just say when we're on a photo call, he'll allow his arm to tap me somewhere that leaves me bent over double.
"There are some extraordinary images of him standing there, and he does it with the Matt LeBlanc face, and I'm doubled over and it looks like I've lost the plot completely."
15. Matt considers England a second home.
"I do like it here. The first thing I ever did here was Lost In Space, back in '96 or '97. And then I hadn't worked here in a long time and came back to do Episodes.
"I do like England. It's like being in Europe but you can understand the language."
16. Chris is scared of flying.
So you can imagine how a stunt in the new series involving him trying out a flying car goes down.
17. Matt thinks comparisons with Clarkson, Hammond and May are "inevitable".
"I was a big fan of the show before, I think it was great, those guys were great," he says diplomatically.
"But, they're not here anymore. They left. That had nothing to do with me. I was asked to come in, and I think, I can't do what they did. But also they can't do what I did. So it's slightly different."
"It's natural for people to want to compare," he says.
"What's important is that we haven't tried to fill their shoes in any way. None of us is trying to be Clarkson, May or Hammond."
19. And look, Chris thinks there's room for Top Gear and The Grand Tour to co-exist on television perfectly peacefully so everybody just calm down.
"Motoring has an enormous audience and it's only really served by two global shows," he says.
"I think the others do a great job. I think we do a great job. And long may the comparisons continue, because I'm really proud of the films that we've made in this season, I think they stack up against any opposition."
20. Matt isn't too worried about ratings.
"I don't concern myself with that stuff, that's a network issue," he says. "If you want to talk ratings, talk to the BBC."
"The level they need it to perform at, and what it does, they must be happy, we're still here, you know what I mean? So they're good enough."
21. Top Gear remains a family show.
"It'd be very easy to try and make it a bit sweary and laddish, but it's not," says Chris.
"It's a staple at 8pm on a Sunday evening and you should be able to watch it with your kids.
"My youngest is seven, and I can watch Top Gear happily with him, and not worry about something that's going to embarrass me or him."
Probably best he steers clear of Mrs Brown's Boys.
22. Petrolheads can go online if they need a bigger motoring fix.
Harris landed his Top Gear presenting gig after building up a sizeable YouTube following.
"I want to know what the ramp angles are on the differential in the car. And I can find that on YouTube. I can't find it on television, and that's why it's great [to have both]," he says.
"In fact, the two worlds need to stop warring, because they're complementary.
"The Top Gear brand is big online, and I love [doing the online videos]... they satisfy the geek audience. But the TV show has to be more general."
23. The presenters don't do all their own stunts.
"We have a team of pro drivers. I'm not a pro driver, I'm probably above average, I would say, but when it gets really dodgy, you hand the car over and the pro drivers do some," explains Matt.
"It's not a race, we're here to make a television show. We do a lot of the driving, and sometimes out of a scheduling thing we can't be there because we're shooting something else, but for the most part it's us."
24. There's a great sequence in the new series involving eggs.
(Perhaps the BBC is trying to compensate for the loss of Paul Hollywood.)
Chris makes a bold claim that his Citroen 2CV is such a smooth ride that you could comfortably carry a basket of eggs with you without one smashing.
25. You can probably guess what happens next.
All hell breaks loose after the first couple of eggs inevitably smash, and Matt ends up covered in more yolk than you'd ever expect one of the most recognisable actors in the world to be.
"We got a jet washer in and had to blow all the egg out," Chris says of the smell that the stunt left behind.
But, Rory adds: "Chris's 2CV looks pretty broken and beaten up already, so I think the eggs were an improvement personally."
Top Gear 25 begins on Sunday 25 February 20:00 GMT on BBC Two.
Related Internet Links
The BBC is not responsible for the content of external sites.