Peter Mayle: A Year in Provence author dies at 78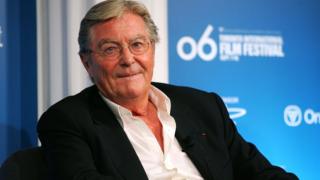 Author Peter Mayle, who wrote A Year in Provence, has died aged 78, his publisher has said.
The 1989 international bestselling book, which chronicled Mayle's move from England to France and was turned into a TV series.
He wrote follow-ups Toujours Provence and Encore Provence, as well as educational and children's books.
Publisher Alfred A Knopf said he died in a hospital near his home in the south of France after a short illness.
In a statement on Twitter, Knopf said he was "sad to report" the death of the "beloved writer who wrote multiple bestselling books about life in Provence".
Director Sir Ridley Scott paid tribute to his friend and neighbour, whose 2004 book A Good Year inspired the 2006 film of the same name, starring Russell Crowe and Marion Cotillard.
"It was all that humorous competitive spirit between the French and the English that Peter captured brilliantly," he told BBC Radio 4's Today Programme.
Sir Ridley said Mayle "captured the silence of Provence, which is wonderful, the fragrance, smell, lavender in the countryside".
He added: "You could feel whatever he did, touched, would work. His first book was a bestseller, that was typical."
Mayle moved from Devon to France in the late 1980s and wrote A Year in Provence about his first year as a British expat.
It was turned into a TV series starring John Thaw, which was screened in 1993.
In 2002, the French government awarded Mayle a Chevalier de la Legion d'honneur, or Knight of the Legion of Honour, for his contributions to culture.