How Jade Bird went from 'brutal' open mic gigs to the Brit School and US success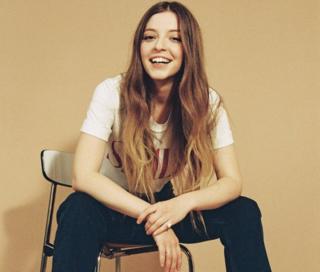 Here's a list of things that make Jade Bird laugh during our conversation: Coats, chickens, theatre school, her own songs, other people's songs, yoghurt, bathrooms, being cheated on, her grandmother's guitar and writer's block.
The 20-year-old is vivacious and chatty and frequently hilarious - characteristics that have earned her legions of fans when she plays live (which is all the time).
"I've often been told that if music doesn't work out I could be a comedian," she guffaws.
"I'm like, 'Thank you so much... Or maybe not?!'"
Stand-up's loss is music's gain. The singer's British spin on Americana is compelling and gutsy, combining her love of Loretta Lynn with the punky energy of Patti Smith.
It's already caused a fuss in the US, where Rolling Stone named her a "country artist you need to know" on the strength of her debut EP, Something American.
But Bird is cautious about being categorised as a country singer, calling the label "a little restrictive".
"It's unusual that, right now, if you write something where the lyrics are actually meaningful, people go, 'Oh, it must be country!'" she says.
"I'm fine with that but, at the same time, I think my songs are reminiscent of pop back in the day. You know, 2006, with the first Coldplay album and Keane and bands like that?"
You can hear those influences on her new single Lottery, which she recorded in Woodstock last year.
"I actually had writer's block. Like, total writer's block," she recalls.
"I tried alcohol, I tried everything. It didn't work.
"I even sat and read all the Lumineers lyrics - because my producer did the last Lumineers record. And I was like, 'Oh God, I can't write anything like this. These are bloody good!'"
Then, out of nowhere, a chorus appeared fully-formed in her head: "You used to say that love is a lottery / And you got your numbers / And you're betting on me".
"I instantly knew it was a killer," she says.
"I think the reason people like me write is because of that tortuous competition with yourself to get those moments."
You might also like:
Bird has been competing with herself since she first picked up her grandmother's guitar at the age of 12.
To date, she's filled three notebooks with lyrics and chords and "mind maps" of ideas.
"I suppose there's 200 pages in each book, so that's 600 songs," she says.
"I mean, they're not all good... Three-quarters aren't listenable. But I used to do that thing where I forced myself to write one a day."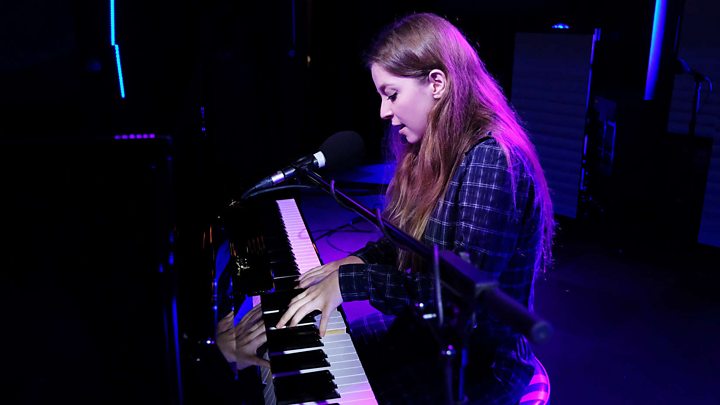 Bird was born into a military family, moving between America, Germany and the UK until her parents divorced. Then she settled with her mum and grandma in Bridgend, South Wales, taking lessons from their fortitude.
"My grandma divorced my granddad and became a finance manager to get her own house, and my mum worked very hard to make sure we could have our own space," she says.
"That's where I got my strength. I've always been inspired by the women in my family."
In her teens, she entered a series of "brutal" open mic nights in pubs around Wales, before winning a sixth form place at the Brit School, the famous performing arts hothouse.
She was pleased to discover how supportive her fellow students could be.
"Are there show offs? Not in music, surprisingly," she says. "Whereas music theatre, you'd walk past their corridor and go, 'Oh Gawd!'"
While studying, she continued to pay her dues in venues around London - sometimes to the detriment of her schoolwork.
"If I was off ill they'd always go, 'Oh, have you got a gig?' and I'd be like [sheepishly], 'Yeah, OK.'"
But, as her final exams approached, the teenager began to worry about her future.
"I'd been gigging straight three times a week since I started school, and I was like, 'Mum, nothing's happening, what am I going to do?'"
"So that May, I went into my friend's bathroom and recorded 13 songs.
"The acoustics," she giggles, "were great!"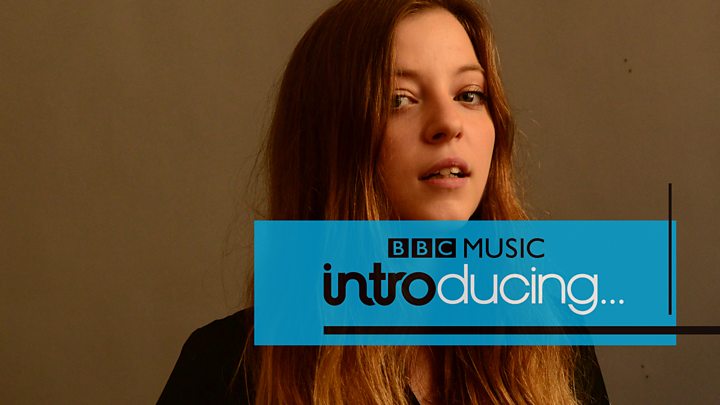 That demo got her a management deal and, almost immediately, she was shipped out to Woodstock to record an EP with Bat For Lashes' producer (and "fellow hippie") Simone Felice.
"We made the effort to record my music before looking for a label so they couldn't manipulate the project," says Bird.
Glassnote soon snapped the singer up - putting her on a roster that includes Mumford & Sons, Phoenix, Childish Gambino and Chvrches - and her debut EP caused waves on both sides of the Atlantic.
Her calling card is Cathedral, another song that arrived in a flash of inspiration "while I was doing something completely irrelevant on the computer".
"The word 'Cathedral' came in my head," she says, "and suddenly I had this image of jilting someone at the altar, of leaving someone in this big white dress."
Emotionally heavy but instantly memorable, the track won her a coveted spot on Stephen Colbert's US chat show and a place on the BBC's Sound of 2018, where critics praised her storytelling lyrics and raw, soulful vocals.
Lottery, which was released last week, is the first single from her debut album and marks "a new phase" in Bird's songwriting.
"It's brighter, more optimistic, a bit more colourful," she says.
The song has already picked up support from Apple Music and Spotify, who featured it prominently on their pop-heavy New Music Friday playlists.
"Right now, I feel like I'm the only thing on New Music Friday with real drums, and that's an interesting concept," she says.
But there's no harm in standing out from the crowd. And with artists like The Shires and Ward Thomas proving the UK's appetite for home-grown Americana, Jade Bird looks set for a bright 2018.
"There's quite a stigma attached to country music in the UK - but I kind of enjoy that," she says.
"I think you have to surround yourself with things that aren't necessarily of the time in order to create something new.
"Be it film, be it books, be it other music... You have to sketch out your own place in life."
And then she bursts into laughter again.
Follow us on Facebook, on Twitter @BBCNewsEnts, or on Instagram at bbcnewsents. If you have a story suggestion email entertainment.news@bbc.co.uk.