Octavia Spencer: 'Jessica Chastain helped me earn five times my asking salary'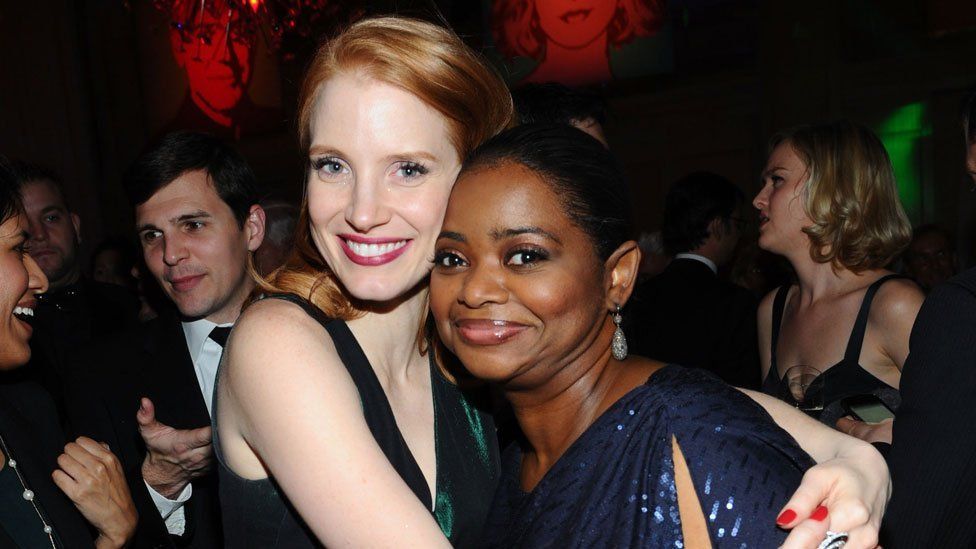 Octavia Spencer and Jessica Chastain have been close friends since working on The Help - and now, Chastain has helped Spencer negotiate five times her initial salary for a new comedy.
They were discussing the film, produced by Chastain, when Spencer revealed she is paid less as a woman of colour.
"Octavia - we're going to get you paid on this film," Chastain told her.
She then fixed it so that both women would earn the same. Spencer said of Chastain: "She's walking the walk."
She was talking at the Women Breaking Barriers panel at the Sundance Film Festival on Wednesday when she revealed how the project came about - and how the pay conversation came up.
Spencer, who won a best supporting actress Oscar for 2011's The Help, makes her comments at about 19 minutes and 30 seconds into this clip.
"We're really good friends and we had a great time working on The Help," explained Spencer, who's just been nominated for a best supporting actress Oscar for The Shape of Water.
She is the first woman to follow an Oscar win with nominations in two consecutive years.
"She wants to do comedies, and I want to break out of period pieces. I love them, they've been good to me, but I want to play someone who resembles me in some fashion."
They were talking about the importance of pay equity between men and women when Spencer told Chastain: "Here's the thing. Women of colour on that spectrum, we make far less than white women.
"So if we're going to have that conversation, we've got to bring the women of colour to the table."
She said the pair talked about the figures involved, and that Chastain said she "had no idea" of the situation. She then promised Spencer a favoured nations agreement - meaning they would earn the same.
An emotional Spencer added, through her tears: "I love that woman, because she's walking the walk and she's actually talking the talk...
"She said: 'You and I are going to be tied together. We're going to be favoured nations and we're going to make the same thing, you are going to make that amount. Fast forward to last week, we're making five times what we asked for."
Spencer, one of the stars of Oscar-nominated film Hidden Figures, said she is happy to be part of the conversation, and was emotional as she had not had a chance to process the news.
"Now I want to go to what the men are making," she added. "I want to get there."
Here is how some other Hollywood stars have been making progress towards closing the pay gap.
Who else is fighting for equal pay?
Ellen Pompeo, star of medical drama Grey's Anatomy, recently spoke about becoming the best-paid actress on a primetime drama, with a $20m (£14m) deal - and how the show's creator Shonda Rhimes helped get her there.
Pompeo told The Hollywood Reporter earlier this month (in an account with a few swear words in): "She [Rhimes] got to a place where she was so empowered that she was generous with her power.
"Now, what did that look like? It looked like her letting me be the highest-paid woman on television, letting me be a producer on this show, letting me be a co-executive producer on the spinoff and signing off on the deal that the studio gave me, which is unprecedented."
Emma Stone recently told Out magazine that her male co-stars have taken pay cuts so they earn the same - meaning that crucially, they have the same earning power.
"In my career so far, I've needed my male co-stars to take a pay cut so that I may have parity with them," she said. "And that's something they do for me because they feel it's what's right and fair. That's something that's also not discussed, necessarily - that our getting equal pay is going to require people to selflessly say, 'that's what's fair'."
She said she had been "so grateful" for the "multiple people who have been really incredible" by agreeing to the deal.
Speaking to BBC Radio 4's Front Row, Tom Hanks revealed earlier this month that he and Meryl Streep earned the same for Steven Spielberg film The Post - which has just gained Streep a best actress Oscar nomination and is also up for best picture.
But he said this possibly wasn't fair to his co-star.
"In fact, we just found out we were paid the same amount," said Hanks. "Here perhaps is an inequality. I am in the movie, I've been told, for 37 minutes. She's in the movie for something like 43 - so maybe I was overpaid."