Timeline: How the BBC gender pay story has unfolded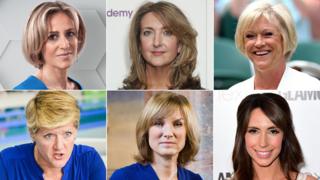 In July 2017, the publication of the BBC's highest-earning presenters revealed an imbalance between the numbers of men and women at the top of the list, sparking an outcry and leading the corporation to attempt to rectify the situation.
Here's a timeline of how the story has unfolded.
19 July 2017: Chris Evans tops list of best-paid stars
In the BBC's annual report, it is revealed that Evans made between £2.2m and £2.25m in 2016/2017, while Claudia Winkleman was the highest-paid female celebrity, earning between £450,000 and £500,000.
About two-thirds of stars earning more than £150,000 - and all of the top seven earners - were male, the report reveals.
Director general Tony Hall says there is "more to do" on gender and diversity.
20 July 2017: Male presenters 'could face wage cut'
The BBC's best-paid male presenters are warned they could be asked to accept lower wages in an attempt to close the pay gap.
The BBC defends the high salaries that were revealed in its annual report, but pledges to achieve equality between men and women on air by 2020.
BBC director of radio and education James Purnell says pay cuts are part of the solution. "That's clearly one of the levers we can pull, and we have been doing that," he says.
23 July 2017: Female stars call on BBC 'to sort gender pay gap now'
Some of the BBC's most high-profile female personalities call on the corporation to "act now" to deal with the gender pay gap.
Clare Balding, Victoria Derbyshire and Emily Maitlis are among those who sign an open letter to Lord Hall.
They urge him to "correct" the disparity over gender pay, which they say has been known "for years".
Lord Hall says "work is already well under way" to resolve the problem.
6 September 2017: BBC announces sweeping pay reviews
The BBC outlines three wide-ranging reviews into equal pay following the furore over its star salaries.
Lord Hall commissions a report on the gender pay gap among staff and a separate audit covering other aspects of equal pay.
There will also be a review of pay and diversity among on-air stars.
In response, female BBC presenters demand "real change" before the end of the year.
4 October 2017: BBC's 9% gender pay gap revealed
Men working for the BBC earn an average of 9.3% more than women, a report into the corporation's staff pay finds.
The figure covers all staff, on and off air, and is put down to the fact there are more men in senior jobs.
It compares with a UK average of 18%, and BBC director general Tony Hall says it shows the BBC is "in a better place than many organisations".
8 January 2018: BBC China editor Carrie Gracie quits post
The BBC's China editor Carrie Gracie resigned from her post, citing pay inequality with male colleagues.
She says she was dismayed to discover the BBC's two male international editors earned "at least 50% more" than their two female counterparts.
In an open letter, Gracie - who has been at the BBC for more than 30 years - accuses the corporation of having a "secretive and illegal pay culture" and says the BBC is facing a "crisis of trust".
The BBC says there is "no systemic discrimination against women". Gracie goes back to a job in the newsroom.
9 January 2018: Radio 4's Winifred Robinson taken off air
Radio 4's You and Yours presenter Winifred Robinson is told she can't host a programme about gender pay, a day after posting her views about Carrie Gracie and the BBC.
Robinson is among many BBC workers who tweeted their support for Gracie, posting the former China editor's statement on Twitter and describing the situation as "a mess".
The BBC says it replaced Robinson because of impartiality issues.
9 January 2018: BBC 'must act' over gender pay gap, says culture secretary
Culture secretary Matthew Hancock says "much more action" is needed by the BBC to address claims of pay inequality.
In his first day in the job, Mr Hancock tells MPs that "brilliant women working at all levels of the BBC deserve better" and pledges to hold the corporation to account.
The BBC says it is an issue it needs "to resolve swiftly and get right".
9 January 2018: Equality watchdog considers action
The UK's equality watchdog says it is writing to the BBC following Carrie Gracie's resignation.
The Equality and Human Rights Commission says it will consider whether further action is required based on the corporation's response.
Gracie, who has alleged "unlawful pay discrimination", thanks the EHRC for "demanding facts on BBC pay".
The BBC says "fairness in pay" is "vital" to the corporation.
12 January 2018: Humphrys and Sopel off-air chat leaked
Two of the BBC's high-profile journalists were recorded discussing the gender pay gap.
The Sun and Times report that before the Today programme on 8 January, presenter John Humphrys asked North America editor Jon Sopel how much money he was prepared to "hand over" to keep Gracie as China editor.
Humphrys tells The Times the chat was "nothing to do" with the campaign by Gracie and the pair were just "taking the mickey out of each other".
26 January 2018: Six male BBC presenters agree to pay cuts
Six of the BBC's leading male presenters agree to take pay cuts following the revelations about equal salaries.
The BBC says Huw Edwards, Nicky Campbell, John Humphrys, Jon Sopel, Nick Robinson and Jeremy Vine have all accepted reduced wages.
The corporation says the presenters are "great journalists and presenters, who have a real connection with the audience", adding: "We are proud to have them working at the BBC.
"The final details of some of these changes are still being discussed, and there are further conversations that the BBC will have with others in due course."
30 January 2018: 'No gender bias' regarding BBC pay
A report published by PricewaterhouseCoopers (PwC) concluded that there is no gender bias regarding pay decisions at the BBC, below senior management level.
But the BBC's approach to setting pay in general "has been far from perfect", the review found.
The BBC says it will take action - involving substantial pay cuts for some men, and pay rises for some men and women.
It will also accelerate progress towards equal representation of men and women at all levels on air, and also towards closing the gender pay gap by 2020.
31 January 2018: Carrie Gracie tells MPs of pay "insult"
Carrie Gracie gives evidence to the House of Commons Digital, Culture, Media and Sport Committee, telling MPs she felt the BBC's response to her grievance was "an insult".
She also says a grievance process over pay concluded that the reason she was paid less than male counterparts was that she had been deemed to be "in development".
That justification was "an insult to add to the original injury", she said, adding: "It is unacceptable to talk to your senior women like that."
Director general Tony Hall, speaking to the committee later, said the BBC "got some things wrong", but added that he "admired her courage".
He insisted the BBC's system for dealing with pay complaints was "working" and equality was "at the core of what we stand for" but faced claims from one MP that the broadcaster was in "meltdown" over the issue.
29 June 2018: BBC apologises to Carrie Gracie over pay
The BBC says sorry for underpaying Gracie, adding that it "has now put this right" by giving her back pay.
She is donating the full, undisclosed amount covering several years of backdated pay to the Fawcett Society, a charity that campaigns for gender equality and women's rights.
She said: "I am glad to have been able to resolve this. It shows that we can make progress."
BBC director general Tony Hall said: "I am pleased that we've been able to move past our differences and work through things together; we can now look to the future."
Follow us on Facebook, on Twitter @BBCNewsEnts, or on Instagram at bbcnewsents. If you have a story suggestion email entertainment.news@bbc.co.uk.