Quentin Tarantino interview about Roman Polanski rape resurfaces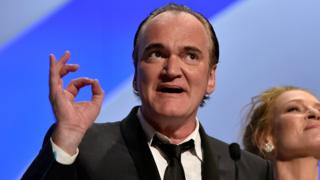 Quentin Tarantino has been criticised after a radio interview resurfaced in which he said Roman Polanski having sex with a 13-year-old girl wasn't rape.
In the 2003 interview, the Pulp Fiction director downplayed the incident - dismissing the idea that it was rape.
Tarantino told DJ Howard Stern the 13-year-old "wanted to have it" and was "down to party with Roman".
Polanski admitted unlawful sex with a minor in 1977 and served 42 days in prison before fleeing the US.
Tarantino has not responded to a request for comment.
Earlier, he apologised for the crash Uma Thurman suffered while on set of the 2003 film Kill Bill.
In the interview for The Howard Stern Show, which was posted to YouTube - but has since been removed, Tarantino discussed the Polanski case at length with Stern and his co-host Robin Quivers.
As part of a plea bargain, Polanski pleaded guilty to unlawful sexual intercourse with a minor - an offence that was previously known as statutory rape.
"He didn't rape a 13-year-old," Tarantino told Stern. "It was statutory rape. That's not quite the same thing... He had sex with a minor, all right. That's not rape.
"To me, when you use the word rape, you're talking about violent, throwing them down."
Quivers told Tarantino that Polanski's victim had been given psychoactive drugs and alcohol before being assaulted. The director still denied the sexual encounter could be deemed a rape.
Tarantino replied: "No, that was not the case at all. She wanted to have it and dated the guy."
Later in the exchange, Tarantino told Stern he accepted the act was illegal, and that he'd "beat the hell" out of a man who had sex with his 13-year-old daughter, if he had one.
He went on: "I don't believe that's rape. I believe it's against the law. I don't believe it's rape. Not at 13 - not for these 13-year-old party girls."
Quivers told Tarantino that Polanski could have avoided the situation by not socialising with 13-year-olds, to which the director responded: "He likes girls."
On Twitter, many have been shocked at the comments. Anthony Rapp, who says Kevin Spacey made sexual advances on him when he was 14, called the interview "gruesome".
Melissa Silverstein, the founder of Women and Hollywood - a group that advocates for gender diversity and equality, called the comments "horrible":
British television presenter Julia Bradbury said Tarantino's comments were part of the reason why women are "fearful speaking out against men who abuse them".
Last year, the woman who was assaulted by Polanski asked an LA court to end the case against him, saying she had forgiven the Oscar-winning director.
Polish courts and the Swiss authorities have rejected requests for him to be extradited to the US.
Follow us on Facebook, on Twitter @BBCNewsEnts, or on Instagram at bbcnewsents. If you have a story suggestion email entertainment.news@bbc.co.uk.