Black Panther: Fans share what the film means to them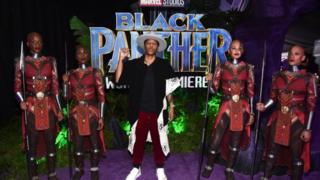 The new superhero film Black Panther will hit cinemas from next week and is already creating a buzz on social media, helped by inspired comments from film fans using the #WhatBlackPantherMeansToMe hashtag.
The Marvel action-adventure film features a predominately black cast of actors and is set in the fictitious African nation of Wakanda.
The cinema ticket website, Fandango, has projected the film will make at least $100m (£72m) in its first week of opening.
Harnessing the hype and excitement around the film, lifestyle website Black Girl Nerds that 'focuses on uplifting black women in the nerd and geek community', came up with the #WhatBlackPantherMeansToMe hashtag that has garnered 40,000 tweets since it started on Tuesday.
The overall theme of the hashtag is representation, with many people highlighting the significance of the film and its release being a big moment for black audiences.
Kayla Sutton, from the Black Girl Nerds website who had the idea for the hashtag, says that she has been overwhelmed by the online response.
"At first I didn't think the hashtag would get so much traction. It was a question that I had first asked my son and his answer was so innocent and pure. He said he loved the comics because the superhero was black like him.
"Seeing the whole Marvel universe open up is great," continues Ms Sutton. "You don't need to have a back knowledge of the superhero franchise. This movie is going to be amazing in terms of representation."
While many comments celebrated this 'groundbreaking' film and called out Hollywood for previous lack of representation of black characters, there were other thought-provoking responses.
One Twitter user who says she was the only black chemistry graduate in her school year, tweeted what the Black Panther film means to her.
Another tweeted how happy she is to see a different portrayal of Africa.
The #WhatBlackPantherMeansToMe hashtag has also been picked up by others outside black communities who recognise the significance of the film. One user compared the film to what Wonder Woman meant to women.
But others pointed out that the Black Panther characters are not the first black superheros to make it on to the big screen. One Twitter user presented his own list of black superheros in cinema.
But the overwhelming response to the hashtag has been one of pride, excitement and anticipation, and is summed up in this tweet.