James Bay comes back - with a twist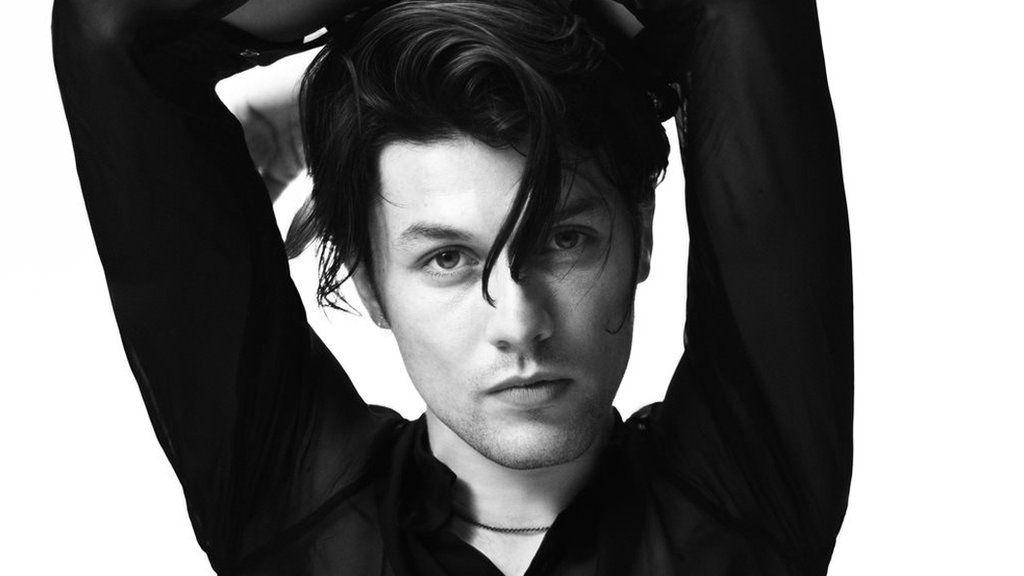 "I'm not really interested in standing still. I'm only interested in moving forward."
James Bay is about to pull off one of the most audacious bait-and-switch acts in recent pop history.
Back in 2015, critics thought they had him figured out: a young man with an old soul, churning out earnest-but-catchy guitar ballads like the inescapable Hold Back The River.
He was rather uncharitably branded "James Beige" - but that didn't put off fans.
His album Chaos and the Calm was the biggest-selling debut of 2015, selling 345,000 copies and earning the star Brit and Grammy nominations.
Yet, rather than sticking to a successful formula, his new single, which premiered on Radio 1 last night, is a revelation. Called Wild Love, it's a surprisingly sensuous pop song, all warped synths and sinewy guitar lines.
"I wanna give you wild love," he sings in the chorus, "the kind that never slows down."
And that's just the beginning. Bay's second album is filled with little experiments and musical flourishes, from the Strokes-inspired thrash of Pink Lemonade to the juddering electro-gospel of In My Head.
"I've discovered that world of analogue synths and programmed drums," he says, "and I've had the most fun smashing them up against these organic instrumental approaches that have always been very me - electric guitars, acoustic guitars, acoustic drum kits.
"Crushing them together, smooshing them up, making a sound out of that - and something unique has been born."
At one point, he even breaks out the autotune - that robotic vocal effect beloved of tone-deaf rappers (and Cher).
"Autotune was such a dirty word for such a long time," laughs the star, "but look at the way Kanye and Chance The Rapper have used it.
"They treat it like a guitar pedal: They have a clean signal, which is their voice, and they put it through autotune to mess with the original sound, just like a fuzz pedal and fuzzes up the sound of a guitar."
And it's not just the music that's had a makeover. In the middle of making the record, Bay chopped off his shoulder-length hair and consigned his fedora to the dustbin.
"The hat and the hair was a visual that came with a sort of sonic signature, which wasn't breaking the mould," admits the 27-year-old.
"But as soon as I wrote the first couple of songs for this record, I went, 'Well, this isn't the hat and the hair guy.'"
While his first album was inspired by The Rolling Stones and Stevie Ray Vaughan, the new record sees him "digging in on Frank Ocean and LCD Soundsystem and going back to Prince stuff I've loved since I was a kid".
But the guiding light was David Bowie.
"I found myself repeating one of his quotes in my head: 'I don't know what I'll be doing next, but I promise you it won't be boring,'" he recalls.
"I thought, 'Yeah, I'm going to follow that as best I can.'"
The BBC is not responsible for the content of external sites. YouTube content may contain adverts.
Skip youtube video by BBC Radio 1
Allow YouTube content?
This article contains content provided by Google YouTube. We ask for your permission before anything is loaded, as they may be using cookies and other technologies. You may want to read Google's cookie policy, external and privacy policy, external before accepting. To view this content choose 'accept and continue'.
The BBC is not responsible for the content of external sites. YouTube content may contain adverts.
End of youtube video by BBC Radio 1
Work began last January, in a "basement cave studio" five minutes from Bay's flat in Islington, north London.
"It's not this grand studio where great records have been made. It's more notoriously a demo spot, but when you look at the people who've been in there - Florence, Liam Gallagher - it's pretty impressive," he says.
By early May, he'd laid down 20 songs with his writing partner Jon Green, and figured 12 of them were good enough to make a second album.
Then his record label's artist and repertoire team got involved.
"My A&R guy did a fantastically sneaky A&R guy thing," he says. "He showed Paul Epworth some of the music".
Epworth, for those who don't know, is one of the UK's most in-demand producers, whose credits include Adele, Florence + The Machine, Lorde and U2.
He got on the phone almost immediately.
"He said, 'Mate, I've just heard these songs and I wanted to say congratulations… But I'm calling for two reasons, really. I know you're not racing to put this out tomorrow so, if you're into it, I'd love to invite you to my studio - just to bring this music in and muck around with it.'
"I mean, what an offer! So of course I did it, and he really brought some magic to it."
Despite all the sonic innovation, fans of Bay's first album will be pleased to hear he's not lost his knack for big melodies and dramatic vocals.
The ballads Slide and Us, in particular, are stadium-sized tear jerkers, with the singer returning to his favourite themes of love and loneliness.
"There's an acknowledgment in this album that some relationships are difficult but they're worth fighting for," he says.
"I realised in hindsight that I'd been writing at a time when the world felt divided. Every corner you turn, people are against each other - but, for me, it's been juxtaposed with three or four years of touring and uniting with massive rooms full of people and having the greatest time."
On Us, he pleads for people to make the same connections outside of the concert hall: "Tell me how to be in this world / Tell me how to breathe in and feel no hurt / Cos I believe in something / I believe in us."
"There's a demand in that lyric," he says, "because we all feel so lost at the moment. We're devoted to so many other things that aren't each other.
"I don't mean to sound like an old person but 14 and 15-year-olds are all looking at their phones, when looking in someone's eyes is more important than connecting with someone online."
The topic raises its head again on In My Head, where Bay sings, "I'm fed up with this profile / I don't sleep, I'm obsessed."
"On one hand, it's about social media life - because I experience that the same way as someone who lives down the street from me," says the star.
"But on the other hand it says a lot about me, as an artist, being ready to evolve. I'm fed up with this profile, I'm going to switch it up."
So, how does he feel about unleashing James Bay 2.0? Does he think people will be shocked?
"I hope so. I hope they're surprised in a good way, but I don't mind if it's the other way.
"I'd rather people were surprised than they knew what they were getting."
Wild Love is out now on Virgin EMI.
Related Internet Links
The BBC is not responsible for the content of external sites.