Sharing the spotlight: Could West End job shares help actors?
By Lauren Turner
Entertainment reporter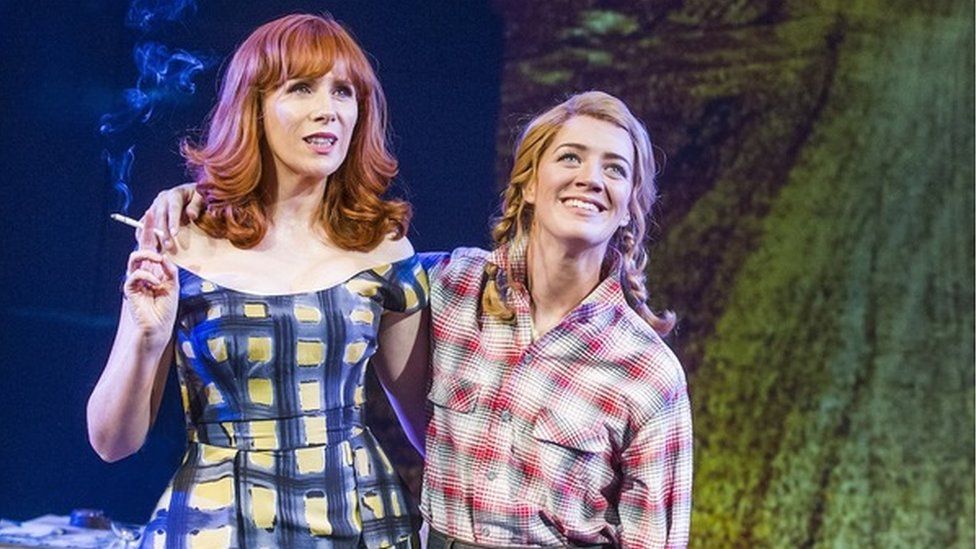 Two lots of lines to learn. Two sets of directions for the producer to give out. The names of two leading actors up in lights. And an audience seeing only one of them on any given night.
That could be the reality if an idea mooted by working parents and carers in the West End sees the light of day.
Being an actor or actress in a hit musical isn't exactly a 9-5 job.
There are usually eight performances a week - and that's without counting the rehearsal time. It doesn't necessarily tie in with the realities of being a parent - wanting to be there for school runs, dinner, bath and bedtime.
One mum currently starring in West End show School of Rock took matters into her own hands after learning of friends feeling they were forced out of the industry.
Florence Andrews, who plays school principal Rosalie Mullins in the show, set up an online forum calling for job shares in the West End. It now has more than 300 members.
But is sharing the spotlight a solution that could work?
She says: "A lot of people I know had successful careers and when they had children, felt they had to stop, because it's six days a week.
"And then there are others who didn't have children, because they wanted to stay in the industry.
"In other professions, job sharing is an option, so we set up the group - it had hundreds of members after two or three days. It made me realise the extent of how many people were feeling desperate.
"There's such a deep-rooted culture of blood, sweat and tears, but realistically, in today's world, you can't expect that."
She is now hoping to start discussions with producers to find out how job shares could work.
"West End shows are such a jigsaw anyway, with a lead and their first and second covers. There's often someone sick or on holiday. So there already can be a lot of change."
There's already what's called an alternate system, which sees lead performers miss one or more show a week in a demanding role.
It's something the lead actor in Hamilton, Jamael Westman, is doing, with Ash Hunter as his alternate.
It actually started way back with Phantom of the Opera, when Sarah Brightman was replaced in some performances. But now there's a call to extend it to more roles to allow actors to take part in job shares and spend more time with their families.
'It's a lot for any parent'
Caroline Sheen, who's appeared in Chitty Chitty Bang Bang, Les Miserables and Mamma Mia in the West End, has joined the group - and says the industry is not well-designed for parents.
"Eight shows a week for a year - it's a lot for any parent," says Sheen, who has a five-year-old daughter. She's a fan of having the alternate scheme extended.
"To explore these avenues further means people who are parents have more options open to them," she says. "I've only been able to take short contracts, because of the parental guilt of leaving her for so long. A job share would make life easier for parents.
"There are obviously arguments for and against - having more people in work is always going to be a good thing."
She admitted audiences might prefer one actor to the other in a lead role, but added: "Shows change once a year anyway. There are always comparisons.
"People want to be the best person for a job. Everybody is of a standard in the West End - and they wouldn't put people in that role if they couldn't do the job.
"Some shows have fans who go back and see it four or five times - they like seeing different performers in the role, and will find out when the understudies are on so they can see them.
"I don't know if we're asking for our cake and eating it too. But I don't know anyone would say no if they couldn't job share. You'd say yes, deal with it and then feel guilty."
How theatre industry is helping
It seems something that could be popular with actors. Helena Bonham Carter has said she'd like to do more theatre if job shares were available - and that she's had discussions about doing just that.
But it's not to say the industry isn't already making strides to make the workplace work for parents.
When Noma Dumezwini stepped in last-minute to appear in Linda at the Royal Court, the theatre provided childcare to allow her to take up the title role. And at the Donmar Warehouse, Hadley Fraser was given paternity leave during rehearsals for Saint Joan.
"The timing couldn't have been more perfect or imperfect," he said. "But the Donmar had said I could take off a week whenever my daughter arrived, which was a lifesaver. They were fantastic about it."
Fraser, currently starring in Young Frankenstein, thinks job sharing could work as one solution - but notes that all parents are different.
"To a certain extent in the West End, job sharing exists, where parts are particularly demanding. And I don't think it would affect the audience at all. I can't imagine you'd be seeing a markedly different performance."
His wife is also currently in the West End too, starring in The Ferryman. Fraser says: "We know a number of parents who are both in performing arts. You have to be a little creative with how to manage our lives."
'You do make a sacrifice'
Kerry Ellis, who's been described as the first lady of musical theatre, has appeared in everything from My Fair Lady, to Wicked to Oliver and is the mother of boys, aged two and four.
She's taken them to rehearsals for The Importance of Being Earnest, in which she's currently starring.
"Every working parent has to find that balance of work and home life," she says. "It's a balance for everybody. If the debate's being had, that's wonderful.
"I'm not sure how shows are going to do it when you're paying to see somebody. But maybe having short contracts, not having to commit to a year could work.
"I'm incredibly fortunate to have a supportive home network - my parents and husband are wonderful."
She says she is home as much as she can be, and adds: "I've maybe more concentrated time with them. But you do make a sacrifice - I don't know what the answer is."
Ellis says of job sharing: "It could be more work for the producers. But it's a great conversation to be having.
"There can be an impact on the rest of the company. You deal with understudies, and things change. But when you're in a show, you're a team. If one of the leading people isn't there consistently, I don't know how that would work.
"But something like three months on, three months off could."
Cassie Raine co-founded PIPA two years ago to support and campaign for those with children who don't want to be forced to leave the industry after starting a family.
"Job sharing is one way to make it more family friendly," she said. "But the needs of every production - and every parent - is unique."
Related Internet Links
The BBC is not responsible for the content of external sites.