Metallica to get 'Nobel Prize of music'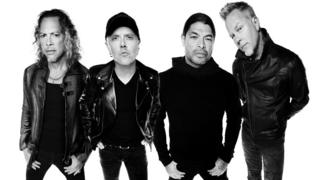 Heavy metal pioneers Metallica are being honoured with Sweden's Polar Prize, one of the most prestigious awards in music.
The band, best known for 1991's Black Album, redefined the sound of metal with a tougher, faster and more abrasive take on rock.
Polar Prize organisers said the US band could transform "a teenage bedroom into a Valhalla".
Metallica will receive their £90,000 prize in Stockholm this June.
They're the first metal band to win the award, which has previously gone to the likes of Paul McCartney, Joni Mitchell, Chuck Berry and BB King - and is regularly called the "Nobel Prize of music".
The judges' citation for the band is worth reading in its entirety:
"The 2018 Polar Music Prize is awarded to the American band Metallica. Not since Wagner's emotional turmoil and Tchaikovsky's cannons has anyone created music that is so physical and furious, and yet still so accessible. Through virtuoso ensemble playing and its use of extremely accelerated tempos, Metallica has taken rock music to places it had never been before. In Metallica's world, both a teenage bedroom and a concert hall can be transformed into a Valhalla. The strength of the band's uncompromising albums has helped millions of listeners to transform their sense of alienation into a superpower."
"It puts us in very distinguished company," said drummer Lars Ulrich of the award.
"It's a great validation of everything that Metallica has done over the last 35 years. At the same time, we feel like we're in our prime with a lot of good years ahead of us."
Vocalist and guitarist James Hetfield added: "As myself and as Metallica I'm grateful to have this as part of our legacy, our history."
The band said they would donate the prize money to their charity, All Within My Hands, which supports communities in need through food banks, disaster relief and music therapy.
Formed in California, Metallica are one of the world's biggest bands, selling more than 125 million albums over the last 30 years.
Their first four albums - Kill 'Em All, Ride the Lightning, Master of Puppets and And Justice for All - are all considered classics, but it was the Black Album that pushed them into the mainstream, producing the hit singles and set list staples Enter Sandman and Nothing Else Matters.
While their reputation for sweaty, muscular rock music is well-earned, they've stretched their wings over the years, recording a live album with the San Francisco Symphony and a critically-mauled collaboration with Lou Reed.
Along the way, they've faced several devastating challenges, not least the death of bassist Cliff Burton in a tour bus crash in 1986.
In 2004, the band released a documentary, Some Kind of Monster, that exposed deep tensions in the band - notably between Ulrich and Hetfield - which were resolved by bringing in a performance coach to help them work on their communication skills.
Ten years later, they gave a triumphant (if uncompromising) performance as Glastonbury's first heavy metal headliners.
They'll receive their 1 million kronor prize in the presence of the Swedish Royal family on 14 June.
At the same time, the Afghanistan National Institute Of Music and its founder Dr Ahmad Sarmast will receive the Polar Prize for classical music.
ANIM focuses on supporting orphans, street-working children and young girls - training them as singers and musicians, which were vocations banned under the Taliban.
The Polar Music Prize was founded in 1989 by the late Stig Anderson, manager of Swedish pop legends Abba.
It is named after his record label and recording studio complex, Polar Music, where Abba made most of their albums.
Follow us on Facebook, on Twitter @BBCNewsEnts, or on Instagram at bbcnewsents. If you have a story suggestion email entertainment.news@bbc.co.uk.