Sarah Jessica Parker: There was 'no fight' with Kim Cattrall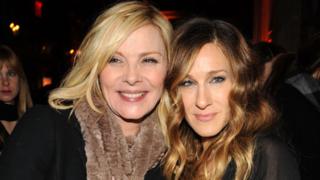 Sarah Jessica Parker has revealed "there was no fight" after Kim Cattrall told Piers Morgan the Sex and the City stars had a "toxic relationship".
In an interview with People magazine, SJP acknowledged Cattrall "said things that were really hurtful about me".
Parker said: "So there was no fight; it was completely fabricated, because I actually never responded."
Last week, Cattrall criticised Parker, describing her as "cruel" in an Instagram post.
'Amazing experience'
The People interview with Parker took place less than 24 hours before Cattrall's post was published, in which Cattrall told her former co-star "you are not my friend".
The post had been written in response to Parker offering her condolences to Cattrall following the death of her brother.
"Your continuous reaching out is a painful reminder of how cruel you really were then and now," wrote Cattrall, who starred as Samantha in the long-running comedy-drama series.
Speaking to People, Parker said she "won't" ever respond to Cattrall's comments made in the TV interview with Morgan last October "because she needed to say what she needed to say, and that is her privilege".
"We had this experience and it was amazing, and nothing will ever be like it," she said.
"We had a connection with an audience, and we had a connection with the city and with this crew, and we got to tell these crazy stories with each other. So I don't want to mess with that. I couldn't imagine anyone else playing that part [of Samantha]."
In a Valentine's Day Instagram post, Parker wrote about wanting everyone to "feel some love".
In the ITV interview with Morgan, Cattrall ruled out appearing in a third Sex and the City movie, and denied that her decision was down to pay or "diva" demands.
She said: "This is really where I take to task the people from Sex and the City and specifically Sarah Jessica Parker, is that I think she could have been nicer. I really think she could have been nicer. I don't know what her issue is.
"The thing that still bothers me is this feeling of being in some way made to be the baddie. I never asked for any money, I never asked for any projects, to be thought of as some kind of diva is absolutely ridiculous."
---
Follow us on Facebook, on Twitter @BBCNewsEnts, or on Instagram at bbcnewsents. If you have a story suggestion email entertainment.news@bbc.co.uk.