Why more authors are going audio-only
By Steven McIntosh
Entertainment reporter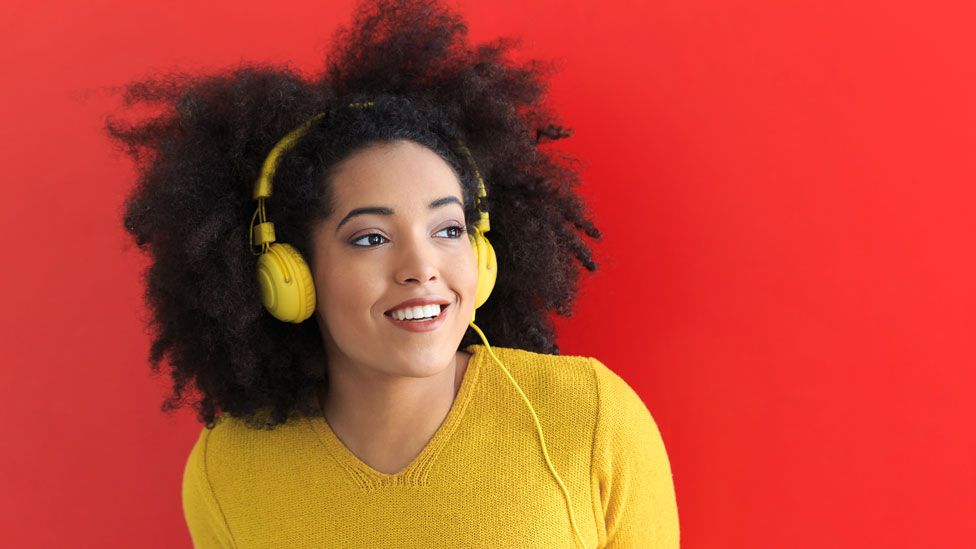 A new collection of short stories featuring works from 18 well-known authors is bypassing print and going straight to audiobook. Could this be a sign of things to come?
Their growing popularity was said to have been largely driven by downloads from commuters, as well as young men who may not traditionally read much fiction.
Now, a new series of short story collections is set to go straight into readers' headphones, with no immediate plans to publish them on paper.
The company behind the project, Audible, is releasing three different collections - titled Bard, Jali and Skald - each with six stories written by high profile authors.
Ben Okri, Sarah Hall, Nikesh Shukla and Adam Thirwell are among the 18 writers who have contributed to the project.
Sophie Hannah, author of Kind of Cruel and three Hercule Poirot mysteries, tells BBC News she was attracted to the the idea precisely because it was audio-only.
"It was presented to me specifically as an audio project, and I've never done anything like that before, so creatively that was really exciting," she says.
Writing for a different medium meant she tackled the task of creating her short story - titled Bully The Blue Bear - differently, Hannah explains.
"One would approach it differently knowing that people are going to be listening to this rather than reading it," she says.
"And almost as soon as I had that thought, I had a bit of an idea for the story I wanted to write. So it was almost like knowing that it was specifically for audio gave me an idea I might not have had otherwise.
"The main difference was I wanted people to hear the different and competing narratives... I really wanted the listener to have direct access to those different points of view."
For Joanne Harris, author of Chocolat and The Gospel of Loki, audiobooks are a natural fit for the way she writes.
"Reading aloud is so much part of my process anyway, that I kind of assume that everything that I write is designed to be read aloud," she says.
"I think that's partly because English isn't my first language and so language and its rhythms are particularly important to me. For me, stories aren't meant to be on the page anyway.
"Besides which," she laughs, "I don't need much of an excuse to write short stories."
Perhaps one of the most interesting insights to come from Nielsen's audiobook sales figures was the suggestion that the boom has been driven in no small part by young men.
It's a statistic that Harris doesn't find altogether surprising.
"When I was a teacher, I taught boys for 15 years in Leeds, and I noticed that of all these boys of usually reasonably affluent families, so few of them read fiction for pleasure.
"I think we have a bit of a systemic problem with the idea of boys and men reading. I don't think this means that boys and men don't like stories. It's to do with the way they are perceived when they're younger.
"I had a lot of fathers of boys discouraging their sons from reading because they thought they ought to be out doing things in the open air. Boys are very easily put off by things they perceive to be 'girly' or provoking disapproval.
"And so you had a lot of boys put off reading, and I think this is their way of coming back to stories when they weren't allowed to participate fully in reading for pleasure at a certain age."
The sheer convenience of audiobooks - and the general growth of technology in recent years - has been a key driver in changing perceptions.
In her own personal life, Hannah says she's become something of an audiobook convert in recent years.
"When I first listened to audiobooks around 10 years ago, I thought, 'This isn't for me, this isn't as good as reading'," she explains.
"And then gradually over the years, my attitude to listening not only to books but to everything - podcasts, radio shows on iPlayer - changed, because as I've become much busier and life has become more stressful, it's become easier to just put earphones in and listen to audio everything."
Perhaps audiobooks have soared in popularity partly because audio is a secondary medium, and, unlike reading, you can combine listening with other activities.
Harris points out: "You don't have to have 42 CDs to listen to somebody reading a book anymore. You don't have to physically have that amount of space. And people have busy lives, they like to listen to audiobooks in the car, on the commute, when they're running."
Hannah agrees: "I listen to a lot of audio while I'm sorting the clean washing into piles for four different people, because that's a fairly mindless activity, so you can fully concentrate on the audiobook.
"Same with walking the dog or going to the gym - physical things I think are ideal.
"What's not so ideal is trying to listen to something on audio while thinking, 'I'll just browse Twitter or check my email', because the minute you try to use your brain for something else rather than listening, it just ruins the listening experience."
One potential drawback of audiobooks is that listeners are forced to go at the pace of the speaker - but for Harris this is a plus point.
"I read very quickly, far too quickly in a lot of ways. And I enjoy audiobooks because they make me take my time," she says.
"I have this thing that a lot of writers have where I've kind of trained myself to read quickly because I have to read so much, and sometimes I feel that the enjoyment has been, to some extent, lost. Whereas with an audiobook, you can't just skim."
As for the future of audiobooks, Hannah says: "I certainly think it will either stay as popular as it is or become more popular, because I think it's such an ideal way to take in a story."
But, she adds: "I don't think it will threaten or replace reading. I think the two go really well together."
Bard, Jali and Skald will be available to download from Audible from Monday.