Barbara Ann Alston: Singer with 1960s girl group The Crystals dies at 74
By Mark Savage
BBC Music reporter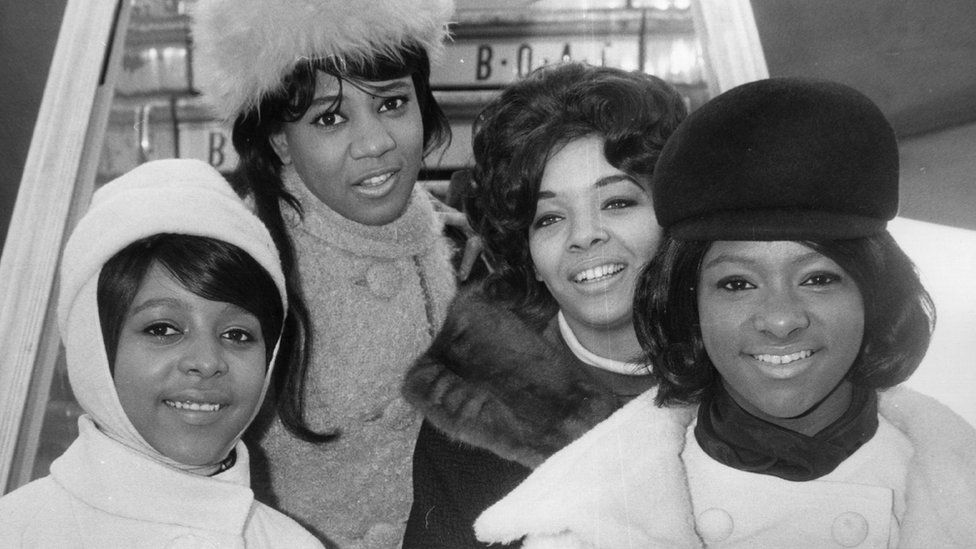 The Crystals singer Barbara Ann Alston, who recorded hits like Da Doo Ron Ron and Then He Kissed Me, has died at the age of 74.
Her band, along with The Ronettes, were among the definitive girl groups of the 1960s and helped construct Phil Spector's Wall of Sound.
She died on Friday 16 February after contracting flu, her daughter said.
"She loved The Crystals," Donielle Prophete told BBC News. "She always talked about singing with them, the work they created together. She loved the sisterhood part of it, the travelling."
The Crystals were originally a quintet consisting of Alston, Dee Dee Kennibrew, Mary Thomas, Patricia Wright and La La Brooks - all of whom grew up singing in the church.
They were put together by big band sideman Benny Wells - who happened to be Alston's uncle - while they were still at school. They were later discovered by Spector while cutting demos for the publisher Hill & Range.
Brooks was seen as the lead singer, but Spector disagreed and championed a reluctant Alston instead.
"I just found out recently [that] she had a real problem with being the lead," recalled Prophete.
"They loved her voice and they kept pushing her to the front but she was shy.
"My sister says mum wanted to do the choreography and stuff like that."
Nonetheless, Alston's innocent-but-sensuous vocals propelled their first single, There's No Other Like My Baby, into the charts in 1962. It was followed by the dramatic, flamenco-inflected Uptown.
However, the band's next single He Hit Me (And It Felt Like a Kiss) and its depiction of domestic violence led to a public outcry and Spector eventually pulled the song from sale.
Speaking to Mojo magazine in 2010, Brooks recalled that Alston had been "a little uneasy" about recording the song and the band were "taken aback" by the subject matter.
Carole King, who wrote the music to Gerry Goffin's lyrics, subsequently disowned the composition, saying "it's the one song I kind of wish I hadn't had any part of writing".
After that, Spector took The Crystals name and gave it to his protege Darlene Love, who sang on the band's next two singles, including the hit He's A Rebel (taking The Crystals by surprise when they first heard it on the radio).
By this point, Alston had ceded the limelight to La La Brooks, who took the lead vocal on those and later hits.
But Alston remained proud of the band, and stayed involved with their career into her 70s, her daughter said.
"She would always sing around the house, especially around Christmas," she recalled.
Alston's funeral is being on Friday, with fellow Crystals singer Dee Dee Kennibrew scheduled to be a speaker.